Post-Doctoral Research Fellowship
The Center for Sleep & Circadian Neurobiology houses a post-doctoral research training program that draws on faculty from across the Perelman School of Medicine, the School of Arts & Sciences, and the School of Veterinary Medicine. This fellowship provides opportunities for clinical sleep medicine fellows, nurse scientists, clinical psychologists, and other PhD trained scientists to receive mentorship as they focus on basic science, patient-oriented, clinical epidemiology, translational research, or behavioral medicine in the area of sleep & circadian neurobiology.
In collaboration with the School of Nursing, nurse scientists may advance their training in the area of sleep medicine and circadian science. Trainees will concentrate in either outcomes research, sleep & aging, or sleep in medical and psychiatric illness. Depending on their research focus, trainees can also take additional courses to meet individual needs. Trainees will also have the opportunity to attend seminars and give oral presentations.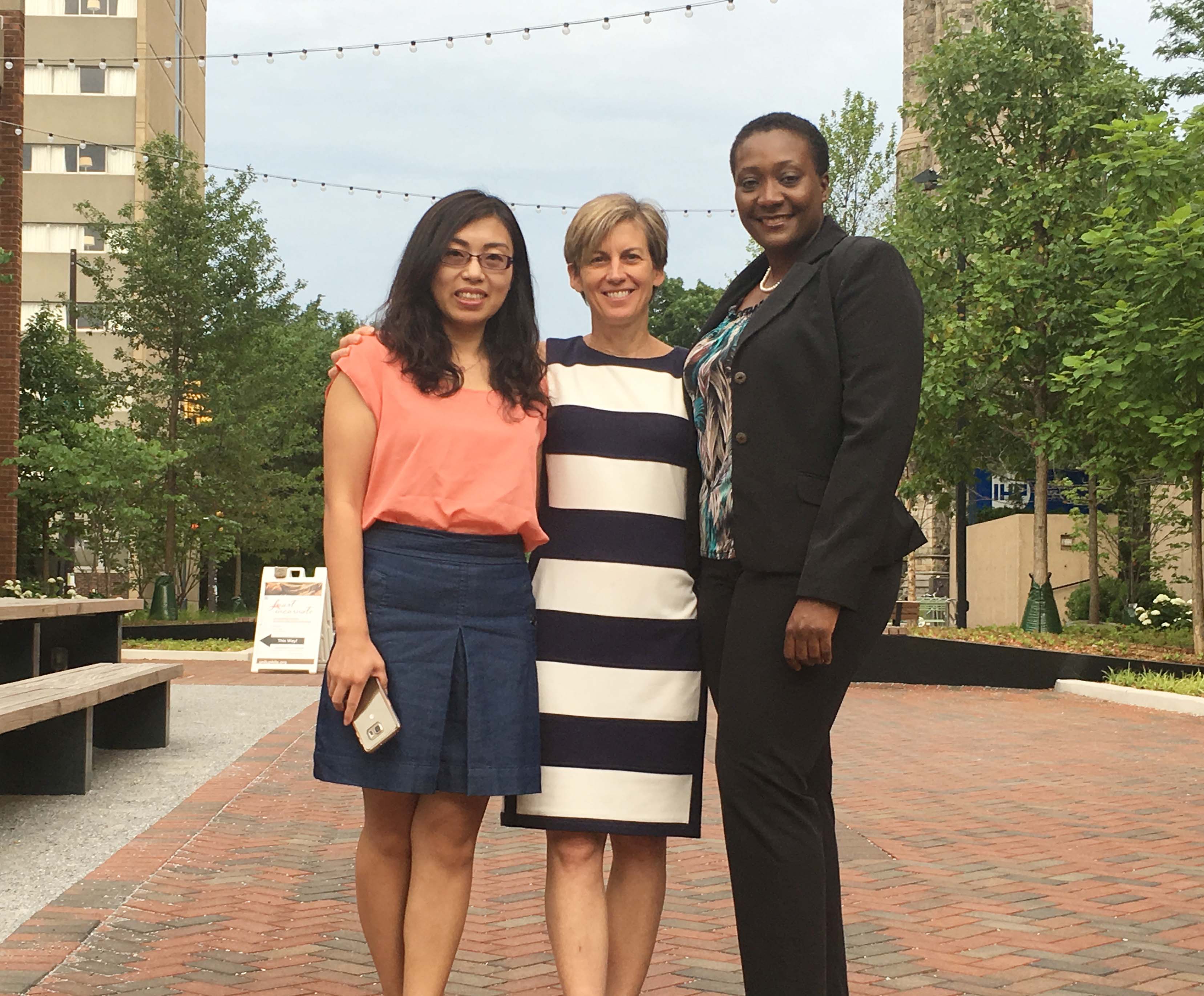 Close
---
Behavioral Sleep Medicine
The Center for Sleep & Circadian Neurobiology, in collaboration with the Behavioral Sleep Medicine Program in the Department of Psychiatry, offers a variety of training experiences including a post-doctoral research fellowship for both adult and pediatric focused psychologists.
Post-doctoral trainees may engage in a two year fellowship program that provides for both clinical and research training in BSM and sleep research. This fellowship is structured around and in accordance with the NIH T-32 program.
Close
---
Current Post-Doctoral Fellows
Glenna Brewster, PhD, RN, CRNP
"I am interested in identifying how factors such as sleep disturbances, stress, and depression interact to increase the risk of cognitive decline in caregivers of persons with dementia. I am also interested in providing interventions that would decrease the incidence of sleep disturbances in caregiver of persons with dementia caregivers."
Janeese Brownlow, PhD
"I am a National Research Service Award (NRSA) Fellow at the Center for Sleep and Circadian Neurobiology at the Perelman School of Medicine at the University of Pennsylvania. I am also a member of the AASM-accredited Behavioral Sleep Medicine Program at Penn. I completed my graduate training in Neuropsychology at Howard University. My research focuses on the application neurofunctional probes in the pathophysiology and treatment of insomnia in relation to posttraumatic stress disorder (PTSD). Specifically, my research (1) addresses the role of insomnia in the functional consequences (i.e. cognitive systems, neural circuitry) of PTSD; (2) integrates novel behavioral interventions for insomnia and PTSD in order to improve health outcomes."
Jennifer Goldschmied, Ph.D
"My research explores the relationship between sleep and emotional processing, including mood disturbance, emotional reactivity, and responsiveness to both reward and frustration. My research utilizes sleep manipulation paradigms, including sleep delay, slow wave deprivation, and napping to examine the effects on emotional outcomes." ResearchGate
Ilya Khaytin, MD, PhD
"I am doing research into sleep problems in children with Autistic Spectrum Disorders. Autistic spectrum disorders (ASD) encompass wide array of cognitive problems, ranging from devastating to almost normal functioning. The pathorphysiology of the ASD is still not fully understood. Importantly, cognitive impairments are not the only manifestation of ASD. The children and adults with ASD has multiple other comorbidities, such as epilepsy, headaches, GI problems and sleep problems. Sleep disorders are a profound part of ASD and better understanding sleep in ASD will shed light on pathophysiology and management of the ASDs. There is evidence that some of the genes linked to sleep problems, such as SHANK2 and HOMER1A, are also linked to ASD. Several studies estimate prevalence of sleep problems in ASD children between 50-80%. A recent study of children 4-10 years of age registered in Autism Treatment Network Registry showed that 71% of children had evidence of sleep disorders. Unfortunately, parental reporting is not very reliable way to determine extent of the sleep problems in the children with ASD. I am interested in developing a reliable way to diagnose types of sleep disorders in the children with ASD, which will allow development of evidence based treatments."
Junxin Li, PhD
"My research focuses on understanding how physical activity and sleep in relation to cognitive function in the geriatric population. I have a strong interest in examining the short term and long term impacts of daytime napping on cognitive functions in older adults. My current work includes a randomized controlled trial to test the effectiveness of a personalized exercise and napping intervention implementing smartwatch technology on sleep and cognition in sedentary older adults."
Rachel Mak-McCully, PhD
"I completed my PhD in Neurosciences at UCSD under the direction of Dr. Eric Halgren and in collaboration with Dr. Patrick Chauvel at Aix-Marseille University. My research focused on the thalamocortical mechanisms underlying NREM human sleep using intracranial recordings and computational modeling. My current research project focuses on the dynamic fluctuations occurring in the EEG of healthy controls under stable anesthetic state and the prediction of return of consciousness. The project collaborates between the labs of Drs. Max Kelz, Alex Proekt, and Brian Litt." LinkedIn // ResearchGate
Susan Malone, PhD
"The overarching goal of my research is to promote health and prevent cardio-metabolic disease across the lifespan by bridging research in circadian rhythms and metabolism to chrono-therapeutic interventions that mitigate type 2 diabetes (T2D) risk. My research interests include 1) the effects of behavioral, biological, and environmental rhythms on metabolic health, 2) individual differences in resiliency against or vulnerability to circadian disruption and 3) the design of personalized, preventative chrono-therapeutic interventions to optimize cardio-metabolic health across communities and across the lifespan." LinkedIn
Richard McCloskey, PhD
"My broad interest in sleep revolves around the evolutionarily conserved functions of sleep, and how sleep seems to be regulated by common genetic and molecular pathways many animals. To learn about sleep I use behavioral monitoring, genetics, and optogenetics, imaging, etc. as tools in the experimental model organism Caenorhabditis elegans. I also have an interest in how personal wearables can be used to monitor sleep and other behavioral states as a tool for learning about sleep in an ethological context."
Emilia Moscato, PhD
Since joining the Kayser lab in January 2015, I have been using Drosophila to study the intersection of sleep and neurodevelopmental diseases.
Anjum Parkar, PhD
My name is Anjum Parkar and I am a second year Postdoctoral Researcher in the lab of Dr.Leszek Kubin. I have a Master's degree in Biomedical Engineering from Drexel University, Philadelphia and I received my PhD in Bioengineering in August 2015 from Pennsylvania State University, University Park. My doctoral dissertation focused on using neuro-stimulation approaches to control seizures in rat model of Epilepsy. Currently, I am interested in the role of the noradrenergic system in the motor control of upper airway during sleep in obstructive sleep apnea. I am using neuroanatomical and optogenic approaches in TH-Cre rats to study this role.
Rosalia Paterno, PhD
"I am a postdoctoral fellow with Akiva Cohen in the Department of Anesthesia at the University of Pennsylvania and CHOP. My research is focused on the neural mechanisms underlying endogenous rhythms important in sleep and encoding and retrieval phases of memory after traumatic brain injury."
Ivan Vargas, PhD
"My research broadly focuses on advancing our understanding of the role stress and sleep have in psychopathology." Website
Olivia Veatch, PhD
"My research focuses on uniting molecular and computational genetics to inform translational medicine for neurological conditions. I combine cutting edge computational techniques for gene discovery and characterization, with the functional follow-up studies necessary for translation of genetic findings to humans. I am particularly interested in understanding how pleiotropic genetic effects influence the relationship between neurological disorders and comorbid sleep disturbances." LinkedIn
Ariel Williamson, PhD
"My research is focused on the identification and treatment of sleep disorders and related behavioral problems among socio-demographically diverse young children in underserved community settings. I am currently collecting data on children ages 2-5 years recruited from the Children's Hospital of Philadelphia urban and suburban primary care sites to examine the impact of sleep problems on behavioral functioning, and how this association varies by socioeconomic background. I aim to use these data to inform a project on the development and evaluation of a brief, primary-care based pediatric sleep screening and behavioral intervention program." LinkedIn // Research Gate // Pediatric Sleep Institute
Shirly Zhang, PhD
"I am interested in understanding clock control of functions of the blood-brain barrier (BBB). Understanding periphery to brain communication has important implications for the prevention and treatment of many acute and chronic diseases. Elucidating the rhythmicity of BBB transport permeability may improve clinical treatments."
Close
---
Past Post-Doctoral Fellows
Jennifer Accardo, MD
Murtuza Ahmed, MD
Leslie Ashmore, PhD
Ron Anafi, MD, PhD — University of Pennsylvania
Marcia Braun
Marishka Brown
Lucy Chi
David Censits, MD
Christopher C. Cielo, DO — Children's Hospital of Philadelphia
Daniele Cusmano, PhD
Joseph Daley
Hilary Debardeleben, PhD
Barry Fields, MD — Emory University
Eliot Friedman, MD
Phil Gehrman, PhD
Jason Gerstner, PhD
Michael Grandner, PhD — University of Arizona
Susan Harbison, PhD
Janel Hackey, MD
Ted Huang
Bilgay Izci, PhD — University of Illinois Chicago
Courtney Johnson
Matthew Kayser, MD, PhD — University of Pennsylvania
Neil Kline, MD
Diane C. Lim, MD, MTR — University of Pennsylvania
Miranda Lim, MD, PhD — Oregon Health Sciences University
Aileen Love, MD — Lehigh Valley Health Network
Melanie Lyons, PhD
Emilio Mazza
Melisa Moore, PhD — Children's Hospital of Philadelphia
Christian Morales
Matthew Nelson, PhD
Victoria Pak, PhD, MTR — Yale University
Lori Panossian, MD, PhD
Nirav Patel, MD
Alec Platt
Cory Pfeiffenberger, PhD — Complete Healthcare Communications
Priya Prishad
David Raizen, MD — University of Pennsylvania
Megan Sands, PhD — Elsevier Scientific Publishing
Ari Sareli, MD
Matthew Scharf, MD, PhD — Rutgers/Robert Wood Johnson
Jennifer Schreiter
Kristan Singletary
Andrea Spaeth — University of Pennsylvania
Bernie Sunwoo, MD — University of California San Francisco
Mark Wu, MD, PhD
Shirley Zhang
Close
---
Genetics of Sleep and Sleep Disorder
Penn is the coordinating site for a multi-institutional training grant on the Genetics of Sleep and Sleep Disorders. Fellows are located at Stanford University, the University of Michigan, and Johns Hopkins University where they have local mentors. Didactics and a grant-writing seminar are held over the web in order to link fellows at each of the sites. Fellows engage in research broadly related to the study of genetics as it related to sleep/wake regulation or of sleep disorders, which could include human, model organism, and computational work.
Close
---
For more information regarding the post-doctoral fellowship, please contact Dan Barrett.