Busch Lab
Theresa M. Busch, Ph.D.
Professor
Associate Director of Radiation Biology Division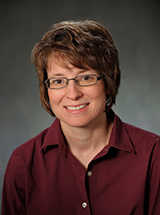 Division of Oncology Research
Department of Radiation Oncology
University of Pennsylvania
Perelman School of Medicine
3400 Civic Center Blvd, Bldg 421
Philadelphia, PA 19104-5156
Office: 215-573-3168
Research Interests
Our primary research focus is the investigation of photodynamic therapy (PDT) for the treatment of solid malignancies. In PDT, diseased tissue is illuminated by specific wavelengths of visible light after the delivery of a photosensitizer to that tissue. The light-excited photosensitizer interacts with oxygen to produce reactive oxygen species that damage the tissue and its associated stroma, including the supporting vascular network.
Our research centers on the study of biophysical limitations of treatment response to PDT. This includes the study of heterogeneities in the distributions of oxygen, photosensitizing drug, and light. Our studies have found that PDT can create widespread, severe hypoxia during illumination, even in tumor cells immediately adjacent to perfused blood vessels. Furthermore, noninvasive monitoring has shown PDT effect on tumor oxygenation and blood flow during the illumination period to be predictive of an animal's long-term response to therapy. Such findings are extremely relevant to clinical PDT applications, where significant heterogeneity in hypoxia and photosensitizer distributions among the tumors of PDT patients will contribute to variable therapeutic outcomes. Indeed, we have documented a relationship between biochemical (PSA) response to PDT in prostate cancer patients and levels of photosensitizer drug and light energy in their prostates. Ultimately, in order to improve the clinical therapeutic index and efficacy of PDT, we aim to alter the microenvironment of tumors undergoing treatment as guided by noninvasive monitoring of their response.
Busch Lab
Theresa Busch, PhD
Gwendolyn Cramer, PhD (Postdoctoral Fellow)
Shirron Carter, BS (Research Specialist)
Min Yuan, MD (Research Specialist)
Joann Miller, AAS, CVT (Research Specialist)