Evans Lab
Sydney Evans, V.M.D., M.S.
Professor of Radiation Oncology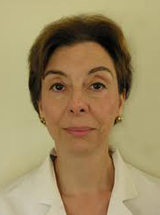 University of Pennsylvania School of Medicine
Department of Radiation Oncology
187 John Morgan Building
3620 Hamilton Walk
Philadelphia, PA 19104
(215) 898 - 0072 (Lab)
sydevans@pennmedicine.upenn.edu
Research Interests
The primary emphasis of the work in the Evans laboratory is to determine causes of treatment resistance in human cancer. The treatment resistance factor that is emphasized is hypoxia. The presence, level and distribution of hypoxia is measured using a 2-nitroimidazole agent, EF5, developed by Dr. Cameron Koch, also from the Department of Radiation Oncology, at PENN. EF5 can be used for in vitro or in vivo studies. The majority of studies in the Evans laboratory involve in vivo studies in animals or humans. Given intravenously, this agent is reduced and bound in hypoxic cells. The adducts thus formed are recognized by a specific fluorescent monoclonal antibody. Tumor tissue or cells are studied either using immunohistochemistry or flow cytometry. This fluorescence can be measured and converted into tissue pO2 based upon previously published in vitro studies. We have performed studies using EF5 in animal models of cancer and, since 1998 have been performing clinical trials to evaluate the presence and level of hypoxia in various human cancers. We are currently funded by the NIH to perform studies in human brain tumors, head and neck cancers, sarcomas, cervix, and intraperitoneal cancers. We have shown that hypoxia, as measured by EF5 binding correlates to the level of tumor aggression in glial brain tumors, soft tissue sarcomas and head/neck squamous cell cancers. We have recently been able to produce [F-18]-EF5, which can be analyzed with positron emission tomography, PET imaging. Grants to study EF5 binding, with both immunohistochemical and PET endpoints in patients with brain tumors and head and neck cancer have been funded by the NIH.
Lab Members
Sydney Evans, V.M.D., M.S.
Position in Lab: Principal Investigator
Education: V.M.D., University of Pennsylvania School of Veterinary Medicine
M.S. (Comparative Animal Medicine): University of Pennsylvania School of Veterinary Medicine
Internship (Small Animal Medicine): University of Pennsylvania School of Veterinary Medicine
Residency (Radiology and Radiation Oncology):
University of Pennsylvania School of Veterinary Medicine
Email: sydevans@pennmedicine.upenn.edu
Alumni
Neilay Amin
Former Position in Lab: Student Researcher
Education: Current student, University of Pennsylvania School of Arts and Sciences, Candidate for Bachelor's in Biology
Sarah Clark, B.S.
Former Position in Lab: Animal Research Specialist
Education: Baldwin-Wallace College, 2008
B.S., Psychology, minors in Neuroscience and Biology
Professional Associations: AALAS - American Association for Laboratory Animal Science
Kevin Jenkins, B.S.E., M.S.E.
Former Position in Lab: Senior Programmer/Analyst
Education: University of Pennsylvania
B.S.E. Computer Science and Engineering, M.S.E. Computer and Information Science
Julie Daniel, B.A.
Former Position in Lab: Research Specialist
Education: University of Virginia, 2006
B.A., Neuroscience
Alex Kachur, Ph.D.
Email: kachur@mail.med.upenn.edu
Xiangyang Yang
Former Position in Lab: Research Specialist