Global Engagement
The Radiation Oncology Department is dedicated to the pursuit of excellence in our core missions of patient care, research, and education. As one facet of our academic and clinical programs, we provide training opportunities and educational experiences that challenge us to think beyond our local institutes to engage and assist others at the global level.  The initiatives highlighted below demonstrate our efforts to advance equity and inclusion in the study and practice of Radiation Oncology around the world.
Global Health Program in  Radiation  Oncology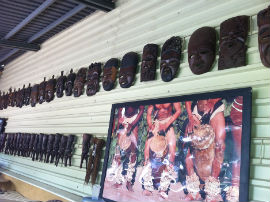 The  Global Health Program in Radiation Oncology  offers support to residents who are interested in pursuing oncology-related work in the global health setting.  Among the goals of this  resident  track,  physicians  develop key leadership skills in the conduct of  research and clinical work at an international level.  The track includes 6 months in the international setting, with the potential to spend time at  Princess Marina Hospital, Gaborone, Botswana;  Tata Memorial Cancer Center, Mumbai, India; and  IAEA, Vienna, Austria.  More information about this track can be found at the webpage for the  Radiation Oncology Global  Health Program. 
Cancer Researcher Training Program: AFRICA (CRTPA)   
The CRTPA program is based in mentored clinical research that uses a remote experience to supplement research training programs at the University of Nairobi (UoN) in Kenya. All trainees will have a primary mentor from the UoN who has primary responsibility for oversight of the project and resident training. The role of the remote mentor(s) is to supplement this experience in order to aid in the successful training and completion of research projects. In partnership with the Global Access to Cancer Care Foundation (GACCF), remote mentors from the departments of Radiation Oncology at Penn, Harvard and Mayo Clinic select residents and offer guidance throughout their projects. Mentor commitment and dedication to the mentee's research development are critical for success of the program.
Penn Global  
Penn Global promotes  faculty engagement  in the  international  arena  by providing seed funding for  projects that  drive innovative research in the global context.  The  Global  Engagement Fund  (GEF)  is one  such seed  program  that supports  international, interdisciplinary work.  Dr. Stephen Avery of Radiation Oncology  was awarded GEF-supported projects in 2015-2016 and 2017-2018  for his vision  on a  Global Health Education Training Program.   At the heart of this proposal is Dr. Avery's plan to develop  a  USA/Africa Radiation Oncology Core  dedicated to research, education and training in Radiation Oncology in Africa, while providing support for community outreach, desperately needed quality assurance tools for patient safety, and research collaborations for cancer control.
Perelman School of  Medicine,  Center  for Global Health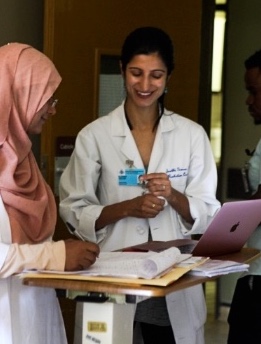 At the Center for Global Health of the Perelman School of Medicine, there is a focus on initiatives that address the burden of disease in global populations and spur technological advancements in biomedicine that serve under-resourced communities. As part of this program, Dr. Surbhi Grover  of the Department of Radiation Oncology leads clinical and research efforts that address the needs of cancer patients in Botswana. She developed a clinic to provide follow up in the monitoring and care of gynecological cancer patients.  Under her guidance and mentorship, numerous Penn and international trainees in oncology have received global training in clinical care, oncology research, and education. Through the Center for Global Health, Radiation Oncology is part of the planning committee for an Inaugural  Penn Africa Research Symposium. Contact Scott Moore, PhD. (Director of China Programs and Strategic Initiatives) for more information on this future event.
Global Health  Catalyst (GHC) Summit  
The Global Health Catalyst Summit was just hosted by the Univ. of Pennsylvania! Click HERE for a recap --make sure to turn on the sound!
The Global Health Catalyst (GHC) summit is a premier yearly event dedicated to catalyzing high impact international collaborations with the goal of eliminating global health disparities and a focus on cancer and other non-communicable diseases. The GHC builds on the successful collaboration-driven model of Harvard Catalyst, a platform which fosters a culture of collaboration and innovation among 31 Harvard Affiliated institutions, hospitals, and community partners. As community partners, the GHC incorporates institutions from beneficiary lower and middle income countries, high income countries, and diaspora groups. GHC outreach fosters a culture of collaboration across other complementary cancer care areas (Diagnosis, Medical Oncology, Surgery, etc) and mobilizes support from foundations, funding agencies, policy makers, industry, and diaspora (e.g. in crowdfunding) -- turning brain drain to gains against cancer and other GHC areas of healthcare focus. Since its start in Boston at the Dana Faber Harvard Cancer Center in 2015, the GHC summit has been hosted at:
GHC Summit Europe – University of Heidelberg, Faculty Medical Center Mannheim

GHC Summit  Tanzania  - Muhimbili  University of Health & Allied Sciences Dar es Salaam Partnered & funded  by  the Penn Global GEF Grant (Stephen Avery: PI)
Future summits are planned for GHC Summit Nigeria and other global locations

Open Syllabus
Spearheaded by Medical Physics for World Benefit, Open Syllabus is an educational project underway to develop a generalized freely accessible syllabus that consists of common core-learning objectives from various medical physics instructional curricula. It is specifically geared towards developing countries to  provide trainees with  access to high quality and timely educational medical physics resources.  As one of the team members for Open Syllabus and a contributor to its content, Dr. Shannon O-Reilly of Radiation Oncology is helping Medical Physics for World Benefit work towards its goal of developing training in medical physics. This initiative contributes to their overall mission to improve effectiveness and safety in the use of physics and technologies in medicine, especially in low-to-middle income countries. Modules of Open Syllabus will cover topics that include clinical introductions, radiation therapy, external treatment planning, professional studies, quality management, research, development, and teaching. To volunteer to share your expertise or help in collating, organizing, or prioritizing this content please visit the Open Syllabus project news announcement.