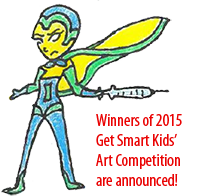 Click here for list of winners
In observance of the 2015 Get Smart Week, please join us for an upcoming antimicrobial stewardship seminar.
November 17, 2015
8 a.m. to 9:30 a.m.
Freeman Auditorium in the HUB Robeson Building
Penn State University
The program is free and will offer continuing education credits to both physicians and nurses. Registration begins at 7:30 a.m.
Following the educational seminar, Dr. Rachel Levine, Pennsylvania's Physician General will present the Governor's Proclamation and announce the winners of the 2015 Get Smart Kid's Art Competition.
This event is sponsored by the PA Department of Health, Penn State University, and the Get Smart Program.

Thank you to all who participated in our 2015 Art Competition.
Winners will be officially announced during Get Smart Week, November 16-22, 2015.
In the News
Antibiotic Resistance Is Everyone's Problem | The Atlantic
The trouble with tiny turtles
| CDC
McDonald's plans to phase out chicken fed medically important antibiotics | Food Safety News
Antibiotic use in pets could give rise to superbugs, experts warn | CBC News
Plan to combat and prevent antibiotic-resistant bacteria | The White House
Antibiotic resistance is a growing menace – we must act before it's too late | The Guardian
Tyson joins the flock on curbing antibiotics | The Wall Street Journal
Antibiotic-resistant typhoid reaches epidemic level | CBS News
White House meeting elicits pledges to reduce antibiotic use | New York Times
Preserving the blessings of antibiotics | The Wall Street Journal
W.H.O. plan aims to combat resistance to antibiotic drugs | The New York Times
Weather events might trigger the overflow of pathogens in cities | Penn Current
Most common childhood respiratory illnesses like flu, colds, cough and sore throats are caused by viruses. Getting plenty of rest, drinking lots of fluids, following proper hand hygiene and keeping children home until they feel better can reduce the spread of these infections to other children. Antibiotics are usually not needed.
Antibiotics are used to treat bacterial infections, not those caused by viruses. Unnecessary use of antibiotics increases the risk of getting an antibiotic resistant infection, making it harder to treat. Therefore, judicious use of antibiotics is the key to addressing this major public health problem. Parents, healthcare providers and child care center providers can work together to prevent childhood illnesses. Efforts such as proper hand washing, keeping the environment clean and being up-to-date on vaccines, including flu vaccine, are effective ways to prevent common illnesses, which reduces need for treatment. This approach also contributes to community-based efforts to promote judicious use of antibiotics.
Our aims are to:
Provide practical information to assist in prevention of common childhood illnesses in childcare settings.
Promote appropriate use of antibiotics

Our program is based on best practices developed in studies conducted in Pennsylvania as well as other places.
Join the Get Smart movement
For more information on how to join the Get Smart movement, receive free promotional materials, be featured on the website or subscribe to the bi-weekly Get Smart newsletter, e-mail knowwhentosayno@pa.gov
Read the Current Newsletter
Newsletters archive
| | |
| --- | --- |
| | |
| Follow us on Facebook | Follow us on Twitter @GetSmartAbxPA |
Our program is supported by:
Collaborating Partners: