Please read the contest rules and consent form below carefully. If you wish to allow your child to submit an entry, please complete and sign the consent form. Entries can be submitted by mail or by email. If you use mail, please include consent form. 
The deadline for submission is October 31, 2014 at 10 p.m. EST.  Winning entries will be notified by telephone by November 14, 2014.  The top 3 entries of each age group will be awarded a prize. Examples and past winners.
If you have any questions please contact us by email at: knowwhentosayno@pa.gov or by phone at (717) 787-3350.
Parent Consent Form (download as pdf)
Template Form (download as pdf)
Submit entry and consent form to:
knowwhentosayno@pa.gov
Submit by US mail to:
Get Smart Drawing Competition
PA Department of Health
625 Forster St, Room 933
Harrisburg, PA 17120-0701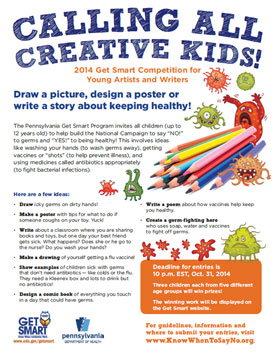 1. Entries will be judged by each age group: <4, 5–6, 7-8, 9-10, 11-12 years old
2. Only one entry per child
3. Each submission must follow at least one of the following themes:
Importance of proper hand washing
Importance of vaccines
Knowing when NOT to use antibiotics (Hint: such as, common colds…Read our website!)
4. Submission types and guidelines:
For the age groups of: < 4 yrs, 5-6 yrs, 7-8 yrs.
Must be submitted on the template provided.
Informational poster, story, or poem
For the age groups: 7-8 yrs, 9-10 yrs, 11-12 yrs (7-8 yr olds are allowed to do any submission)
Posters must fit on a standard paper size (8.5 in X 11in) and provide a meaningful message based on one of the themes above.
Stories and poems cannot exceed 250 words. They can be a recollection of a personal experience or fictional also based on one of the themes above.
5. Submissions may be drawn, written by hand, or created using a computer program.
6. Entries must be an original work of the contestant.
7. Children of the employees of the Department of Health cannot participate in this competition.
8. Most importantly, be creative!