Asbestos-Affected Communities in the U.S.
In order to develop strategies to confront the threat of asbestos exposure, effected communities are interested in learning about the approaches for removal and remediation used previously by others. Since a single collection of comparable sites was not available in the past, we have provided a list of exposed communities, both in the U.S. and abroad, that share characteristics with Ambler's industrial history. We hope that residents may use the summaries we have provided, as well as the links to further information, to draw connections between their concerns for asbestos contamination in Ambler and the solutions produced to ameliorate this issue elsewhere. Each numbered location summary corresponds to a green marker on the map below. The location of Ambler has been labeled with an orange dot for reference.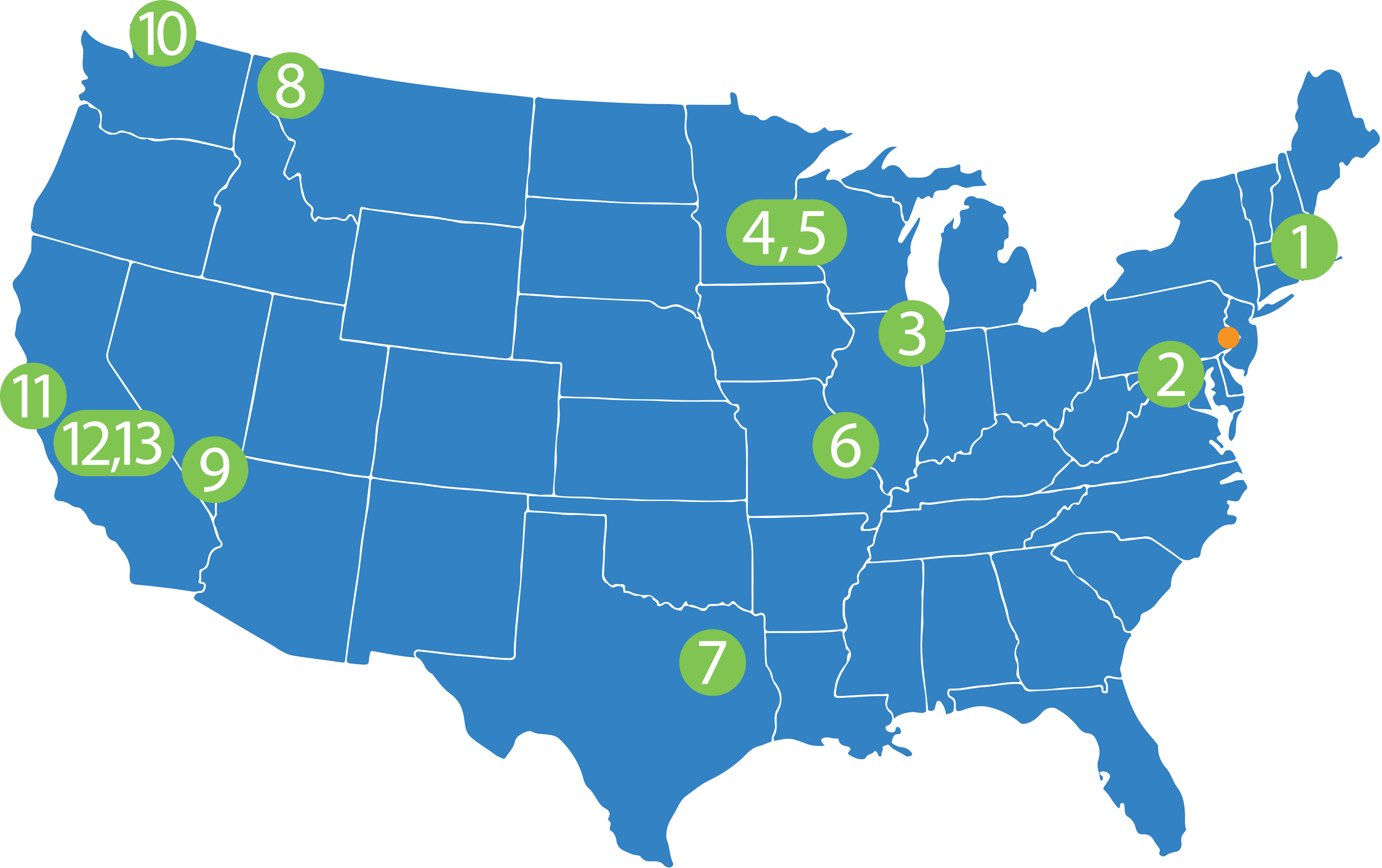 1. Walpole, Massachusetts: Blackburn and Union Privileges Site
The Blackburn and Union Privileges site, located in Walpole, MA, was used for multiple manufacturing purposes, with notable asbestos manufacturing from 1915 to 1937. The Standard Woven Fabric Co. produced asbestos brake linings. Prior to this, production on this site involved other hazardous substances including chromium, arsenic, and mercury. A major concern at this location is groundwater contamination, as lagoons near the public water supply were used for waste disposal. Approximately 19,500 people utilize public drinking wells within four miles of the site. Removal of asbestos material from the site began in 1988 and 1992, and further removal and began in 2009. Comprehensive removal and remediation is ongoing. The EPA page detailing the current site status and reports can be found here. A Reuse and Redevelopment Planning Alternatives Report prepared by the Walpole Superfund Committee can be found here.
News:
EPA detractors: "No End Game" at Walpole Superfund Site (7/5/13)
Approval gained to build on South Street Superfund Site (12/6/13)
Remediation Begins at Blackburn and Union Privileges Superfund Site (5/18/15)
2. Beltsville, Maryland: W.R. Grace/Zonolite Company Site
The W.R. Grace/Zonolite Company facility in Beltsville, Maryland processed asbestos-contaminated vermiculite ore mined from 1966 to the early 1990s. From 1966 to 1988, over 93,000 tons of vermiculite ore from Libby, Montana underwent exfoliation, a process that expands the vermiculite for use in insulation, building products, and fireproofing material. Since 1998, Atlantic Transportation Ltd. has operated a truck maintenance and repair facility on the site. EPA tests detected no asbestos-contaminated soil on-site, and low levels of residual Libby asbestos were found inside only one of the facilities through air testing. The U.S. Agency for Toxic Substance and Disease Registry (ATSDR) has concluded that although former workers and their families could have been exposed, the past on-site asbestos material emissions pose no current risk to the community. However, more data is still needed to confirm whether asbestos remains from wastes that could have been used for off-site community needs such as fill, driveway surfacing, or soil amendments. A health consultation summarizing the history of the site and the ATSDR exposure pathway findings can be found here. An asbestos exposure review conducted by the ATSDR at the Zonolite Company site can be found here. An ASTDR media announcement regarding the health risks posed to former employees and household members can be found here.
News:
Asbestos Warning Issued in Beltsville (10/3/03)
Former Beltsville workers exposed to asbestos (10/9/03)
3. Waukegan, Illinois: Johns Manville Corps Site
The Johns-Manville site in Waukegan, Illinois is the location of a former asbestos manufacturing plant that operated from the 1920s to the 1980s. The 150-acre asbestos disposal area was added to the National Priorities List in September of 1983. Johns-Manville ceased operation at the site in 1998. After an extensive cleanup involving demolition of the former asbestos manufacturing buildings in 2000-2001, the discovery of addition contamination outside of the site fence line has incited ongoing remediation and groundwater monitoring. The EPA's site details the current status of the EPA's achievements of removal and remediation goals. The Illinois Dunesland Preservation Society outlines the accountability for enforcement and provides press releases, reports and other resources regarding the contamination of the Illinois Beach State Park adjacent to the superfund site. The nearby Waukegan Harbor Citizens Advisory Group was formed to incite awareness of the additional contamination of polychlorinated biphenyls (PCBs) in the region.
News:
Waukegan complex stalled by new tests (8/27/03)
Johns Manville to Clean Lagoons (2/15/04)
Asbestos-ridden lakefront land remains in limbo in Waukegan (7/2/15)
Community:
Waukegan Harbor Citizens' Advisory Group Meeting (1/19/12)
4. Northeast Minneapolis, Minnesota: Western Mineral Products Site
The Western Mineral Products Site in Northeast Minneapolis, Minnesota was the location of a vermiculite insulation manufacturing plant. The factory operated from 1930 to the 1980s and disposed of waste products containing high levels of asbestos. During its operation, the plant dumped piles of waste vermiculite rock outside of the facility. This waste rock, which was later found to contain high levels of tremolite asbestos, was offered for community use for free. Residents in the neighborhoods surrounding the facility may have used the asbestos-contaminated waste for driveway or yard fill, gardens, or children's sandboxes. At present, the site owners of Madison Complex are conducting a voluntary remediation of the area under the direction of the Minnesota Pollution Control Agency. The Minnesota Department of Health page describing the Western Mineral Products operation and the governmental vermiculite investigations and assessments can be found here. A health consultation provided by the MDOH can be found here. The EPA Western Mineral Products Site informational page can be found here.
News:
Asbestos trail moves to Minn (3/2/00)
Feds investigate Spread of Asbestos Beyond Libby, Montana (7/12/02)
W.R. Grace Pays $63M Asbestos Tab (2/10/14)
Research:
Modeling community asbestos exposure near a vermiculite processing facility: Impact of human activities on cumulative exposure (2/23/11)
Radiographic Evidence of Nonoccupational Asbestos Exposure from Processing Libby Vermiculite in Minneapolis, Minnesota (10/12/11)
5. Northeast Minneapolis, Minnesota: Tremolite Asbestos Site
The Tremolite Asbestos Site composes of a community of Northeast Minneapolis homes believed to contain tremolite asbestos fibers from the nearby vermiculite-processing Western Mineral Products Site (see 4). Exposure pathways include contamination from workers returning from the facility, family interactions with workers, home insulation, and community use of the asbestos waste. From 2000-2003, 268 Northeast Minneapolis residential properties were found to contain asbestos and were subsequently cleaned up. In 2008, the EPA conducted further air and dust sampling in the same homes to determine whether the previous exterior cleanup was sufficient. Additional soil sampling was conducted in 2010. Although trace levels of asbestos were found in some residential air samples, the EPA determined that the previous cleanup was successful and that the contamination from the previous Western Mineral plant had been effectively removed. A report of the investigation conducted by the Minnesota Department of Health can be found here. A Minnesota Department of Health Residual Soil Indoor Asbestos Assessment from 2008/2010 can be found here. Further information can be found on the EPA's cleanup site webpage.
News:
Health Department notifies plant employees about asbestos risk (1/16/01)
Research:
Exposure to Commercial Asbestos in Northeastern Minnesota Iron Miners who Developed Mesothelioma (2003)
6. St. Louis, Missouri: Carter Carburetor Site
The Carter Carburetor Site, located in St. Louis, Mo, was home to an automotive products industry that operated from the 1915 until 1984. Carter Carburetor Corporation and Carter Automotive Products manufactured gasoline and diesel carburetors, a process that involved hazardous materials such as polychlorinated biphenyls (PCBs), trichloroethylene (TCE), and asbestos. The EPA first began sampling the site for toxic substances in 1987. In 2013, the EPA, ACF Industries, Inc., and Carter Building Incorporated agreed to plans for the removal of asbestos from the CBI building, then demolition and removal of that building, followed by soil removal and treatment. Follow-up environmental testing will confirm the success of these cleanup activities. The EPA website provides weekly air monitoring and sample reports, abatement work plan documents, and fact sheets outlining periodic updates on removal and remediation since the EPA initiated the cleanup. A community involvement plan released by the EPA for this site can be found here.
News:
EPA reaches agreement to clean up Carter Carburetor Site (7/29/13)
Way Cleared for Cleanup of Carter Carburetor Site (7/29/13)
Carter Carburetor Saga has Winners and Losers (7/29/13)
W.R. Grace & Co. Pays $54 Million to EPA (2/7/14)
Research:
Determining the Frequency of Asbestos Use in Automotive Brakes from a Fleet of On-Road California Vehicles (2011)
Community:
Carter Carburetor Citizens Advocacy Group: 3/31/11 Press Release
Carter Carburetor Citizens Advocacy Group: 5/19/11 Press Release
7. Dallas, Texas: W.R. Grace & Company/Texas Vermiculite Site
The Texas Vermiculite site in Dallas, Texas is the location of the former W.R. Grace & Company vermiculite exfoliation factory. The factory, operational from 1953 to 1992, processed almost 370,000 tons of asbestos-contaminated vermiculite from mines in Libby, Montana. The site was located ¼ mile south of a residential area, with over 7,000 people living within 1 mile of the site during the last decade of vermiculite processing. The EPA visited the site in 2000, but since it did not find any visible piles of vermiculite, it decided not to conduct a cleanup and determined that no further action was needed. The W.R. Company directed a voluntary facility demolition and cleanup of the site from 2001-02. The EPA stated in 2006 that it might reassess the site by conducting activity-based sampling some time in the future. A health consultation summarizing the history of the site and the ATSDR exposure pathway findings can be found here. An ATSDR fact sheet for former workers, their family members, and nearby community members can be found here. A U.S. Government Accountability Office report on the EPA's investigation of the site can be found here.
News:
Feds investigate deadly ore shipped to Dallas (4/24/05)
Testing urged for ex-Texas Vermiculite workers (8/20/06)
Hospital in Dallas Screens Hundreds for Asbestos Diseases (7/27/07)
15 Linked to Dallas Plant Show Signs of Asbestos Illnesses (8/17/07)
Research:
Report of Project Design and Preliminary Findings to the Texas Department of Health Services
8. Lincoln County, Montana: Libby Asbestos Site
Libby, a town located in Lincoln County, Montana, was once home to a vermiculite mining industry that began operations in 1919 and continued until 1990. The Libby mine became the primary source of vermiculite ore in the world. In 1999, the Agency for Toxic Substances and Disease Registry (ATSDR) began to evaluate human health concerns caused by the operations of the asbestos mine. Libby was added to the EPA's Superfund List in 2002. Asbestos was detected in the air (indoor and outdoor ambient), vermiculite insulation and bulk materials, water, animal and fish tissue and other media throughout the town of Libby. By 2014, nearly 2,000 buildings and residences were cleaned up, but investigation and complete cleanup of the site is still in progress. EPA site status and other information can be found here. The ATSDR Libby Site page can be found here.
Documentaries:
PBS documentary: Libby, Montana (premiered 8/28/07)
Vice News: Why the Deadly Asbestos Industry is Alive and Well (2/16/16)
News:
EPA: Asbestos Cleanup Reducing Health Risks in Libby (12/8/14)
U.S. cleanup would leave some asbestos in contaminated Libby, Montana (5/5/15)
Libby gathering to mark progress in asbestos cleanup efforts (2/17/16)
Research:
Libby Epidemiology Research Project (LERP)
Mechanisms of oxidative stress and alterations in gene expression by Libby six-mix in human mesothelial cells (2010)
Libby Vermiculite exposure and risk of developing asbestos-related lung and pleural diseases (2012)
Community:
Center for Asbestos Related Disease: Exposure in Libby Montana
9. Southern Nevada: Boulder City, Southeast Henderson, Colorado River Black Canyon Areas
Naturally-occuring asbestos is prevalent in rocks and soils found across many states. In Southern Nevada, naturally-occurring asbestos originates from granite bedrocks, and may become dispersed through the environment by erosion into sediments and soils. In 2010, two University of Nevada, Las Vegas researchers linked the deaths of dozens of southern Nevada locals with mesothelioma to the presence of hazardous levels of naturally-occurring asbestos in the environment. However, state health officials prevented the UNVL scientists from publishing their findings for five years, maintaining that they feared inciting a public panic. After the findings were finally released in 2015, the state continued to assert that the natural asbestos poses no risk to Nevada citizens. The UNLV Naturally Occurring Asbestos Research page can be found here. A Clark County, Nevada air quality page providing fact sheets and further information on naturally occurring asbestos in southern Nevada can be found here.
News:
Asbestos found in Nevada and Arizona: Roadblock and potential health hazard? (1/29/15)
In Nevada, a Controversy in the Wind (2/9/15)
I-Team: Unhealthy levels of asbestos found in Las Vegas valley (5/4/15)
Research:
Naturally Occurring Asbestos: Potential for Human Exposure, Southern Nevada, USA (5/16/13)
10. Whatcom County, Washington: Sumas Mountain Landslide
The Sumas Mountains landslide is an active landslide located in Whatcom County, Washington. The landslide sediments contain naturally occurring asbestos and are deposited into Swift Creek. These sediments can be exposed when creek water levels are low, when the creek floor is dredged, or when floods deposit materials on the banks and surrounding properties. If the sediment is further disturbed through activities like walking, driving, or use in local construction projects, the asbestos can become airborne. In 2014, the EPA, Whatcom County and the Washington Department of Ecology agreed on a long-term plan to manage the release of the asbestos containing materials into the creek. An FAQ produced for community members residing near Swift Creek can be found here. A list of EPA reports on the site can be found here. A Washington State Department of Health Fact Sheet can be found here.
News:
A flood of asbestos: how much should residents worry? (9/4/10)
Asbestos dredging will continue in Sumas River this year (1/26/11)
Whatcom County to begin repairs to levee at asbestos-laden Swift Creek (11/2/14)
Research:
Sumas Mountain chrysotile induces greater lung fibrosis in Fischer 344 rats than Libby amphibole, El Dorado tremolite, and Ontario ferroactinolite (2012)
Community:
Whatcom County Health Department FAQ
11. Santa Clara, California: South Bay Asbestos Area
Located on the San Francisco Bay, the South Bay Asbestos Area is a 550-acre plot that had served as an asbestos dumping site for over 30 years. Three landfills at the site were areas where a nearby asbestos-cement pipe manufacturing industry disposed of its wastes from 1953 until 1982. To combat regional flooding, residents reported using waste asbestos piping as makeshift drainage before gutters and curbs could be installed. Asbestos-containing soil was also brought in by residents to elevate properties and further protect against flooding. Many of the local water sources were contaminated by asbestos. The site was added to the Superfund National Priorities List and a cleanup began in 1983. The cleanup has primarily involved removing asbestos wastes, paving areas, and building vegetated soil covers. Although site cleanup is still ongoing, completed cleanup of the nearby city of Alviso removed all health risks by 1994. A list of EPA reports on the site can be found here.
News:
Superfund Adds 15 Dump Sites in California (5/20/86)
Asbestos in Roads Pits the U.S. Against California (5/17/87)
EPA "kicking up dust" in Alviso to ensure asbestos risk is gone (8/20/07)
Alviso receives clean bill of health from EPA (11/16/10)
12. Coalinga, California: Coalinga Asbestos Mine
The Coalinga Asbestos Company, located near Coalinga, CA, owned a 120-acre asbestos mill site from 1962 to 1975. A process waste mine tailings pile occupied about 20 acres of the site. The closest community, Coalinga, with a population of 19,000, is located 16 miles away from the site but experienced considerable asbestos transport traffic from the Coalinga Asbestos Company to the Atlas Asbestos Mine site (see 12). Cleanup began in 1991, and the site was removed from the National Priorities List in 1998. EPA Analysis in 2006 confirmed that the cleanup had successfully protected human health and that no further remedial action was necessary. A report of the historic asbestos activity in California, including in Coalinga, can be found here.
News:
$9 Million Settlements Reached for Superfund Asbestos Mine Sites (6/18/92)
California Jury Rejects Asbestos Claim Against Landowner (10/8/14)
Research:
Acid Leaching Studies of Chrysotile Asbestos From Mines in the Coalinga Region of California and From Quebec and British Columbia (1997)
13. Coalinga, California: Atlas Asbestos Mine
The Atlas Asbestos Mine, located near Coalinga, California, is a 435-acre site where mining of naturally occurring asbestos took place from 1963 to 1979. Like the Coalinga asbestos mine (see 11), some of the milling and mining products of the Atlas Asbestos Mine were transported to the nearby City of Coalinga. The EPA began investigation in 1991, and cleanup activities began in 1994 and were completed in 1996. The last five-year review, completed in 2011, determined that the remediation of the city of Coalinga has successfully protected human health and the environment. The EPA informational page detailing project reports and results can be found here. An article detailing post-cleanup EPA sampling methods can be found here.
News:
Off-roading paradise lost due to asbestos (5/2/08)
California asbestos deposits mapped (8/23/11)
Research:
New Idria Serpentinite: A Land Management Dilemma (1996)
Map altered from BlankMap-USA-States.PNG as free software provided by user:Zntrip of Wikimedia Commons under the terms of the GNU General Public License as published by the Free Software Foundation. URL: https://commons.wikimedia.org/wiki/File:BlankMap-USA-states.PNG