Hand Hygiene
Training Programs
The Pennsylvania Department of Health offers free lab-based training events to childcare caregivers, community health education specialists, instructors, and administration staff to promote appropriate antibiotic use.
Lab-based approach to prevention of childhood illnesses in childcare settings through hand washing. The 3-hour program emphasizes the importance of good hand washing and teaches the "why", "how", and "when" to hand wash. Training materials and lesson plans developed with PA state standards will be provided and participants will receive children's books and Glo Germ™ hand wash training kits.
PA Hand-washing Action Plan:
To support the need for personal hygiene and cleanliness, school districts have established practices to decrease the spread of bacteria and viruses, such as the flu, the common cold, and Norovirus. Click here for Pennsylvania's hand-washing action plan (pdf file).
CDC's Clean Hands Save Lives
This CDC website provides information about proper hand washing techniques and links to other sources of information related to hand washing. Following the CDC's guidelines on proper hand hygiene is a very effective way to prevent the spread of many types of infection and illness, including bacteria, cold and flu viruses. Initiatives to increase proper hand hygiene and decrease improper use of antibiotics are intended to promote better health in the community.
Glo Germ™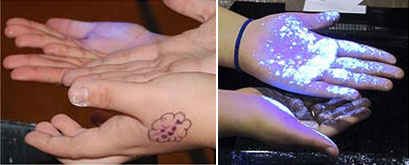 Glo Germ™ has been providing materials for preschool and day care facilities to train providers and children on proper hand washing. Glo Germ™ provides a visual demonstration of how germs can persist on hands with improper cleaning.