Kids' Hangout's Annual Drawing Competition
Rub-a-dub scrub! We all need to wash our hands. Draw a picture showing why it's important to wash, scrub, swish, and rub our hands clean!
Get Smart wants everyone to know how important it is to wash our hands, so they're sponsoring a drawing competition open to Pennsylvania children 8 years of age and younger.
The winning child (or children) will receive a prize, and his or her drawing will be displayed on the Know When to Say No website!
Drawings can be of anything that shows the importance of washing hands.
Here are some ideas of what you could draw:
The icky germs dirty hands can carry!
Everyone gets a cold from time to time that could include your friend, sister, brother or parents. What would you do if someone accidentally coughs on your book, toy or pencil before they hand it back to you?
Something that is COOL to share, like games, books or toys. We wash our hands so we don't share germs, which are NOT cool to share!
A picture of yourself washing your hands with all the soapy, bubbly fun!
Everything you touch in a day. All of this stuff could have germs or get germs if you don't wash your hands!
Pictures of when it is important to wash your hands. After lunch? Before bed? After playing with pets?
Draw a germ-fighting hero! Does the hero battle icky germs with soap and water or does he let the germs win?
What your hands look like before and after you wash them!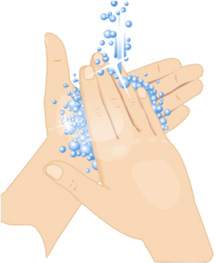 Details for the 2015 competition will be released June 2015.