The John H. Ware 3rd Endowed Professorship in Alzheimer's Research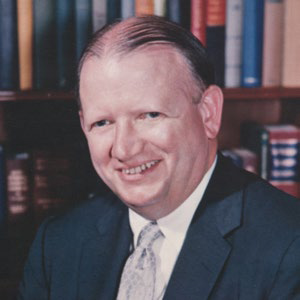 The Professorship was established in 1999 by the Ware family as a lasting tribute to the extraordinary life and career of John H. Ware 3rd (1908–1997).
A Wharton graduate of the Class of 1930, among his business achievements, Mr. Ware founded and headed Penn Fuel Gas, Inc. for 45 years. He also served as Chair of the Board of American Water Works Company, the business founded by his father that became the largest water utility holding company in the U.S.
Mr. Ware was a Pennsylvania State Senator and U.S. Congressman who was a member of the Republican National Finance Committee and Chairman of the state GOP Finance Committee. He received an Honorary Degree from the University in 1978 for his over 50 years of dedication as "class president, trustee, and an ever-interested alumnus." The Ware College House was named in his honor.
At the Perelman School of Medicine, the Ware family has been among the first to champion a comprehensive, integrated approach to research and patient care that joins both nursing and medicine. John Ware's wife, Marian S. Ware (1916–2008), founded overarching programs for diabetes (the JDRF Marian Ware Program for Islet Transplantation) and Alzheimer's disease (the Marian S. Ware Alzheimer's Program). Her efforts have been further amplified by the generous giving and service of her children, the Honorable Marilyn Ware, Carol Elizabeth Ware, Paul W. Ware, and the late John H. Ware IV. Through their philanthropic leadership, the Ware family has made possible the development of new treatments and better care for diabetes and Alzheimer's patients and their families.
---
Current Chairholder
Virginia M.-Y. Lee, PhD
Virginia M.-Y. Lee, PhD studied music at the Royal Academy of Music in London (1962–1964) and received her PhD in biochemistry from UCSF in 1973. She joined the Department of Pathology and Laboratory Medicine at the Perelman School of Medicine in 1981 and rose to become Professor of Pathology and Laboratory Medicine in 1989.
Dr. Lee identified tau, alpha-synuclein, and TDP-43 as disease proteins that form unique inclusions in Alzheimer's disease (AD), Parkinson's disease, and frontotemporal degeneration Lou Gehrig's disease, respectively. Her work has advanced an understanding of the roles these proteins play in these disorders. Dr. Lee's h-index is 146, and she is listed among the 10 most highly cited AD researchers from 1985 to 2008 and among the top 400 most highly influential biomedical researchers from 1996 to 2011. The Institute for Scientific Information (ISI) has recognized Dr. Lee as a Highly Cited Researcher and placed her in the top 10 most highly cited neuroscientists from 1997 to 2007.