Eric Lancaster, M.D., Ph.D.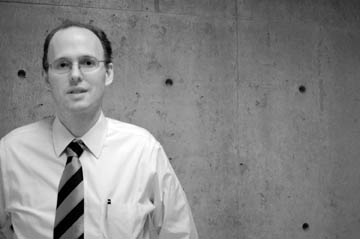 Email:
eric.lancaster@uphs.upenn.edu
Telephone:
215-898-0181 (lab)

Fax:
215-573-4454
Biographical Sketch
I graduated from Johns Hopkins University in 1994 with a BS in biomedical and electrical engineering. After one year of brain imaging research, I enrolled in the MD-PhD program at the University of Maryland. My thesis was on the effects of nerve injury on the ion channels and electrical excitability of sensory neurons. I completed medical internship, neurology residency, and a neuromuscular clinical fellowship at the University of Pennsylvania (2003-2008). I am board-certified in neurology, neuromuscular medicine, and electrodiagnostic medicine. Since 2008, I have devoted most of my time to research on the neurobiology of disease, seeing patients with neuromuscular disorders in the remaining time.
Current Projects
My current research interests are ion channels, nerves and axons, the electrical excitability of neurons, and antibody-mediated neurological disorders. Recently, I (along with Josep Dalmau, Meizan Lei, Ethan Hughes, Xiaoyu Peng, and Rita Balice-Gorden) have reported a new neurological disorder involving antibodies to the GABA-B receptor. Patients who develop auto-immunity to the GABA-B receptor have seizures, severe confusion, and profound memory disturbance. I am currently exploring the pathogenic mechanisms of the GABA-B antibodies. This research will hopefully lead to new ways to diagnose and properly treat this disorder.
My other primary project (with Steve Scherer) is to determine the molecular mechanisms of hypocalcemic tetany. Hypocalcemic tetany is abnormal nerve hyper-excitability in the setting of low calcium levels, resulting in severe muscle spasms and potentially death. This effect of calcium on the nervous system has been recognized for over a century, but on a molecular level it is only beginning to be understood.