Exploring the Circuit and Synaptic Mechanisms of Behavioral Control
Our laboratory is interested in understanding how neural circuits generate and regulate mouse behavior — from simple motor patterns to complex goal-directed actions. We approach these questions from molecular, synaptic and behavioral perspectives, employing all necessary technologies to create a comprehensive understanding of the organization and regulation of behavioral output and its disruption in mouse models of neuropsychiatric disease.
Open Positions
Postdoctoral Fellow: We are currently looking for a highly motivated postdoctoral fellow interested in studying the neural mechanisms of behavioral control and executive function with specific expertise in quantitative analysis of rodent behavior and in vivo electrophysiology.
Penn Graduate Students: please inquire about opportunities for research rotations. Excellent training opportunity to learn a wide array of skills from molecular biology to electrophysiology and behavior.
Single-cell transcriptional profiling of neural circuits published in Neuron.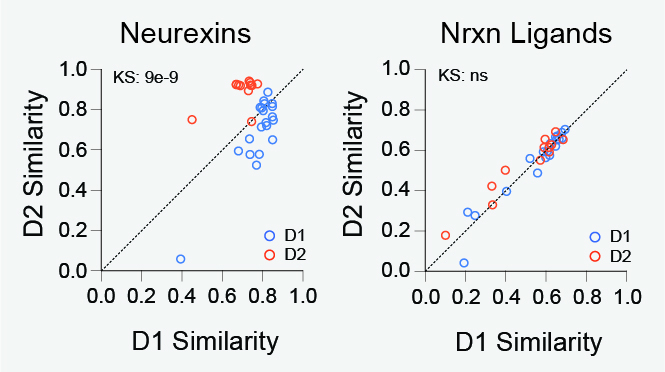 Single-neuron transcriptional analysis of synaptic adhesion molecules demonstrates that two subclasses of striatal medium spiny neuron exhibit stereotyped and distinct patterns of synaptic adhesion molecule expression.