Chronobiology at Penn School of Medicine
Bridging Clocks to Medicine : Promoting innovative research in basic circadian biology and how it impacts all aspects of physiology and health
About
Virtually all organisms display circadian (~24 hour) rhythms of behavior and physiology that have facilitated adaptation to the day:night cycle. These rhythms are driven by endogenous circadian clocks, which restrict or promote various physiological phenomena at specific times of day. For instance, clocks in humans ensure that sleep occurs at night, body temperature is highest in the evening and cortisol peaks following morning awakening. The past two decades have seen major advances in our understanding of the science of circadian rhythms (chronobiology). These studies are also highlighting the biomedical importance of rhythms, with disrupted rhythms linked to aging as well as to metabolic, psychiatric and other disorders. Treatment of many diseases might also benefit from an approach that takes time-of-day into account.
The Chronobiology Program at Penn was created in 2013 to bring together researchers working in the very diverse areas impacted by circadian clocks. The goal is to strengthen our overall understanding of how biological timing impacts organismal function, and to promote the translation of laboratory findings to clinical implementation. Our participating faculty members are leaders in their fields, and their collective research interests encompass a vast spectrum of biomedical science, from neurobiology to metabolism to cardiovascular disease and cancer. The program hosts monthly research meetings, which bring together researchers working in these different areas. Other activities sponsored by the program include an annual retreat and regional conferences. In addition, the program provides travel awards, which allow trainees in this area to present their work at national/international conferences. We are also recruiting new faculty in an effort to further enhance the already strong circadian and sleep communities at Penn.
Director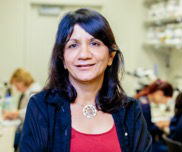 Joint Chronobiology/CSCN Seminar Series
---
Annie Curtis, Ph.D.
"Innate Rhythms, the Role of Molecular Clock and Inflammation"
January 11, 2019, 12-1pm, SCTR 11-146AB
Click here for the flyer
Clock Meeting
Monday, January 7, 4-5 pm
Sigrid Veasey:
"Chronic Short Sleep Brain Injury: Implications for Aging and Neurodegeneration"
Marine Adlanmerini (Lazar Lab):
"Circadian lipid synthesis in brown fat maintains body temperature during chronic cold"
News
Matt Kayser Awarded NIH Director's New Innovator Award
Congratulations, Matt!
Dongyin Guan, Mitch Lazar and colleagues show effects of diet on clocks and metabolism
published in Cell, Aug 9, 2018