Home
Upcoming Events
CSI Seminar Series
September 21, 2023, 12 - 1 pm
Keith Hengen, Ph.D.
Washington University, St. Louis
"Sleep is a Systems-Level Solution to a Systems-Level Problem:
Resetting the Operating System for Optimal Computation"
---
CSI Research Retreat
October 17, 2023 Smilow Auditorium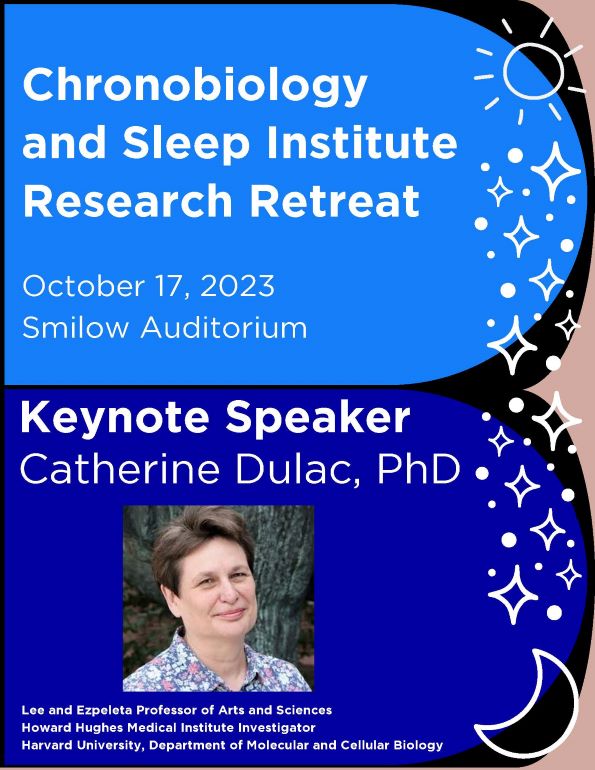 ---
Congratulations to the CSI Research Retreat Poster Award Winners!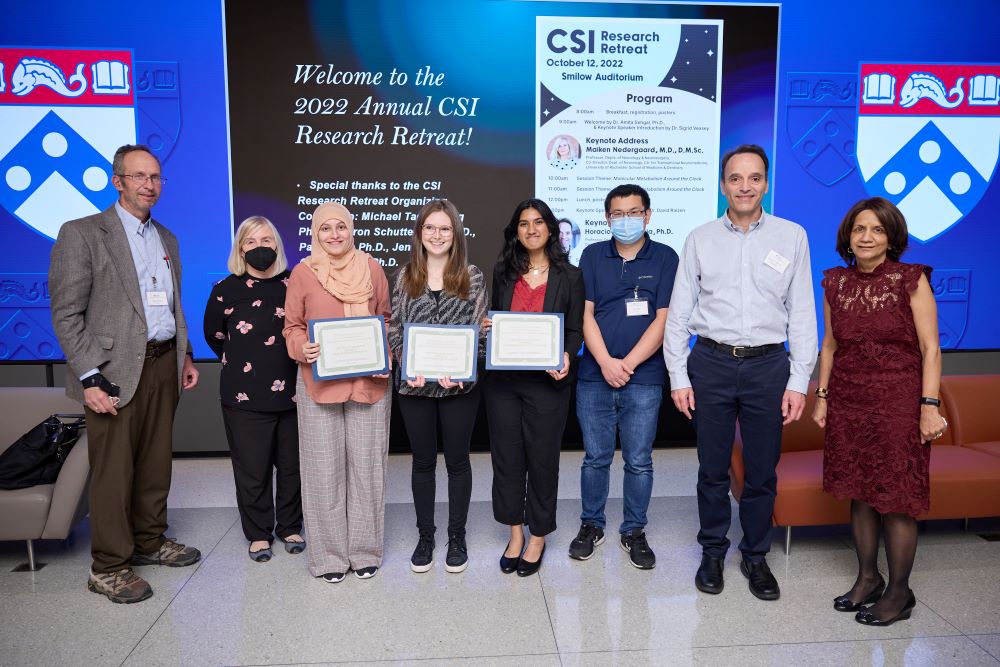 l-r: David Raizen, Maiken Nedergaard, Naureen Hameed (Barber Lab), Jessica Schwarz (Sehgal Lab), Akanksha Mathivanan (Barber lab), Kun Zhu (Lazar Lab), Horacio de la Iglesia, and Amita Sehgal. Not pictured: Amy Poe (Kayser Lab)
---
**We are recruiting faculty!**
The CSI seeks to recruit a junior faculty member in the area of chronobiology and sleep
Interested individuals can find more information and apply [here]
---
Latest News
Rhythms in body temperature predict disease risk

Thursday, September 21, 2023

A team of CSI scientists, lead by

Carsten Skarke, M.D.

, published a recent article in

Nature Communications

that reports an association between rhythms of body temperature and risk of disease. Findings were based on the UK biobank after one year of actigraphy, and suggest that body temperature rhythms could be used as a biomarker. Other members of the research team included Thomas Brooks, Nicholas Lahens, Greg Grant, Yvette Sheline, and Garret FitzGerald. Congratulations!

Investigating fatigue: why are we sleepy during sickness?

Wednesday, September 20, 2023

David Raizen, M.D., Ph.D. is highlighted in the Penn Today Newsletter for his role in the Penn Undergraduate Research Mentorship program. He hosted Hina Sako, a Penn undergrad, to conduct research in sickness sleep using the roundworm, C. elegans.

How depression and obesity are linked

Friday, August 25, 2023

Kelly Allison

, Ph.D., comments on behaviors associated with both depression and obesity, such as nighttime eating, binging on food, and poor sleep. Reported in

Psycom

.
CSI Research Meeting
Monday, November 6, 2023

4-5 pm

Kyla Mace (Kayser Lab): "A developmental role for synaptic adhesion molecules in adult hypersomnia in flies, fish, and humans"

Christopher Jones: Title TBA