Home
---
Congratulations to the CSI Research Retreat Poster Award Winners!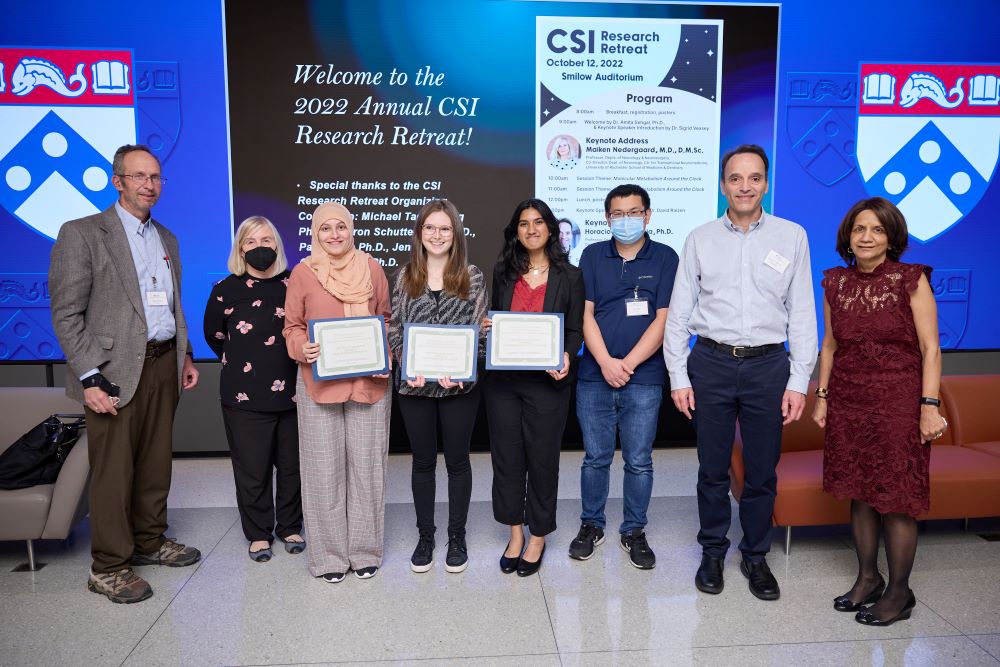 l-r: David Raizen, Maiken Nedergaard, Naureen Hameed (Barber Lab), Jessica Schwarz (Sehgal Lab), Akanksha Mathivanan (Barber lab), Kun Zhu (Lazar Lab), Horacio de la Iglesia, and Amita Sehgal. Not pictured: Amy Poe (Kayser Lab)
---
**We are recruiting faculty!**
The CSI seeks to recruit a junior faculty member in the area of chronobiology and sleep
Interested individuals can find more information and apply [here]
---
Latest News
Later school start time for teens

Sunday, March 12, 2023

The Lower Merion school district will vote on a move for later school start times for middle- and high school students so that they can get more sleep, which is needed for adolescent school children. Indira Gurubhagavatula, MD, MPH, comments on an article in the Philadelphia Inquirer.

Magnesium for sleep?

Friday, March 10, 2023

Indira Gurubhagavatula, M.D., MPH,

comments on the use of magnesium as a sleep agent, its effectiveness, and health risks. Reported in

HealthDay

.

Effects of a 4-day workweek on health and productivity

Sunday, February 26, 2023

Philip Gehrman, Ph.D.

, comments on how a 4-day workweek could potentially reduce stress and benefit sleep without affecting productivity, reported in

Insider

.
CSI Research Meeting
Monday, April 17, 2023

4-5 pm

Folasade Sofela (Sehgal Lab)

Sarah Teegarden (FitzGerald Lab)

Titles TBA