Home
---
Congratulations to the CSI Research Retreat Poster Award Winners!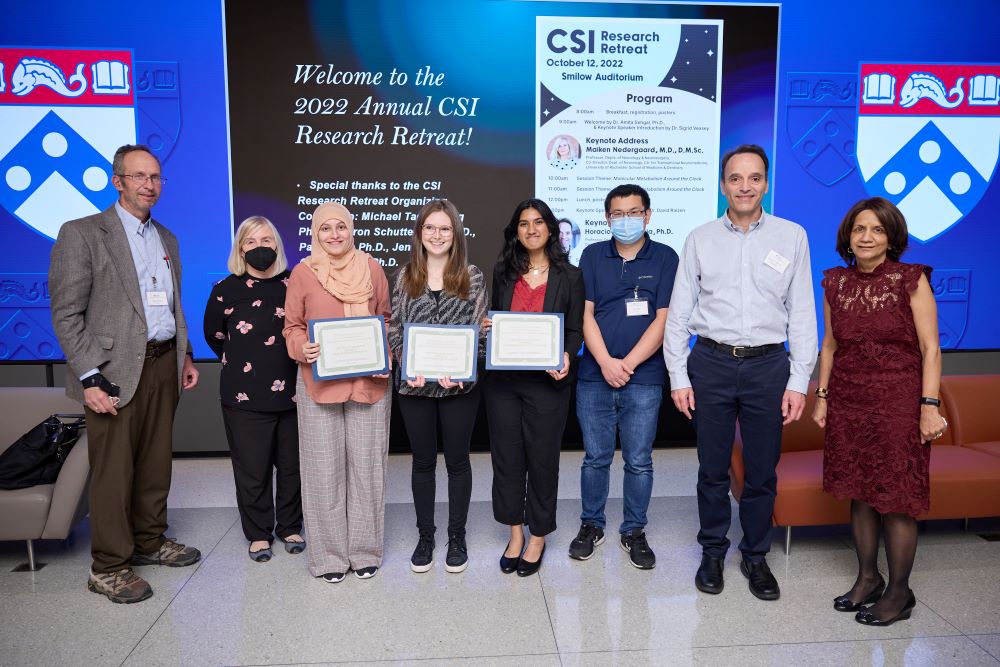 l-r: David Raizen, Maiken Nedergaard, Naureen Hameed (Barber Lab), Jessica Schwarz (Sehgal Lab), Akanksha Mathivanan (Barber lab), Kun Zhu (Lazar Lab), Horacio de la Iglesia, and Amita Sehgal. Not pictured: Amy Poe (Kayser Lab)
---
**We are recruiting faculty!**
The CSI seeks to recruit a junior faculty member in the area of chronobiology and sleep
Interested individuals can find more information and apply [here]
---
Upcoming Events
CSI Seminar Series
December 8, 2022, 12 - 1 pm
William Wisden, Ph.D., F. Med. Sci.
Professor, Molecular Neuroscience, Imperial College, London
"Sleep Circuitry: Linking Homeostasis & Stress"
Click [here] for the flyer
Latest News
Is brown noise good for sleep?

Friday, November 18, 2022

Mathias Basner, M.D., Ph.D.

, spoke with

U.S. News & World Report

about the potential benefit and harm of listening to brown noise while sleeping. He notes that while it can drown out other distracting sounds, the ears also need rest, and can't necessarily do so while the auditory system is processing sound all night long.

How to recover sleep loss from World Series Baseball

Wednesday, November 9, 2022

Philip Gehrman, Ph.D.

, explains how "rebound" sleep works to recover from exhaustion after watching the World Series, in

Philadelphia Magazine

.

Effects of Daylight Savings on body clocks and sleep

Friday, November 4, 2022

Philip Gehrman, Ph.D. is featured in Penn Today, discussing the health impact of shifting the clock twice a year. He is also featured in Time on how to become a morning person.
CSI Research Meeting
Monday, December 12, 2022

4-5 pm

Makayla Cordoza (Sawyer Lab): "Sleep disruption as mechanism in the development of hospital-acquired delirium"

Jaclyn Durkin (Kayser Lab): "Ataxin-2 is a modifier of TDP-43 disrupted sleep"

Zoom meeting link: https://pennmedicine.zoom.us/j/91953837442