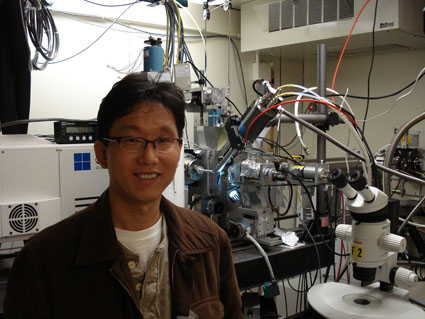 Kyuwon Baek, Ph.D.
PostDoctoral Fellow
Ph.D. (2004) University of Cambridge, UK. Biochemistry.
Publications
Baek K, Knodler A, Lee SH, Zhang X, Orlando K, Zhang J, Foskett TJ, Guo W & Dominguez R. (2010) Structure-Function Study of the N-terminal Domain of Exocyst Subunit Sec3. J Biol. Chem. 285:10424-10433.
Lee S.H., Baek K. & Dominguez R. (2008) Large nucleotide-dependent conformational change in Rab28. FEBS Letters 582:4107-4111
Baek K, Liu X, Ferron F, Shu S, Korn ED, & Dominguez R. (2008). Modulation of actin structure and function by phosphorylation of Tyr-53 and profilin binding. PNAS 105:11748–11753.
Baek K, Brown RS, Birrane G, & Ladias JA. (2007). Crystal structure of human cyclin K, a positive regulator of cyclin-dependent kinase 9. J. Mol. Biol. 366: 563-573.

Baek K, Hwang KY, Kim HY, & Cho Y. (1998). The crystal structure of flap endonuclease-1 from Methanococcus jannaschii. Nat. Struct. Biol. 5:707-713.