Cali and Weldon Research Professorship of FOP
The Cali and Weldon Research Professorship of FOP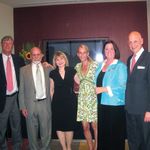 This Professorship was created in 2011 by John R. Cali, Amanda L. Cali, William H. Weldon and Hillary Weldon, who are well-known champions in the fight against fibrodysplasia ossificans progressiva (FOP), a rare genetic disorder.
Penn Medicine's Center for Research in FOP and Related Disorders has made breakthrough discoveries in the molecular and genetic causes of FOP. To make further progress toward a cure, the Professorship supports a faculty member in the McKay Orthopaedic Research Laboratory in the Department of Orthopaedic Surgery who is dedicated to investigating and finding solutions for FOP.
For many years, the Cali and Weldon families have spearheaded national and international development and awareness-building efforts for FOP and research at Penn. John R. Cali is a Penn Medicine Trustee Emeritus and Founding Member of Cali Futures LLC. William H. Weldon is Vice President at Weldon Materials, Inc. Both Amanda Cali and Hillary Weldon have been recognized by the International FOP Association for their leadership.
---
Current Chairholder
Eileen M. Shore, PhD
Eileen M. Shore, PhD is Professor in the Departments of Orthopaedic Surgery and Genetics. She holds the inaugural Cali and Weldon Research Professorship of FOP and is the Co-Director of the Center for Research in FOP and Related Disorders. She is Faculty Chair of the McKay Laboratories Diversity, Equity, and Inclusion Committee. She served on the American Society of Bone and Mineral Research (ASBMR) Council, and as the Basic Science Chair for the 2014 ASBMR Annual Meeting, and is a past President (2009–2011) of the Advances in Mineral Metabolism Board of Directors.
Dr. Shore uses cell/molecular biology and genetic approaches to investigate cell differentiation and development in genetic disease, focusing on rare disorders of heterotopic ossification, fibrodysplasia ossificans progressiva (FOP), and progressive osseous heteroplasia (POH). Building on her collaborative work that leads to discoveries of the mutated genes in both conditions, her research explores the cellular and molecular regulation of tissue maintenance and plasticity, and the basis of dysregulated bone formation in order to identify treatment targets and strategies for FOP, POH, and other more common conditions.