The Jacob Gershon-Cohen Professorship of Medical Science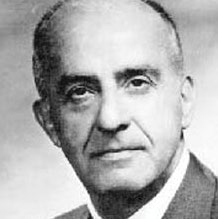 The Professorship was established in 1989 through the bequest of Jacob Gershon-Cohen, MD (1899–1971), a prominent Philadelphia physician. Dr. Gershon-Cohen was an early proponent of the use of mammography for early detection of breast cancer. He was a graduate of both Penn (1922) and the Perelman School of Medicine (1924).
Dr. Gershon-Cohen made his gift with the intent to create an environment conducive to the education of physicians of the Jewish faith. Impressed that the city of Philadelphia was among the first communities in America to "receive in the seventeenth century Jewish colonists as full citizens and to give them religious freedom," Dr. Gershon-Cohen wished to maintain that tradition by encouraging the medical education of young physicians.
Following residency training at the Hospital of the University of Pennsylvania, Dr. Gershon-Cohen opened his office in 1929 and quickly became known as a leader in radiology. Among his professional appointments, he was Assistant Professor of Radiology at the Graduate School of Medicine of the University of Pennsylvania from 1941to 1968. He served in the U.S. Navy during World War II.
A member of numerous medical organizations, Dr. Gershon-Cohen authored more than 400 papers. His many recognitions included the Alvarenga Prize of the College of Physicians of Philadelphia, the Gold Medal Award of the International College of Radiology and the Clement Cleveland Award of the American Cancer Society for outstanding work in cancer control.

Current Chairholder:
Gregory D. Van Duyne, PhD
Gregory D. Van Duyne, PhD graduated from Cornell University with a BA in chemistry in 1983. He studied the structures of bioactive natural products at Cornell University with Jon Clardy, receiving his PhD in chemistry in 1988. Dr. Van Duyne was Research Associate at Cornell from 1988 to 1991, when he studied the structures of the immunosuppressant natural products FK506 and rapamycin bound to their cellular protein target, FKBP. In 1991, Dr. Van Duyne joined Paul Sigler's laboratory at Yale as Postdoctoral Fellow, where he pursued research on the structures of regulatory protein-DNA complexes. Dr. Van Duyne joined the faculty of the Perelman School of Medicine in 1995 and from 2000 to 2012 he was an Investigator of the Howard Hughes Medical Institute. He is currently the Jacob Gershon-Cohen Professor of Medical Science and investigates the mechanisms of action and biomedical applications of bacteriophage and retroviral integrases.
Previous Chairholders
| | |
| --- | --- |
| S. Walter Englander, PhD 1990–2004 | |