The Kenneth E. Appel Professorship of Psychiatry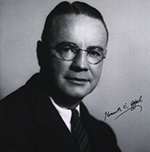 The Appel Professorship was established in 1965 through the support of friends, colleagues, and grateful patients to recognize the many contributions of Kenneth E. Appel, MD (1896–1979) to the University of Pennsylvania and to the field of psychiatry.
Dr. Appel was a member of the Department of Psychiatry for most of his professional life, serving as Chair from 1952 to 1962. His career was devoted to ensuring the humane care and treatment of the mentally ill, and he was recognized nationally and internationally for achievement in this area.
Dr. Appel was instrumental in establishing the United States Joint Commission on Mental Health and Mental Illness, which set the agenda for the Community Mental Health Centers Program. As Department Chair at Penn, Dr. Appel was responsible for the integration of the Marriage Council of Philadelphia into the Department and established an outstanding program of research. He also was President of the American Psychiatric Association, the American Board of Psychiatry and Neurology, and the Academy of Religion and Mental Health.
---
Current Chairholder
David S. Mandell, ScD
David S. Mandell, ScD, is the Kenneth E. Appel Professor in the Departments of Psychiatry and Pediatrics at Penn, where he directs the Center for Mental Health. He is also Associate Director of the Center for Autism Research at the Children's Hospital of Philadelphia. The goal of his research is to improve the quality of care individuals with autism receive in their communities. This research is of two types. The first uses large administrative datasets to examine, at the state and national levels, the effects of different strategies to organize, finance, and deliver services on service use patterns and outcomes. The second consists of experimental studies designed to determine the best strategies to successfully implement proven-efficacious practices in community settings.
Dr. Mandell holds a bachelor of arts in psychology from Columbia University and a doctorate of science from the Johns Hopkins School of Hygiene and Public Health.
Previous Chairholders
Albert J. Stunkard, MD 1968–1973
John Paul Brady, MD 1973–1993
Charles P. O'Brien, MD, PhD 1998–2018