Research Studies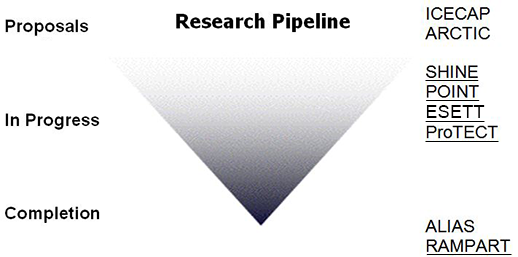 ESETT - Status Epilepticus (SE) is a life-threatening condition in which the brain is in a state of persistent seizure. SE is defined as a seizure or recurrent seizures lasting longer than five minutes without stopping or regaining consciousness (waking up). There are approximately 120,000 – 180,000 episodes of SE each year in the US. ESETT is an emergency medicine study designed to try to save and improve the lives of people who experience a seizure that will not stop on its own or has not responded to a benzodiazepine (like valium). Emergency department care of these patients in the US is not the same everywhere. Because it is not known which drug best treats a long lasting seizure, different doctors use different drugs to try to stop it. This study plans to look at three commonly used medicines given in the emergency departments for a long lasting seizure: fosphenytoin (fPHT), valproic acid (VPA), and levetiracetam (LVT) to learn which treatment is most effective at stopping a seizure quickly. The best possible outcomes in patients having a seizure that will not stop after receiving a full dose of a benzodiazepine (like valium) are likely to depend on a treatment that leads to a rapid stop of the seizure. This study will help researchers figure out which drug works best. Normally, researchers get permission before a person can be included in a study. A person having a seizure will not be able to give consent. Since a seizure that will not stop on its own must be treated quickly, there will not be enough time to locate and talk to the person's legal representative about the study. All patients will be enrolled in the study without his/her legal representative's consent. This is called "Exception from Informed Consent" (EFIC). Once the representative is located or the participant wakes up, they will be told about the study and asked to give their permission to continue in the study.


ALIAS - The purpose of the ALIAS trial is to evaluate the effectiveness of high-dose, intravenous human serum albumin. Human serum albumin is a natural protein already in clinical use for a variety of indications. In animal laboratory studies it has been shown that it reduces the size of the infarction (amount of tissue death) in the brain and improves neurological function after a stroke and also decreases or eliminates the brain swelling that may occur; these effects may reduce or prevent the brain damage resulting from a stroke in humans.


POINT - Transient ischemic attacks (TIA) are common, with an estimated 250,000-350,000 occurring each year in the US, an incidence about 30-40% that of stroke. Rapid recovery of cerebral ischemia (reduction of blood flow to the brain) is a defining characteristic of TIA and distinguishes it from completed stroke. This recovery defines a distinct pathophysiologic feature that generally indicates the presence of previously ischemic tissue still at risk: a characteristic that may be responsible for greater instability. In fact, numerous studies have shown that short-term risk of stroke is high after TIA, particularly in the first few days, even in patients treated with aspirin, the current standard of care. Antithrombotic therapy may play a distinct role in this acute pathophysiology. Effective therapies in those with TIA could significantly reduce the overall burden of stroke if initiated immediately. However, no large-scale trial has evaluated an acute intervention in patients with TIA. The Primary Specific Aim of this randomized, double-blind, multicenter clinical trial is to determine whether clopidogrel (Plavix) 75 mg/day by mouth after a loading dose of 600 mg is effective in reducing the 90-day risk of major ischemic vascular events (ischemic stroke, myocardial infarction, and ischemic vascular death) when initiated within 12 hours of TIA onset in patients receiving aspirin 50-325 mg/day.


ProTECT - Traumatic brain injury (TBI) is a major cause of premature death and disability worldwide. With the exception of mannitol, no therapy has been found to be effective in reducing mortality and improving functional outcomes. Progesterone is a steroid found to have powerful neuroprotective properties in multiple different animal models of brain injury. Based on encouraging pilot clinical trial results, the ProTECT trial will determine the efficacy and confirm safety of this treatment in adults with moderate to severe TBI.


RAMPART - Status epilepticus, a condition of persistent seizures that do not stop, is a true neurologic emergency associated with significant death and disability. Paramedics treat status epilepticus with anti-seizure medicine, but giving medicine through a vein can be difficult or slow in a seizing patient. This study will determine (1) if the anti-seizure drug midazolam given as a shot in the muscle stops seizures as well as the anti-seizure medicine lorazepam given directly into a vein, and (2) the rapidity and safety of these two medicines given in these different ways. The RAMPART study will be conducted using special rules for studies in which the subjects are too sick or incapacitated to either agree to or decline to participate at the time they are being treated in the ambulance or in the Emergency Room.


SHINE - This is a multicenter, prospective, randomized, controlled trial, with blinded outcomes. It aims to determine the efficacy and provide further safety data on the use of insulin infusion therapy for glucose control in hyperglycemic acute ischemic stroke patients. Treatment with insulin infusion will be given within 12 hours of symptom onset. The primary outcome to be assessed at 90 days will be the difference in favorable outcome measured by the modified Rankin Scale score in the insulin infusion group compared to the control group. The rates of symptomatic hypoglycemia with prolonged neurological worsening as well as asymptomatic hypoglycemia will be assessed. The secondary outcomes will assess additional neurological and functional outcomes. This highly collaborative research program is nearly guaranteed to advance the field of stroke care.


ATACH-II is a five (5) year, multi-center, randomized, controlled, Phase-III trial with blinded outcome ascertainment to determine the efficacy of early, intensive antihypertensive treatment using intravenous nicardipine for acute hypertension in subjects with spontaneous supratentorial ICH. The primary hypothesis of this large, streamlined, focused trial is that intensive systolic blood pressure (SBP) reduction using intravenous (IV) nicardipine with treatment initiated within three (3) hours of onset of ICH and continued for the next 24 hours reduces the likelihood of death or disability at three (3) months after ICH by ten percent (10%) or greater compared with standard SBP reduction. ATACH-II will recruit a maximum of 1,280 subjects with ICH who meet the eligibility criteria. The trial will have important public health implications as it will provide necessary information regarding the efficacy and safety of antihypertensive treatment of acute hypertension in subjects with ICH. BP treatment represents a strategy that can be made widely available without the need of specialized equipment and personnel, and therefore can make a major impact upon outcome in patients with ICH.