Cynthia J. Koziol-White, Ph.D.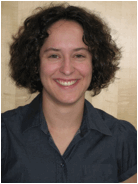 Postdoctoral Fellow
University of Pennsylvania Medical Center
Pulmonary, Allergy, & Critical Care Division
Translational Research Laboratories (TRL)
125 South 31st Street, TRL Suite 1200
Philadelphia, PA 19104-3413
(215) 746-2893
fax: (215) 746-1224
kcynthia@mail.med.upenn.edu
Education:
Ph.D., Molecular and Cellular Pharmacology, University of Wisconsin, Madison, WI
B.S., Biomolecular Science, Clarkson University, Potsdam, NY
Dr. Koziol-White joined the Airways Biology Initiative (ABI) in the fall of 2009 as a postdoctoral fellow in Dr. Haczku's laboratory, and continued her fellowship with Dr. Panettieri in the fall of 2010. Her research interests in the Panettieri lab have focused on elucidating cellular and molecular mechanisms that regulate airway contractility and immunobiology in human lungs in response to viral or ozone exposure. She has been studying the effects of respiratory viruses, particularly rhinovirus, on contractility of and the inflammatory responses elicited by the airways.
Selected publications