Reynold A. Panettieri, Jr, M.D.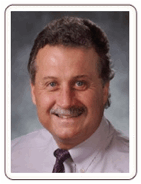 Robert L. Mayock and David A. Cooper Professor of Medicine
Director, Airways Biology Initiative
Adjunct Professor, Wistar Institute
Deputy Director, Center of Excellence in Environmental Toxicology
University of Pennsylvania Medical Center
Pulmonary, Allergy, & Critical Care Division
Translational Research Laboratories (TRL)
125 South 31st Street, TRL Suite 1200
Philadelphia, PA 19104-3413
(215) 573-9860
(215) 746-1224
rap@mail.med.upenn.edu
Education:
M.D., University of Pennsylvania, Philadelphia, PA
Residency:
Hospital of the University of Pennsylvania, Philadelphia, PA
Fellowship:
Hospital of the University of Pennsylvania, Philadelphia, PA
Dr. Panettieri directs the Airways Biology Initiative at the University of Pennsylvania. His interests are in the cellular and molecular mechanisms that regulate airway smooth muscle cell growth and the immunobiology of airway smooth muscle. Consequences of increases in airway smooth muscle growth promote the development of irreversible airflow obstruction and airway remodeling seen in subjects with chronic severe asthma. Dr. Panettieri's lab also focuses on cytosolic signaling pathways that mediate gene expression and alter myocyte function.
Dr. Panettieri also serves as the Deputy Director of the Center of Excellence in Environmental Toxicology. He directs the human exposure chamber that defines the molecular mechanisms regulating ozone- and particulate matter-induced airway hyperresponsiveness.
In parallel with his basic science interests, Dr. Panettieri currently directs the comprehensive clinical program for the care of patients with asthma and is actively involved in clinical investigations focused on the management of asthma and COPD.
In addition to his research and clinical interests, Dr. Panettieri served as chairperson of the NIH Lung Cellular, Molecular, and Immunobiology Study Section, is a member of the NIH Distinguished Editorial Panel and is a member of the American Society for Clinical Investigation and Association of American Physicians.
Current basic research projects open to fellow participation:
Immunobiology of airway smooth muscle: A major emphasis of our laboratory focuses on the immunobiology of airway smooth muscle (ASM) cells in asthma and chronic obstructive pulmonary disease (COPD). We have characterized that ASM can orchestrate and perpetuate airway inflammation through the secretion of chemokines/cytokines and expression of cell adhesion molecules. We define the critical signaling pathways by which structural cells modulate inflammatory responses, specifically the interplay of nuclear receptors such as vitamin D and glucocorticoids in inhibiting pro-inflammatory signals in mesenchymal cells.
Airway smooth muscle growth and airway remodeling: In some but not all patients with asthma, irreversible airflow obstruction occurs that evokes morbidity and mortality. A seminal finding of airway remodeling is increases in ASM mass. Our studies have recently defined that Regulators of G protein coupled Signaling (RGS) modulate ASM contractile responses and promote ASM cell growth. Our studies focus on novel approaches to inhibit ASM growth and maintain the contractile nature of human ASM cells. Specific tools utilize molecular approaches for cell signaling, as well as, novel imaging of cytosolic calcium and confocal bronchoscopy.
Environmental health studies and airway smooth muscle cell function: Ozone and other environmental toxins can induce airway hyperresponsiveness. The molecular mechanisms regulating ozone-mediated airway inflammation and airway hyperresponsiveness remain unclear. Our studies have defined novel eicosanoids and prostaglandins that mediate ozone-induced inflammation. Using translational biologic approaches in which a human exposure chamber delivers ozone to well-characterized patients with asthma and COPD, the characteristics of airway hyperresponsiveness and the molecular mechanisms regulating these phenotypes are defined. As Deputy Director of the Center of Excellence in Environmental Toxicology (CEET), my laboratory is uniquely suited to investigate environmental health issues surrounding airway hyperresponsiveness, asthma and COPD.
Novel therapeutic approaches to treat airways diseases: Our laboratory has devoted considerable effort to collaborate with most major pharmaceutical companies to identify novel targets and platforms to test new therapeutic approaches in asthma and COPD. Using precision cut lung slices (PCLS) from humans and mice, the fundamental processes that regulate ASM contraction and growth can be defined, and novel therapeutics to inhibit such processes are characterized.
Selected publications
Lab Photos