LATEST RESEARCH
Penn Medicine Researchers Pinpoint Potential New Drug Target for Protection against Certain Neurodegenerative Diseases
Findings Could Pave Way for Precision Medicine Approach to Treatment of Neurological Diseases
Penn Medicine researchers have discovered that hypermethylation - the epigenetic ability to turn down or turn off a bad gene implicated in 10 to 30 percent of patients with Amyotrophic Lateral Sclerosis (ALS) and Frontotemporal Degeneration (FTD) - serves as a protective barrier inhibiting the development of these diseases. Their work, published this month in Neurology, may suggest a neuroprotective target for drug discovery efforts.
Read More
CNDR IN THE NEWS
FEATURED VIDEO
Video Archive
RECENT EVENTS
2014 Annual Marian S. Ware Research Retreat
"Biomarkers in Neurodegenerative Diseases"
Friday, October 3, 2014 | 8:00am - 4:00pm
Biomedical Research Building 2/3 Auditorium
Perelman School of Medicine at the University of Pennsylvania
Click the image below for a recap of the Retreat: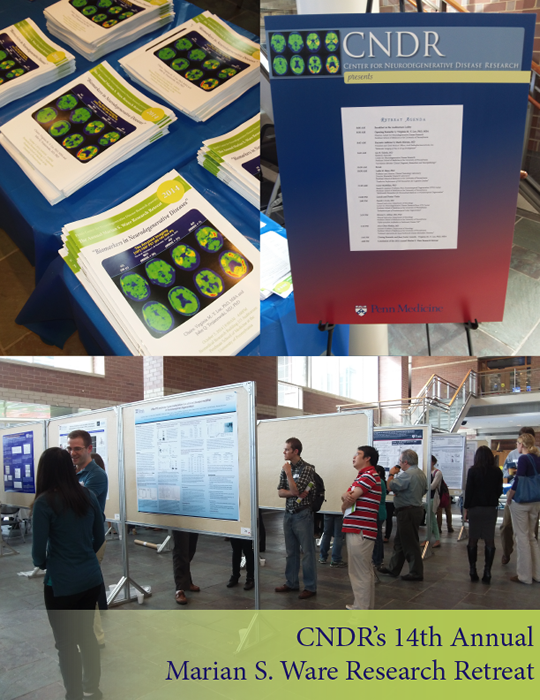 Find more information on CNDR related events here.
LINKS
© The Trustees of the University of Pennsylvania | Site best viewed in a supported browser. | Site Design: PMACS Web Team.