FEATURED RESEARCH
Antipsychotic Drugs Linked to Increased Mortality Among Parkinson's Disease Patients
Penn, University of Michigan, and VA-led Study Analyzed Medical Records of 15,000 Parkinson's Patients
At least half of Parkinson's disease patients experience psychosis at some point during the course of their illness, and physicians commonly prescribe antipsychotic drugs, such as quetiapine, to treat the condition. However, a new study by researchers at the Perelman School of Medicine at the University of Pennsylvania, the University of Michigan Medical School, and the Philadelphia and Ann Arbor Veterans Affairs (VA) Medical Centers and suggests that these drugs may do significantly more harm in a subset of patients.
More Research
CNDR IN THE NEWS
Mark Karasow and his wife, Connie Bastek-Karasow, are part of a giant national experiment to determine whether more precise diagnoses can help patients…

Specialists have long suspected that symptoms progressed more slowly in Parkinson's disease patients whose main problem was tremors, rather than walking…

The Penn Memory Center's Alzheimer's Caregiver's Support Group and three patients and caregivers were featured in a follow up story in the Wall Street…
More News
FEATURED VIDEO
Video Archive
RECENT EVENTS
Recap: 2015 Marian S. Ware Research Retreat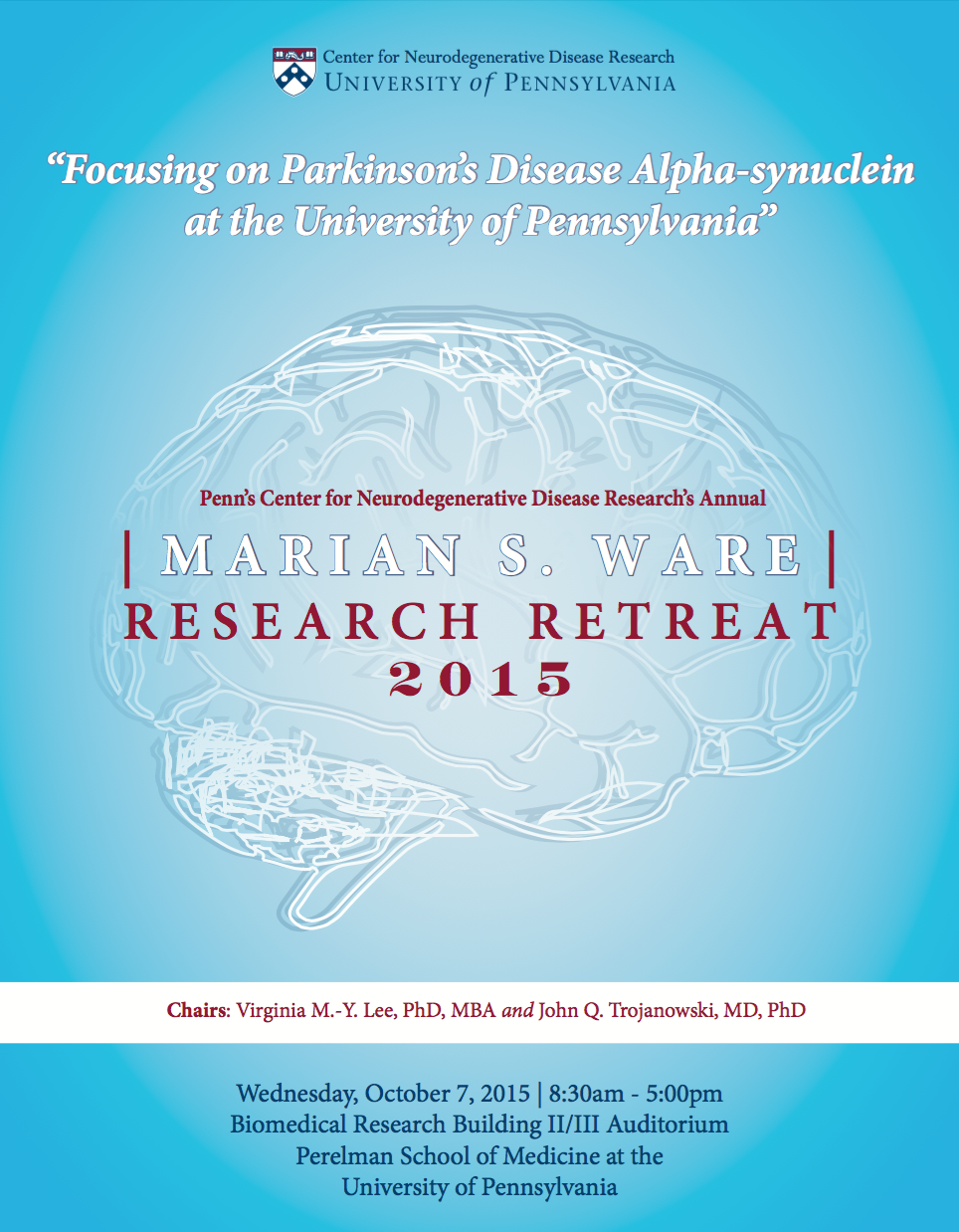 "Focusing on Parkinson's Disease Alpha-Synuclein at the University of Pennsylvania"
Wednesday, October 7, 2015
8:30am - 5:00pm BRB II/III Auditorium
Perelman School of Medicine
at the University of Pennsylvania
More info
Get the event recap here!
LINKS
© The Trustees of the University of Pennsylvania | Site best viewed in a supported browser. | Site Design: PMACS Web Team.