FEATURED RESEARCH
Newly Discovered Gene Variants Link Innate Immunity and Alzheimer's Disease
Findings give neurologists fresh ideas for enlisting immune system to fight Alzheimer's
Three new gene variants, found in a genome wide association study of Alzheimer's disease (AD), point to the brain's immune cells in the onset of the disorder. These genes encode three proteins that are found in microglia, cells that are part of the brain's injury response system. The study is an international collaboration of four AD research consortia that analyzed DNA from 85,000 subjects. The results are reported online this week in Nature Genetics.
Full Penn Medicine News Release
Full Journal of Experimental Medicine Publication
More Research
CNDR IN THE NEWS
This past week, thousands of the world's leading Alzheimer's disease researchers gathered in London to discuss and debate the latest research. Among the…

Developing a potent therapy for Alzheimer's disease will be one of the biggest healthcare challenges over the next few decades.

"Aren't there any sons?"..."Sure aren't. If it's not daughters, it's daughters-in-law." This question and answer exchange is recounted in Making An Exit,…
More News
FEATURED VIDEO
Video Archive
UPCOMING EVENT
CNDR's Annual Marian S. Ware Research Retreat
"Modeling Neurodegenerative Diseases"
Thursday, October 19, 2017
8:30am — 4:30pm
BRB II/III Auditorium & Lobby
Register or submit a poster here
More Related Events
HIGHLIGHTS
CNDR Celebrates 25 Years of Groundbreaking Research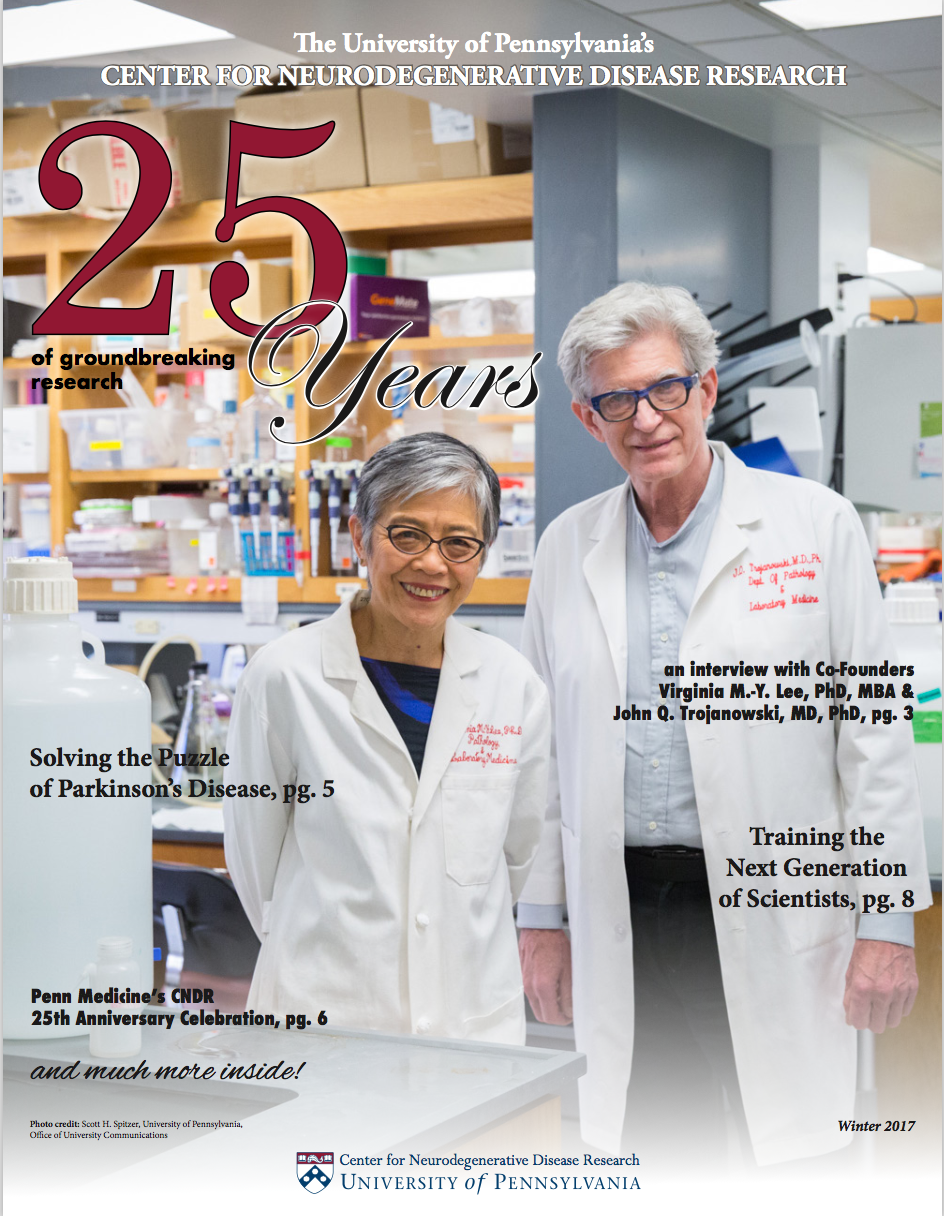 This year, CNDR is celebrating 25 years of groundbreaking research. Read about the Center's history, mission, research, programs, and 25th Anniversary Celebration in this special edition newsletter.
LINKS
© The Trustees of the University of Pennsylvania | Site best viewed in a supported browser. | Site Design: PMACS Web Team.