FEATURED RESEARCH
Diverse Parkinson's-related Disorders May Stem from Different Strains of Same Disease Protein, According to Penn Study
Different Parkinson's-related brain disorders, called synucleinopathies, are characterized by misfolded proteins embedded in cells. Researchers in the Perelman School of Medicine at the University of Pennsylvania found that the type of brain cell afflicted dictates which pathological form of α-synuclein (α-syn) protein becomes the disease culprit. The team's results were published in Nature.
Full Penn Medicine News Release
More Research
CNDR IN THE NEWS
Researchers have long searched for an explanation for why there is so much variety in how abnormal aggregates of the protein tau occur in the brains of…

The epigenomic landscape of Alzheimer's disease brains is profiled in a new study from from the Perelman School of Medicine.

Some immune cells in the brain can protect it from the damaging effects of faulty TDP-43 protein, preventing the progression of amyotrophic lateral sclerosis…
More News
FEATURED VIDEO
Video Archive
FEATURED EVENT
CNDR's Annual Marian S. Ware Research Retreat
"Modeling Neurodegenerative Diseases"
Thursday, October 19, 2017
More Related Events
HIGHLIGHTS
CNDR Celebrates 25 Years of Groundbreaking Research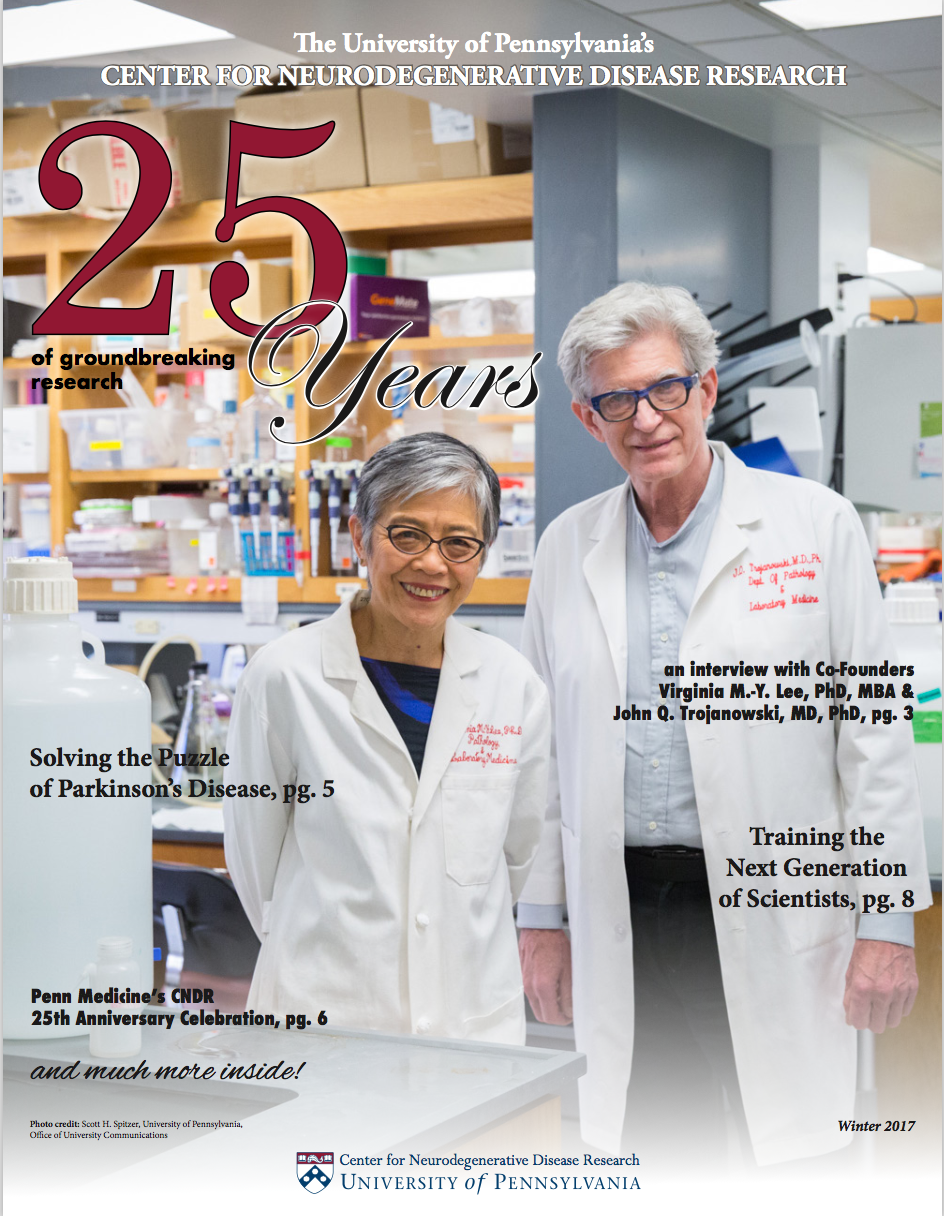 This year, CNDR is celebrating 25 years of groundbreaking research. Read about the Center's history, mission, research, programs, and 25th Anniversary Celebration in this special edition newsletter.
LINKS
© The Trustees of the University of Pennsylvania | Site best viewed in a supported browser. | Site Design: PMACS Web Team.