Publications
Featured Publications
Association of Antipsychotic Use With Mortality Risk in Patients With Parkinson Disease
March 2016 | Daniel Weintraub, MD; Claire Chiang, PhD; Hyungjin Myra Kim, ScD; Jayne Wilkinson, MD, MSCE; Connie Marras, MD, PhD; Barbara Stanislawski, MPH, MSW; Eugenia Mamikonyan, MS; Helen C. Kales, MD
Abstract
Importance: As many as 60% of patients with Parkinson disease (PD) experience psychosis, 80% develop dementia, and the use of antipsychotics (APs) in the population with PD is common. The use of APs by patients with dementia in the general population is associated with increased mortality, but whether this risk extends to patients with PD remains unknown.
Objective: To determine whether AP use in patients with PD is associated with increased mortality.
Design, Setting, and Participants: This retrospective matched-cohort study used data from a Veterans Health Administration database from fiscal years 1999 to 2010 to examine the risk associated with AP use in a cohort of patients with idiopathic PD and recent stable physical health. The rates of 180-day mortality were compared in 7877 patients initiating AP therapy and 7877 patients who did not initiate AP therapy (matched for age ±2.5 years, sex, race, index year, presence and duration of dementia, PD duration, delirium, hospitalization, Charlson Comorbidity Index, and new nonpsychiatric medications). Data were analyzed from October 19, 2012, to September 21, 2015.
Main Outcomes and Measures: Mortality rates at 180 days in those patients who initiated AP therapy compared with matched patients who did not use APs. Cox proportional hazards regression models were used with intent-to-treat (ITT) and exposure-only analyses.
Results: The study population included 7877 matched pairs of patients with PD (65 women [0.8%] and 7812 men [99.2%] in each cohort; mean [SD] age, 76.3 [7.7] years for those who initiated AP therapy and 76.4 [7.6] years for those who did not). Antipsychotic use was associated with more than twice the hazard ratio (HR) of death compared with nonuse (ITT HR, 2.35; 95% CI, 2.08-2.66; P < .001). The HR was significantly higher for patients who used typical vs atypical APs (ITT HR, 1.54; 95% CI, 1.24-1.91; P < .001). Among the atypical APs used, HRs relative to nonuse of APs in descending order were 2.79 (95% CI, 1.97-3.96) for olanzapine, 2.46 (95% CI, 1.94-3.12) for risperidone, and 2.16 (95% CI, 1.88-2.48) for quetiapine fumarate.
Conclusions and Relevance: Use of APs is associated with a significantly increased mortality risk in patients with PD, after adjusting for measurable confounders. This finding highlights the need for cautious use of APs in patients with PD. Future studies should examine the role of nonpharmacologic strategies in managing psychosis in PD. In addition, new pharmacologic treatments that do not increase mortality in patients with neurodegenerative diseases need to be developed.
Full Publication in JAMA Neurology.
Full Penn Medicine News Release.
---
An Alzheimer's Disease-Derived Biomarker Signature Identifies Parkinson's Disease Patients with Dementia
January 2016 | Berlyand Y, Weintraub D, Xie SX, Mellis IA, Doshi J, Rick J, McBride J, Davatzikos C, Shaw LM, Hurtig H, Trojanowski JQ, Chen-Plotkin AS
Abstract: Biomarkers from multiple modalities have been shown to correlate with cognition in Parkinson's disease (PD) and in Alzheimer's disease (AD). However, the relationships of these markers with each other, and the use of multiple markers in concert to predict an outcome of interest, are areas that are much less explored. Our objectives in this study were (1) to evaluate relationships among 17 biomarkers previously reported to associate with cognition in PD or AD and (2) to test performance of a five-biomarker classifier trained to recognize AD in identifying PD with dementia (PDD). To do this, we evaluated a cross-sectional cohort of PD patients (n = 75) across a spectrum of cognitive abilities. All PD participants had 17 baseline biomarkers from clinical, genetic, biochemical, and imaging modalities measured, and correlations among biomarkers were assessed by Spearman's rho and by hierarchical clustering. We found that internal correlation among all 17 candidate biomarkers was modest, showing a maximum pairwise correlation coefficient of 0.51. However, a five-marker subset panel derived from AD (CSF total tau, CSF phosphorylated tau, CSF amyloid beta 42, APOE genotype, and SPARE-AD imaging score) discriminated cognitively normal PD patients vs. PDD patients with 80% accuracy, when employed in a classifier originally trained to recognize AD. Thus, an AD-derived biomarker signature may identify PDD patients with moderately high accuracy, suggesting mechanisms shared with AD in some PDD patients. Based on five measures readily obtained during life, this AD-derived signature may prove useful in identifying PDD patients most likely to respond to AD-based crossover therapies.
Close section
---
Higher-level Occupations May Increase Survival in Patients with a Common Form of Early-onset Dementia, Finds New Penn Medicine Research
April 2015 | Lauren Massimo, PhD, CRNP, Jarcy Zee, PhD, Sharon X. Xie, PhD, Corey T. McMillan, PhD, Katya Rascovsky, PhD, David J. Irwin, MD, Ann Kolanowski, PhD, RN and Murray Grossman, MD, EdD
Doctors, lawyers and other "high level" professionals may have a built-in survival edge if they're diagnosed with the disease frontotemporal dementia (FTD), according to new research from the Perelman School of Medicine at the University of Pennsylvania. Their work is published in Neurology.
FTD is a family of devastating disorders of the brain that lead to the progressive loss of brain cells (neurons) in the frontal and temporal regions of the brain, most commonly in patients between ages 50 and 65 and often causing symptoms ranging from behavioral impairments to language difficulty. Nearly 10,000 patients are diagnosed with the disease each year. As the disease progresses, it can slowly deprive an individual of their cognitive abilities, personality and eventually their independence.
"There is a notion that ones 'cognitive reserve' is built up over the course of a lifetime through experiences such as education, occupation and mental engagement," said Lauren Massimo, PhD, CRNP, a post-doctoral fellow in the department of Neurology in Penn's Frontotemporal Degeneration Center. "We believe that those with higher occupational levels are able to build up an additional level of defense against the disease through rich neural connectivity and this could contribute to longer survival."
Massimo and colleagues retrospectively examined the autopsy reports of 83 patients in the Center for Neurodegenerative Disease Research at the University of Pennsylvania, 34 of whom had confirmed FTD and 49 with autopsy-confirmed Alzheimer's disease (AD).
Each patient's occupation was recorded and ranked according to U.S. Census categories, with jobs such as factory workers and service workers in the lowest level; jobs such as tradesworkers and sales people in the next level; and professional and technical workers, such as lawyers and engineers, in the highest level. Education level was also measured in years of schooling completed.
Their analysis showed that median survival for patients with FTD was six years and nine months, and just shy of eight years for those with AD, with survival defined as the time from symptom onset until death.
Further analysis showed that patients with FTD in the highest occupation level survived an average of nine years, while people in the lower occupation group survived an average of six years, suggesting that higher occupation level is associated with longer survival in patients with FTD. Occupational level was not associated with longer survival time for patients with Alzheimer's disease. Interestingly, the team found that years of education were not associated with survival time for either group.
"These results provide support for the protective effects of occupation in FTD," Massimo said. "There may be other factors at work here such socioeconomic factors tied to occupational status that contributes to the longevity of this group. Further studies might also want to expand the sample size and occupations characterized, as ours left no room for occupations such as 'homemaker' or those outside traditional lines of work."
Other Penn researchers include Jarcy Zee, PhD; Sharon X. Xie, PhD; Corey T. McMillan, PhD; Katya Rascovsky, PhD; David I. Irwin, MD; Murray Grossman, MD, MedD.
This research was funded by the U.S. Public Health Service (F32NR014777, AG017586, AG015116, AG010124, AG043503, NS053488 and NS044266) and the Wyncote Foundation.
Publication in Neurology.
Penn Medicine News Release
Close section
---
Penn Medicine Researchers Pinpoint Potential New Drug Target for Protection against Certain Neurodegenerative Diseases
March 2015 | Corey T. McMillan, Jenny Russ, Elisabeth M. Wood, David J. Irwin, Murray Grossman, Leo McCluskey, Lauren Elman, Vivianna Van Deerlin, Edward B. Lee
Penn Medicine researchers have discovered that hypermethylation - the epigenetic ability to turn down or turn off a bad gene implicated in 10 to 30 percent of patients with Amyotrophic lateral sclerosis (ALS) and Frontotemporal Degeneration (FTD) - serves as a protective barrier inhibiting the development of these diseases. Their work, published this month in Neurology, may suggest a neuroprotective target for drug discovery efforts.
"This is the first epigenetic modification of a gene that seems to be protective against neuronal disease," says lead author Corey McMillan, PhD, research assistant professor of Neurology in the Frontotemporal Degeneration Center in the Perelman School of Medicine at the University of Pennsylvania.
Expansions in the offending gene, c9orf72, have been linked with TAR DNA binding protein (TDP-43) which is the pathological source that causes ALS and FTD. "Understanding the role of C9orf72 has the possibility to be truly translational and improve the lives of patients suffering from these devastating diseases," says senior author, Edward Lee, PhD, assistant professor of Neuropathology in Pathology and Laboratory Medicine at Penn.
McMillan and team evaluated 20 patients recruited from both the FTD Center and the ALS Center at the University of Pennsylvania who screen positive for a mutation in the C9orf72 gene and were clinically diagnosed with FTD or ALS. All patients completed a neuroimaging study, a blood test to evaluate C9orf72 methylation levels, and a brief neuropsychological screening assessment. The study also included 25 health controls with no history of neurological or psychiatric disease.
MRI revealed recuded grey matter in several regions that were affected in patients compared to controls. Grey matter is needed for the proper function of the brain in regions involved with muscle control, memory, emotions, speech and decision-making. Critically, patients with hypermethylation of C9orf72 showed more dense grey matter in the hippocampus, frontal cortex, and thalamus, regions of the brain important for the above described tasks and affected in ALS and FTD, suggesting that hypermethylation is neuroprotective in these regions.
To validate these findings, the Penn team also looked at autopsies of 35 patients with C9orf72 expansions and found that their pathology also suggested that increased methylation was associated with reduced neuronal loss in both the frontal cortex and hippocampus.
Longitudinal analysis was performed in 11 of the study patients to evaluate the neuroprotective effects of hypermethylation in individuals over their disease course. This showed reduced changes in grey matter of the hippocampus, thalamus, and frontal cortex, associated with hypermethylation suggesting that disease progresses more slowly over time in individuals with C9orf72 hypermethylation. Longitudinal neuropsychological assessments also showed a correlation between protected memory decline and hypermethylation.
These findings are consistent with a growing number of studies which have suggested the neuroprotective effects of the hypermethylation of C9orf72. "We believe that this work provides additional data supporting the notion that C9orf72 methylation is neuroprotective and therefore opens up the exciting possibility of a new avenue for precision medicine treatments and targets for drug development in neurodegenerative disease," says McMillan.
This research was funded by the National Institutes of Health (AG043503, AG017586, AG039510, AG10124, AG032953) and the Wyncote Foundation. Dr. Lee is supported by the Doris Duke Charitable Foundation Clinical Scientist Development Award.
Publication in Neurology.
Penn Medicine News Release.
Close section
---
New Models for Testing Parkinson's Disease Immune-based Drugs
June 2014 | Hien T. Tran, Charlotte Hiu-Yan Chung, Michiyo Iba, Bin Zhang, John Q. Trojanowski,Kelvin C. Luk, Virginia M.-Y. Lee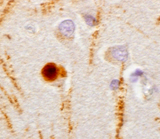 Using powerful, newly developed cell culture and mouse models of sporadic Parkinson's disease (PD), a team of researchers
from the Perelman School of Medicine at the University of Pennsylvania has demonstrated that immunotherapy with
specifically targeted antibodies may block the development and spread of PD pathology in the brain. By intercepting the
distorted and misfolded alpha-synuclein (a-syn) proteins that enter and propagate in neurons, creating aggregates, the
researchers prevented the development of pathology and also reversed some of the effects of already-existing disease.
The a-syn clumps, called Lewy bodies, eventually kill affected neurons, which leads to clinical PD.

Earlier studies by senior author Virginia M.-Y. Lee, PhD, MBA, and her colleagues at Penn's Center for Neurodegenerative Disease Research (CNDR) had demonstrated a novel pathology of PD in which misfolded a-syn fibrils initiate and propagate Lewy bodies via cell-to-cell transmission. This was accomplished using synthetically create a-syn fibrils that allowed them to observe how Parkinson's pathology developed and spread in a mouse and in neurons in a dish. The present study is a proof-of-concept of how these models might be used to develop new PD therapies.
"Once we created these models, the first thing that came to mind is immunotherapy," says Lee, CNDR director and professor of Pathology and Laboratory Medicine. "If you can develop antibodies that would stop the spreading, you may have a way to at least retard the progression of PD." The current work, she explains, uses antibodies that were generated and characterized at CNDR previously to see if they would reduce the pathology both in cell culture and in animal models.
Lee's team focused on anti-a-syn monoclonal antibodies (MAbs). "In animal models," Lee explains, "the question we want to ask is, can we reduce the pathology and also rescue cell loss to improve the behavioral deficits?"
Using their previously established sporadic PD mouse model, the researchers conducted both prevention and intervention preclinical studies. For prevention studies, they injected mouse a-syn synthetic preformed fibrils into wild-type, normal mice, as a control, and then immediately treated the mice with Syn303, one of the MAbs used (or IgG, another type of common antibody, for the control mice).
The control group without MAb administration showed PD pathology in multiple brain areas over time, while the mice treated with Syn303 showed significantly reduced pathology in the same areas. For intervention studies, they treated PD mice with Syn303 several days after fibril injections when Lewy bodies were already present. They found that the progression of pathology was markedly reduced in the Syn303-treated mice versus mice that did not receive Syn303.
"But there are some limitations to experiments in live mice since it is difficult to directly study the mechanism of how it works," Lee says. "To do that, we went back to the cell culture model to ask whether or not the antibody basically prevents the uptake of misfolded a-syn." The cell culture experiments showed that MAbs prevented the uptake of misfolded a-syn fibrils by neurons and sharply reduced the recruitment of natural a-syn into new Lewy body aggregates.
Next steps for the team will be to refine the immunotherapeutic approach. "We need to make better antibodies that have high affinity for pathology and not the normal protein," says Lee.
The team's models also open up new opportunities for studying and treating PD. "The system really allows us to identify new targets for treating PD," Lee says. "The cell model could be a platform to look for small molecular drugs that would inhibit pathology." Their approach could also serve as a foundation for genetically based studies to identify specific genes involved in PD pathology.
"Hopefully more people will use the model to look for new targets or screen for treatments for PD. That would be terrific," concludes Lee.
The work was supported by an National Institute on Aging training grant (T32-AG000235), the National Institute of Neurological Disorders and Stroke Morris K. Udall Parkinson's Disease Center of Excellence (P50 NS053488), the Michael J. Fox Foundation, the Keefer family, and the Parkinson Council.
Close section
---
More CNDR & Neurodegenerative Disease-related Publications
JAMA Neurol. 2016 Apr 25; Authors: Santos-Santos MA, Mandelli ML, Binney RJ, Ogar J, Wilson SM, Henry ML, Hubbard HI, Meese M, Attygalle S, Rosenberg L, Pakvasa M, Trojanowski JQ, Grinberg LT, Rosen H, Boxer AL, Miller BL, Seeley WW, Gorno-Tempini ML
---
J Neurol Neurosurg Psychiatry. 2016 Apr 12; Authors: Roalf DR, Moore TM, Wolk DA, Arnold SE, Mechanic-Hamilton D, Rick J, Kabadi S, Ruparel K, Chen-Plotkin AS, Chahine LM, Dahodwala NA, Duda JE, Weintraub DA, Moberg PJ
---
Transl Psychiatry. 2016 April 5; Authors: Habes M, Janowitz D, Erus G, Toledo JB, Resnick SM, Doshi J, Van der Auwera S, Wittfeld K, Hegenscheid K, Hosten N, Biffar R, Homuth G, Völzke H, Grabe HJ, Hoffmann W, Davatzikos C
---
Acta Neuropathol. 2016 Mar 28; Authors: Kang JH, Mollenhauer B, Coffey CS, Toledo JB, Weintraub D, Galasko DR, Irwin DJ, Van Deerlin V, Chen-Plotkin AS, Caspell-Garcia C, Waligórska T, Taylor P, Shah N, Pan S, Zero P, Frasier M, Marek K, Kieburtz K, Jennings D, Tanner CM, Simuni T, Singleton A, Toga AW, Chowdhury S, Trojanowski JQ, Shaw LM, Parkinson's Progression Marker Initiative
---
J Pharmacol Exp Ther. 2016 Mar 15; Authors: Kovalevich J, Cornec AS, Yao Y, James M, Crowe A, Lee VM, Trojanowski JQ, Smith AB, Ballatore C, Brunden KR
---
Brain. 2016 Feb 24; Authors: Habes M, Erus G, Toledo JB, Zhang T, Bryan N, Launer LJ, Rosseel Y, Janowitz D, Doshi J, Van der Auwera S, von Sarnowski B, Hegenscheid K, Hosten N, Homuth G, Völzke H, Schminke U, Hoffmann W, Grabe HJ, Davatzikos C
---
J Alzheimers Dis. 2016 Feb 6; Authors: White MT, Shaw LM, Xie SX
---
PLoS One. 2016 Jan 26; Authors: Berlyand Y, Weintraub D, Xie SX, Mellis IA, Doshi J, Rick J, McBride J, Davatzikos C, Shaw LM, Hurtig H, Trojanowski JQ, Chen-Plotkin AS
---
Org Biomol Chem. 2015 Dec 22; Authors: Haney CM, Wissner RF, Warner JB, Wang YJ, Ferrie JJ, J Covell D, Karpowicz RJ, Lee VM, James Petersson E
---
Sci Rep. 2015 Dec 17; Authors: Herbst-Robinson KJ, Liu L, James M, Yao Y, Xie SX, Brunden KR
---
Acta Neuropathol. 2015 Dec 10; Authors: Kovacs GG, Ferrer I, Grinberg LT, Alafuzoff I, Attems J, Budka H, Cairns NJ, Crary JF, Duyckaerts C, Ghetti B, Halliday GM, Ironside JW, Love S, Mackenzie IR, Munoz DG, Murray ME, Nelson PT, Takahashi H, Trojanowski JQ, Ansorge O, Arzberger T, Baborie A, Beach TG, Bieniek KF, Bigio EH, Bodi I, Dugger BN, Feany M, Gelpi E, Gentleman SM, Giaccone G, Hatanpaa KJ, Heale R, Hof PR, Hofer M, Hortobágyi T, Jellinger K, Jicha GA, Ince P, Kofler J, Kövari E, Kril JJ, Mann DM, Matej R, McKee AC, McLean C, Milenkovic I, Montine TJ, Murayama S, Lee EB, Rahimi J, Rodriguez RD, Rozemüller A, Schneider JA, Schultz C, Seeley W, Seilhean D, Smith C, Tagliavini F, Takao M, Thal DR, Toledo JB, Tolnay M, Troncoso JC, Vinters HV, Weis S, Wharton SB, White CL, Wisniewski T, Woulfe JM, Yamada M, Dickson DW
---
Ann Neurol. 2015 Nov 19; Authors: Irwin DJ, Brettschneider J, McMillan CT, Cooper F, Olm C, Arnold SE, Van Deerlin VM, Seeley WW, Miller BL, Lee EB, Lee VM, Grossman M, Trojanowski JQ
---
PLoS One. 2015 Nov 11; Authors: Gorges M, Müller HP, Lulé D, Del Tredici K, Brettschneider J, Keller J, Pfandl K, Ludolph AC, Kassubek J, Pinkhardt EH
---
JAMA Neurol. 2015 Nov 2; Authors: Zetterberg H, Skillbäck T, Mattsson N, Trojanowski JQ, Portelius E, Shaw LM, Weiner MW, Blennow K, Alzheimer's Disease Neuroimaging Initiative
---
Hum Mol Genet. 2015 Oct 16; Authors: Walker AK, Tripathy K, Restrepo CR, Ge G, Xu Y, Kwong LK, Trojanowski JQ, Lee VM
---
Alzheimers Dement (Amst). 2015 Sep 1; Authors: Leung YY, Toledo JB, Nefedov A, Polikar R, Raghavan N, Xie SX, Farnum M, Schultz T, Baek Y, Deerlin VV, Hu WT, Holtzman DM, Fagan AM, Perrin RJ, Grossman M, Soares HD, Kling MA, Mailman M, Arnold SE, Narayan VA, Lee VM, Shaw LM, Baker D, Wittenberg GM, Trojanowski JQ, Wang LS
---
Brain. 2015 Sep 15; Authors: Portelius E, Zetterberg H, Skillbäck T, Törnqvist U, Andreasson U, Trojanowski JQ, Weiner MW, Shaw LM, Mattsson N, Blennow K, Alzheimer's Disease Neuroimaging Initiative
---
Acta Neuropathol. 2015 Sep; Authors: Suh E, Lee EB, Neal D, Wood EM, Toledo JB, Rennert L, Irwin DJ, McMillan CT, Krock B, Elman LB, McCluskey LF, Grossman M, Xie SX, Trojanowski JQ, Van Deerlin VM
---
Alzheimers Dement. 2015 Aug 29; Authors: Montine TJ, Monsell SE, Beach TG, Bigio EH, Bu Y, Cairns NJ, Frosch M, Henriksen J, Kofler J, Kukull WA, Lee EB, Nelson PT, Schantz AM, Schneider JA, Sonnen JA, Trojanowski JQ, Vinters HV, Zhou XH, Hyman BT
---
Lancet Neurol. 2015 Aug 10; Authors: Nalls MA, McLean CY, Rick J, Eberly S, Hutten SJ, Gwinn K, Sutherland M, Martinez M, Heutink P, Williams NM, Hardy J, Gasser T, Brice A, Price TR, Nicolas A, Keller MF, Molony C, Gibbs JR, Chen-Plotkin A, Suh E, Letson C, Fiandaca MS, Mapstone M, Federoff HJ, Noyce AJ, Morris H, Van Deerlin VM, Weintraub D, Zabetian C, Hernandez DG, Lesage S, Mullins M, Conley ED, Northover CA, Frasier M, Marek K, Day-Williams AG, Stone DJ, Ioannidis JP, Singleton AB, Parkinson's Disease Biomarkers Program and Parkinson's Progression Marker Initiative investigators*
---
Acta Neuropathol. 2015 Jul 22; Authors: Walker AK, Spiller KJ, Ge G, Zheng A, Xu Y, Zhou M, Tripathy K, Kwong LK, Trojanowski JQ, Lee VM
---
Neurology. 2015 Jul 14; Authors: Toledo JB, Bjerke M, Chen K, Rozycki M, Jack CR, Weiner MW, Arnold SE, Reiman EM, Davatzikos C, Shaw LM, Trojanowski JQ, Alzheimer's Disease Neuroimaging Initiative
---
Acta Neuropathol Commun. 2015 Jul 4; Authors: Robinson JL, Suh E, Wood EM, Lee EB, Coslett HB, Raible K, Lee VM, Trojanowski JQ, Van Deerlin VM
---
Neurobiol Aging. 2015 Oct, Epub 2015 Jul 3; Authors: Torralva T, Sposato LA, Riccio PM, Gleichgerrcht E, Roca M, Toledo JB, Trojanowski JQ, Kukull WA, Manes F, Hachinski V
---
Neurobiol Dis. 2015 Jun 17; Authors: Paumier KL, Luk KC, Manfredsson FP, Kanaan NM, Lipton JW, Collier TJ, Steece-Collier K, Kemp CJ, Celano S, Schulz E, Sandoval IM, Fleming S, Dirr E, Polinski NK, Trojanowski JQ, Lee VM, Sortwell CE
---
Acta Neuropathol. 2015 Jun; Authors: Brettschneider J, Del Tredici K, Irwin DJ, Grossman M, Robinson JL, Toledo JB, Lee EB, Fang L, Van Deerlin VM, Ludolph AC, Lee VM, Braak H, Trojanowski JQ
---
J Geriatr Psychiatry Neurol. 2015 Jun; Authors: Shinagawa S, Naasan G, Karydas AM, Coppola G, Pribadi M, Seeley WW, Trojanowski JQ, Miller BL, Grinberg LT
---
JAMA Neurol. 2015 May; Authors: Toledo JB, Bjerke M, Da X, Landau SM, Foster NL, Jagust W, Jack C, Weiner M, Davatzikos C, Shaw LM, Trojanowski JQ, Alzheimer's Disease Neuroimaging Initiative Investigators
---
Neurology. 2015 Apr 21; Authors: McMillan CT, Russ J, Wood EM, Irwin DJ, Grossman M, McCluskey L, Elman L, Van Deerlin V, Lee EB
---
Acta Neuropathol. 2015 Apr; Authors: Irwin DJ, Cairns NJ, Grossman M, McMillan CT, Lee EB, Van Deerlin VM, Lee VM, Trojanowski JQ
---
Neurology. 2015 Mar 10; Authors: Beecham GW, Dickson DW, Scott WK, Martin ER, Schellenberg G, Nuytemans K, Larson EB, Buxbaum JD, Trojanowski JQ, Van Deerlin VM, Hurtig HI, Mash DC, Beach TG, Troncoso JC, Pletnikova O, Frosch MP, Ghetti B, Foroud TM, Honig LS, Marder K, Vonsattel JP, Goldman SM, Vinters HV, Ross OA, Wszolek ZK, Wang L, Dykxhoorn DM, Pericak-Vance MA, Montine TJ, Leverenz JB, Dawson TM, Vance JM
---
Neurology. 2015 Mar 3; Authors: Yu L, De Jager PL, Yang J, Trojanowski JQ, Bennett DA, Schneider JA
---
Acta Neuropathol. 2015 Feb; Authors: Boluda S, Iba M, Zhang B, Raible KM, Lee VM, Trojanowski JQ
---
Neurobiol Dis. 2015 Jan; Authors: Peeraer E, Bottelbergs A, Van Kolen K, Stancu IC, Vasconcelos B, Mahieu M, Duytschaever H, Ver Donck L, Torremans A, Sluydts E, Van Acker N, Kemp JA, Mercken M, Brunden KR, Trojanowski JQ, Dewachter I, Lee VM, Moechars D
© The Trustees of the University of Pennsylvania | Site best viewed in a supported browser. | Site Design: PMACS Web Team.