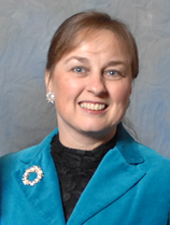 Rebecca Cooke, MBA
Announcement from the Dean
Rebecca Cooke appointed as Vice Dean for Administration and Finance
July 18, 2011 - I am pleased to announce that Rebecca Cooke, MBA, has been appointed Vice Dean for Administration and Finance for the Perelman School of Medicine. She arrives with a wealth of executive experience and proven strengths in research administration, higher education administration, and the management of physician practices and hospital clinical programs. Having held positions of progressively increasing responsibility, she most recently served as chief operating officer of Northwestern University's Feinberg School of Medicine. Rebecca has great vision and aptitude for improving medical and research operations and for building strong relationships with hospital affiliates and other institutions. She is a strong, collaborative leader whose strategic expertise will build on Penn Medicine's clinical, research and educational strengths.
As COO at the Feinberg School, Rebecca was responsible for strategic, operational, and financial leadership. She worked closely with me and other members of senior management to plan and implement strategic directions. Rebecca also fostered collaboration with hospital affiliates and other schools, a skill that fits well with the collaborative and interdisciplinary environment of Penn and Penn Medicine.
Before becoming COO, Rebecca was senior associate dean for administration. In her earlier position as administrator of Feinberg's Department of Medicine (1999-2007), Rebecca oversaw strategic planning, management of the clinical practice, research grants, and educational programs for 15 sub-specialty divisions. During that time, she helped double the department's clinical revenue in five years by developing faculty incentives and increasing efficiency of staff and space.
Rebecca earned her B.S. degree at Towson University, where she majored in business administration and health sciences management. She graduated magna cum laude. At the Wharton School, she focused on health care management and was awarded the Hospital Association of Pennsylvania's Student Award. She has maintained her ties with the Wharton School and in fact served as president of the Wharton Health Care Alumni Association for two years. After earning her MBA degree, Rebecca joined The Children's Hospital of Philadelphia, where she served as administrator of five different divisions over six years. From 1995 to 1999, she was director of administrative affairs of the newly formed Jefferson Faculty Foundation. In addition, Rebecca has led presentations on leadership for the American Association of Medical Colleges on several occasions.
Please welcome Rebecca to the Perelman School of Medicine.