Welcome to the Institute for Diabetes, Obesity and Metabolism
and Penn Diabetes Research Center
The IDOM was established in 2005 to address the ever increasing prevalence of diabetes and obesity. In 2016, there were 29.1 million people with diabetes in the United States, and more than one-third of U.S. adults are obese. In 2012, the cost of diabetes was estimated at $245 billion per year, and the Centers for Disease Control has projected that one out of three children born in the year 2000 will develop diabetes in his or her lifetime.
The mission of the IDOM is to support and develop successful approaches to the prevention, treatment, and cure of diabetes mellitus and obesity.
Learn more about IDOM and DRC >>
Recent News
Dr. Rickels presents at the EASD Annual Conference in Lisbon, Portugal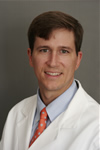 Results of a recent Penn study led by Michael Rickels, M.D., M.S. was presented at the European Association for the study of Diabetes (EASD) 2017 Annual Meeting in Lisbon, Portugal. Dr. Rickels presentation of this study was covered by Medscape's editorial staff.
Read more: Medscape article
---
Dr. Agarwal advocates for diabetes care

Shivani Agarwal, MD, MPH pictured with Senator Cory Booker, went to Washington, D.C. to advocate for diabetes care.