Welcome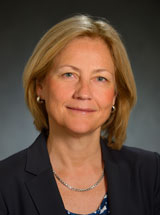 The major focus of my laboratory is on developing new age-specific therapies for epilepsy and its comorbidities. We specifically focus on forms of epilepsy that affect the infant and early childhood brain, and have extensive expertise in investigations of human tissue as well as rat and mouse models of early life epilepsy. Our interests have been on hypoxic/ischemic injury and seizures in the perinatal and young postnatal brain. My lab has published expertise in cellular and regional alterations in synaptic proteins and signaling pathways using whole animal, human tissue, and in vitro brain slices and cell cultures. Almost 20 years ago we showed that hypoxia can induce seizures in the neonatal brain and this increased network excitability in adulthood; over the years we have worked to show that AMPARs are involved in this epileptogenesis and that spontaneous seizures are increased in adulthood, confirming this as a model of epileptogenesis.
We also discovered if seizures occur during the critical period of early brain development, synaptic plasticity mechanisms are dysregulated to produce epilepsy–induced synaptic potentiation, and importantly in addition to impairing Hebbian plasticity, there is also an autistic–like behavioral phenotype. Hence our interest in understanding the interaction in epilepsy and autism/neurodevelopmental delay. Along these lines, we discovered alterations of the mTOR pathway following early life seizures and injury in the wild type rat brain, and a protective role for rapamycin in preventing long term epilepsy and autistic–like behavior.
News
Thursday, April 6, 2017
A new study suggests it's the amount of regular exercise people get, not the amount of body fat they have, that may predict just how well they recover from a stroke.
Thursday, April 6, 2017
Scientists have determined unexpected characteristics of a key protein linked to blood pressure control and to nerve growth, pain control and heart tissue regeneration. The findings, published April 5 online in the journal Nature, opens doors to potential new therapies to control cardiovascular disease and pain.
Thursday, April 6, 2017
The medical rationale for stroke being a neurological condition has always been compelling. We therefore welcome the latest decision by the Department of Statistics at the WHO to move the thematic block of cerebrovascular diseases from the circulatory diseases chapter to diseases of the nervous system," noted Prof Raad Shakir, head of the WHO Neurology Topic Advisory Group and President of the World Federation of Neurology.
Thursday, April 6, 2017
Cortex of super-aged brain deteriorated much slower than average elderly brain over time.
View More News