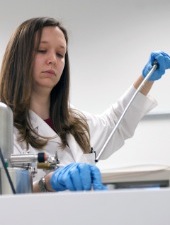 Links of Interest
Research Overview & Strategic Focus
The Perelman School of Medicine is an internationally recognized leader in the creation of new knowledge and therapies to improve human health, and in the training of the next generation of scientific leaders.
The scope of the School's research enterprise is broad, encompassing all areas of contemporary biomedical investigation, and yet is unified on a single campus. The School comprises 28 basic and clinical departments, and more than 1,700 faculty members and 2,200 students and trainees. In fiscal year 2010, the School received $583 million in support for its research activities from extramural sponsors, including $408 million from the National Institutes of Health, ranking third in the nation among all academic medical institutions.
While the School emphasizes basic scientific research, building on this, the School engages in a coordinated effort across scientific disciplines to translate new knowledge into clinical therapies that positively impact patient care. Within its diverse network of expertise and resources, the Perelman School of Medicine fosters a culture of cross-departmental and inter-school collaboration, with 18 Centers and Institutes. Examples include the Abramson Cancer Center, the Penn Cardiovascular Institute, the Institute for Diabetes, Obesity, and Metabolism, and the Penn Comprehensive Neuroscience Center.
Joining with colleagues throughout the University in pursuit of the Penn Compact, faculty in the Perelman School of Medicine devote their lives to excellence in teaching, research and service to society, for the benefit of the communities -- both local and global -- that Penn serves.
Glen N. Gaulton, Ph.D.
Executive Vice Dean and Chief Scientific Officer