FEATURED RESEARCH
Penn Researchers Receive $18 Million Grant to Study Connection Between Alzheimer's, Dementia, and Parkinson's Disease
National Institute on Aging grant will support Penn's Center for Neurodegenerative Disease Research
The Center for Neurodegenerative Disease Research (CNDR) at the University of Pennsylvania has received a grant expected to total $18.1 million to study the underlying genetic mechanisms that cause Alzheimer's Disease, Dementia, and Parkinson's Disease to progress as well as how those mechanisms are related to each other and to the cell-to-cell spread of these disease proteins. The grant, awarded by the National Institutes of Health's National Institute on Aging (NIA), will fund four specific projects over the next five years.
Full Penn Medicine News Release
More Research
ADCC IN THE NEWS
11/21/19

A "better business model for the diagnosis and care of persons with Alzheimer's disease" needs to be created, Jason Karlawish, M.D., said Wednesday at…

11/08/19

When a parent begins to exhibit early signs of dementia or Alzeimer's, it's difficult for families to address it. These tips will make the process easier.

09/05/19

On Thursday, Dr. Lee was announced as the winner of a $3 million Breakthrough Prize — one of seven such awards to be given to scientists at a Nov. 3 ceremony.
More News
FEATURED VIDEO
RELATED EVENTS
The Center for Neurodegenerative Disease Research's Marian S. Ware Research Retreat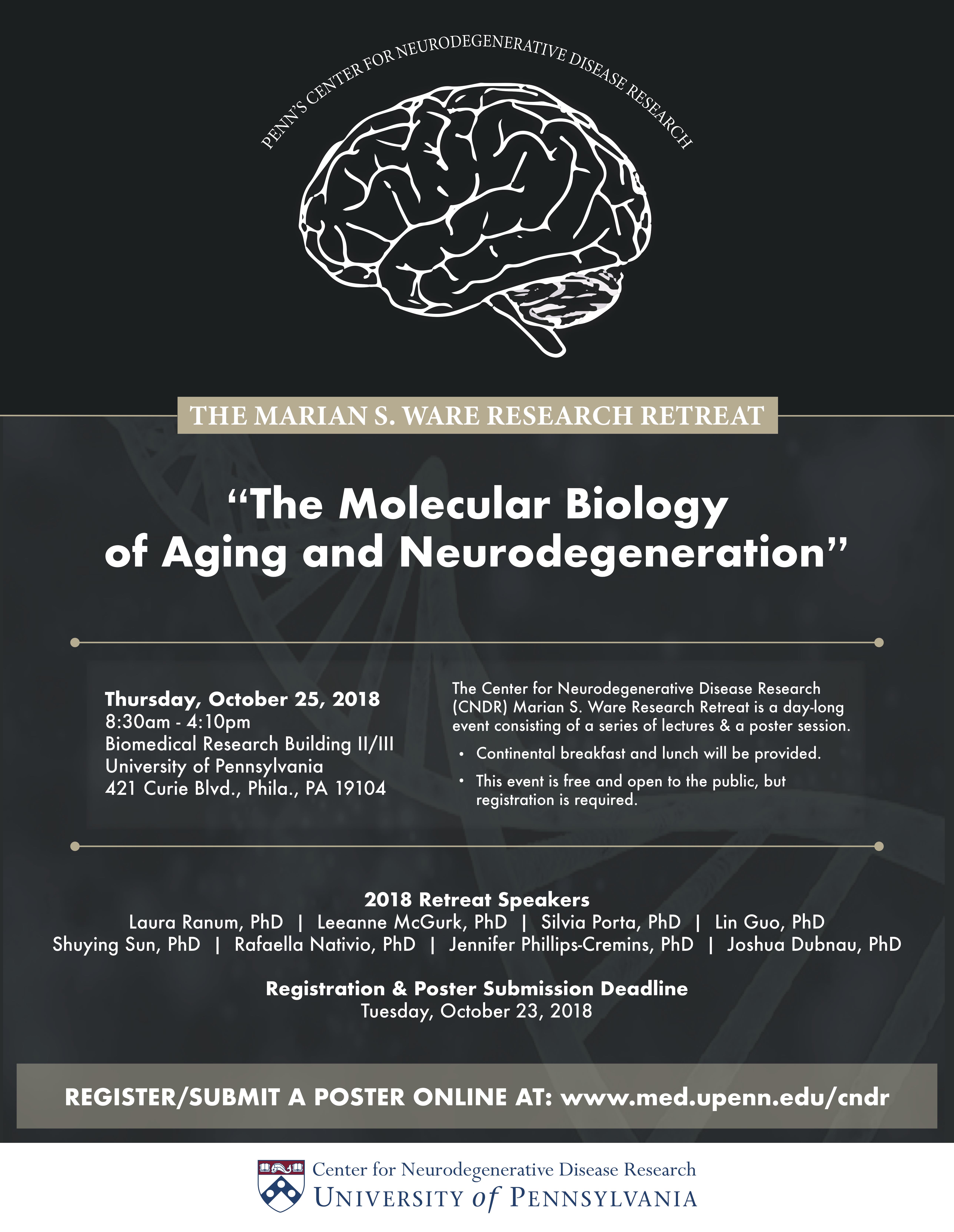 "The Molecular Biology of Aging and Neurodegeneration"
Thursday, October 25, 2018
8:30am — 4:10pm
Biomedical Research Building (BRB) II/III
421 Curie Blvd., Philadelphia PA 19104
More Events
LINKS
© The Trustees of the University of Pennsylvania | Site best viewed in a supported browser. | Report Accessibility Issues and Get Help | Site Design: PMACS Web Team.