FEATURED RESEARCH
Rethinking Neurodegenerative Disease Treatment: Target Multiple Pathological Proteins, Not Just One
Nearly all major neurodegenerative diseases – from Alzheimer's to Parkinson's – are defined and diagnosed by the presence of one of four proteins that have gone rogue: tau, amyloid-beta (Aβ), alpha-synuclein (α-syn), or TDP-43. As such, investigational drugs and studies aimed at preventing or slowing the disease often hone in on just one of these respective proteins. However, targeting multiple proteins—known as "proteinopathies"—at once may be the real key, according to a recent study published in Brain by Penn Medicine researchers.
Full Penn Medicine News Release
Read More
ADCC IN THE NEWS
02/06/19

This week, a study published in Proceedings of the National Academy of Sciences uncovered a disturbing fact about our brains: At every age, female brains…

12/21/18

Methods to diagnose Alzheimer's disease earlier and more accurately keep emerging. One such test involves patients undergoing a spinal tap to provide a…

11/19/18

Under the best of circumstances, it's hard to live up to holiday expectations of unswerving, picture-perfect traditions and family bliss. Sisters feud…
More News
FEATURED VIDEO
RELATED EVENTS
The Center for Neurodegenerative Disease Research's Marian S. Ware Research Retreat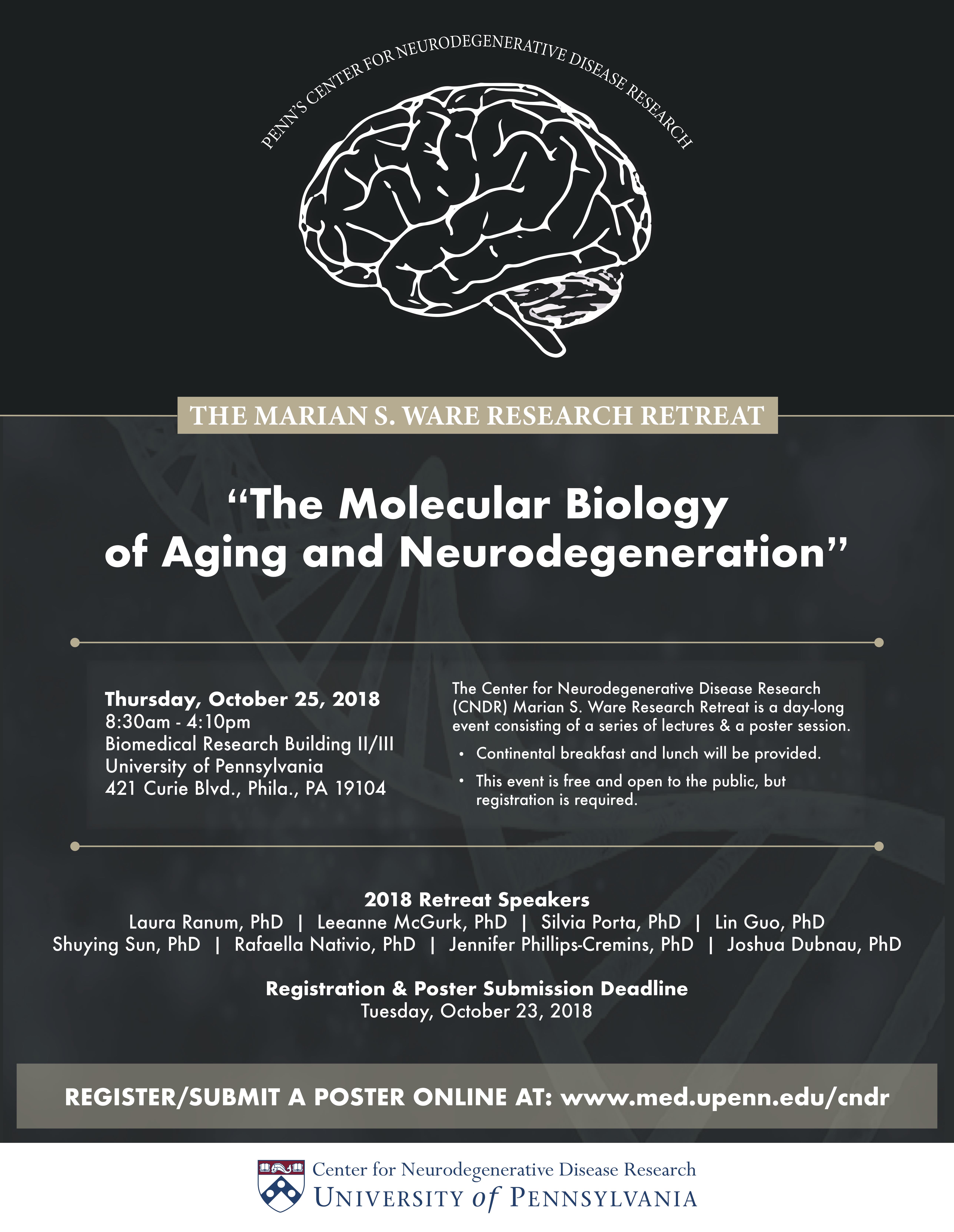 "The Molecular Biology of Aging and Neurodegeneration"
Thursday, October 25, 2018
8:30am — 4:10pm
Biomedical Research Building (BRB) II/III
421 Curie Blvd., Philadelphia PA 19104
More Events
LINKS
© The Trustees of the University of Pennsylvania | Site best viewed in a supported browser. | Site Design: PMACS Web Team.