FEATURED NEWS & RESEARCH
A Statement on Racial Injustice and Recent Events
June 9, 2020
As our nation is currently dealing with an unprecedented mix of significant health, social and financial issues, we want to reach out to the patients and their loved ones who have been participating in our research program. We will continue to update the website as events unfold.
Racial Injustice
Our nation mourns the tragic and senseless deaths of George Floyd, Breonna Taylor, AhmaudArbery, and the countless other black individuals who have lost their lives to police brutality and institutional racism. It is a vivid reminder of the ongoing racial inequalities and unacceptable indignities that so many of our citizens constantly endure. These events should lead everyone to recognize how much more work our society must do to attain liberty and justice for all. As a nation, we have considerable work to do.
Read our full statement, including remarks on COVID-19, here:
A Statement on Racial Injustice and Recent Events
---
ADCC Research
Learn more about the research being conducted here at Penn's Alzheimer's Disease Core Center:
More Research
ADCC IN THE NEWS
02/27/20

Diagnosis rates of early-onset dementia and Alzheimer's disease tripled between 2013 and 2017, with Pennsylvania and New Jersey among the states most affected,…

11/21/19

A "better business model for the diagnosis and care of persons with Alzheimer's disease" needs to be created, Jason Karlawish, M.D., said Wednesday at…

11/08/19

When a parent begins to exhibit early signs of dementia or Alzeimer's, it's difficult for families to address it. These tips will make the process easier.
More News
FEATURED VIDEO
RELATED EVENTS
*IMPORTANT UPDATE: Due to the evolving situation surrounding COVID-19, the Institute on Aging (IOA) and Center for Neurodegenerative Disease Research (CNDR) will be postponing our Research Retreat scheduled for May 15, 2020. Please stay tuned for the new date.
The IOA & CNDR Annual Research Retreat 2020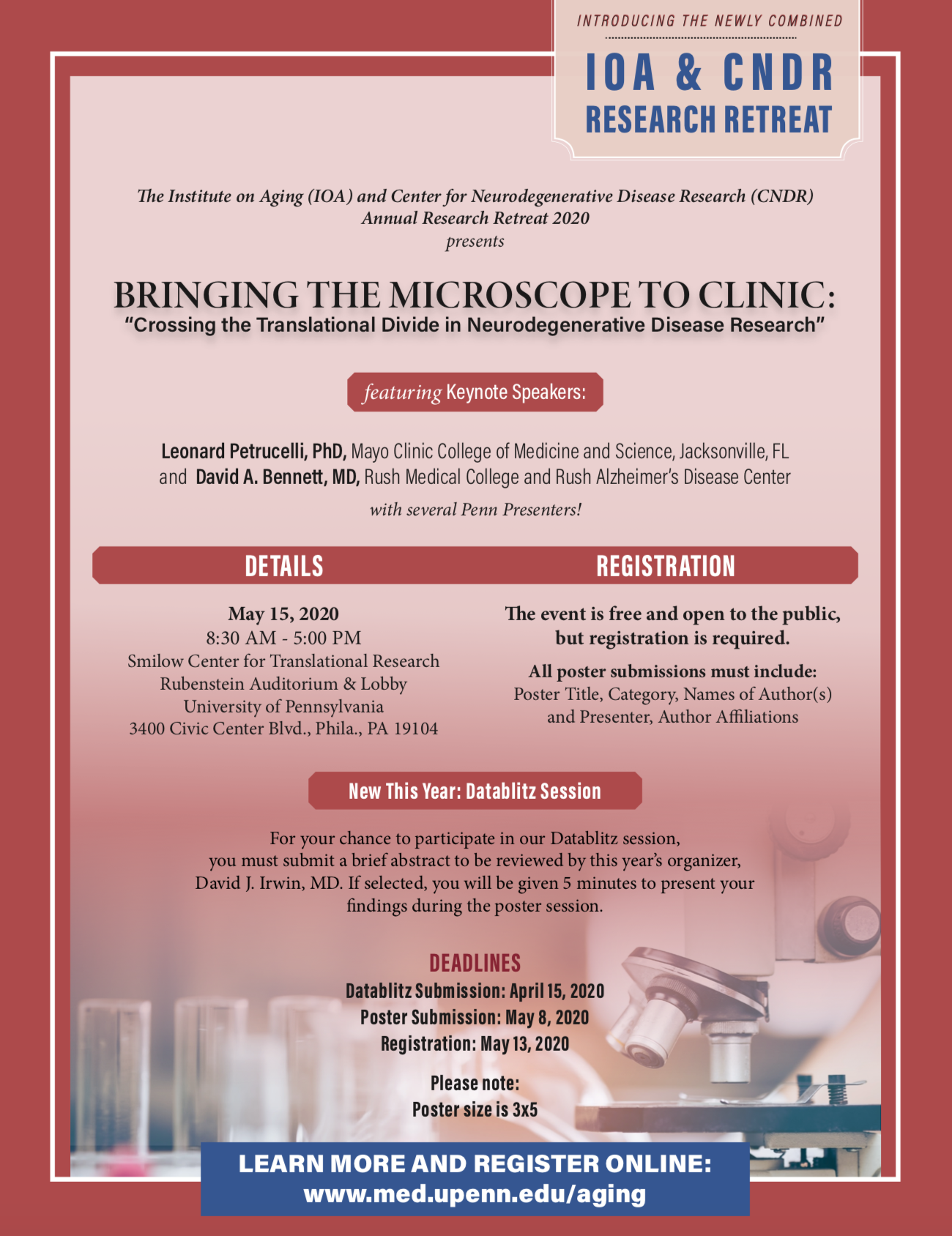 "Bringing the Microscope to Clinic: Crossing the Translational Divide in Neurodegenerative Disease Rearch"
New details TBD
More Events
LINKS
© The Trustees of the University of Pennsylvania | Site best viewed in a supported browser. | Report Accessibility Issues and Get Help | Privacy Policy | Site Design: PMACS Web Team.