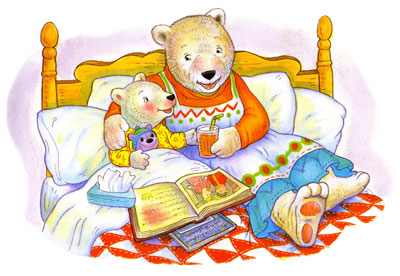 Games and fun activities can make staying healthy fun! Here are a few activities we hope you enjoy.

Dr. Hippo and fuzzy animal friends come to life in books by Dr. Charlotte Cowan. The books explain common illnesses, like fevers, earaches, and colds. Helpful friends like Katie and Peeper will help you understand that everyone gets sick and you don't always need powerful antibiotics to feel better! The books include special guides just for mom or dad to answer their questions and offer advice to make sure you recover right away!

Do you know the best way to wash your hands? The ABC's of Hand Washing from the PA Department of Health website gives handy hints on hand hygiene.
Bedtime Math provides science, technology, engineering and math (STEM) learners of all ages the opportunity to practice their math skills every night! The website provides daily math problems for wee ones, little kids and big kids to engage the mind and explore the mathematical world around us. Bedtime Math was created by Laura Overdeck and the Bedtime Math Foundation.
Girls just want to have fun... with science! Girls ages 11-17 can use BrainCake to explore the world of science, get homework help, learn about important women in science, play games, plan experiments and engage with other like-minded girls all over! BrainCake is part of the Girls, Math & Science Partnership program of the Carnegie Science Center, a resource for education, information, research and advocacy on gender equality in the sciences.
Cogito.org is an online community for students around the world who love STEM! Cogito, produced by John Hopkins Center for Talented Youth, connects you with news articles, essays, book reviews, videos, blogs, and interviews with scientists and mathematicians of all ages. Cogito.org also has a summer program search engine to find the perfect summer STEM program!
Do Bugs Need Drugs? is a community education program about hand washing and responsible use of antibiotics. The website has games to play online and activity pages to help learn about the germs that make us sick and most importantly how not to get sick.
Get Smart wants everyone to know how important it is to wash our hands, so they sponsor an annual drawing competition open to Pennsylvania children 12 years of age and younger.

Want to make learning about proper hand washing fun? Try doing it with Glo Germ! Glo Germ™ is cool lotion that glows brightly under ultraviolet light. Glo Germ can help everyone see how germs can spread from friend-to-friend without proper hand washing. It is used throughout the United States by schools, hospitals and food services to teach why washing your hands is so important to keep germs away.
Think you already know everything about hand washing? Take this hand washing quiz to prove it! Maybe you will learn a few things about the best way to get those hands squeaky clean. While there, explore About Kids Health to learn about other health topics, take more cool quizzes and play fun games.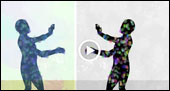 Learn about the environment within and on your body. The Human Microbiome is a short animation discussing the germs that live with us.
Think immunizations are a little scary? They don't have to be! Immunization information with coloring activities can help calm your fears. The coloring pages can be found on the PA Department of Health website.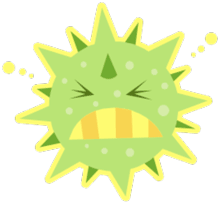 "Knowledge eating viruses are destroying our world's science. By playing our games and projects, you can beat the bugs and set things right!"
Kinetic City
is a web-based after-schools science club for kids ages 8 through 11 produced by the American Association for the Advancement of Science (AAAS). Help stop the knowledge eating viruses by watching awesome online animations and doing exciting activities and hands-on experiments!
Bored after school? The National After School Science Directory is here to help you! The National After School Science Directory is a searchable database for thousands of science, technology, engineering, and math (STEM) educational programs outside the classroom for children of all ages. The Directory has search filters for program topic, child age, type of program (online, camp, overnight, etc.) and cost. Start a search and find the perfect program for you! The website is sponsored by the University of California.
Do you or your parents have an iOS device, like an iPad or iPhone? If so, download this fun app to build an awesome picnic park! Learn about basic food safety to make sure all your picnic-goers have a happy and healthy time. Perfect Picnic can be downloaded from the iTunes or App store. The app is produced by fightbac.org and The Partnership for Food Safety.