Teacher's Room
Schools offer an excellent environment where children and their teachers can explore a variety of health topics including antibiotic-resistant bacteria. Teachers can contribute in shaping children's knowledge on antibiotics through educational programs. Below we have provided links to resources that can be used to engage children in fun activities with a health-related take home message. In addition we have provided other science-related resources.
Do Bugs Need Drugs? is a community education program about hand washing and responsible use of antibiotics. The website has games to play online and activity pages to help learn about the germs that make us sick and most importantly how not to get sick.
The ABC's of Hand Washing by the Pennsylvania Department of Health talks about when and why of hand washing. Also find out what Scrub Club is all about.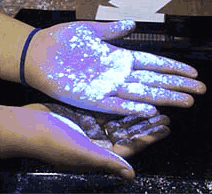 Germs are revealed under ultraviolet light after using Glo Germ™.
CDC's Clean Hands Save Lives provides information about proper hand washing techniques and links to other sources of information related to hand washing. Following the CDC's guidelines on proper hand hygiene is a very effective way to prevent the spread of many types of infection and illness, including bacteria, cold and flu viruses. Initiatives to increase proper hand hygiene and decrease improper use of antibiotics are intended to promote better health in the community.
Glo Germ™ has been providing materials for preschool and day care facilities to train providers and children on proper hand washing. Glo Germ™ provides a visual demonstration of how germs can persist on hands with improper cleaning.
Downloads
Coloring pages and puzzles for Kindergarten through 6th Grade:
click on image or link to download
Information and Charts:
| | |
| --- | --- |
| | Runny Nose Q & A | Here are some facts about what you should do when your child has a runny nose during the common cold. |
| | Fluid in the Middle Ear | Q & A Information on what causes ear infections and what you should do. |
| | Virus Bacteria Chart | A Chart to help understand the type of sicknesses that are caused by bacteria and viruses. |
| | An Ounce of Prevention Easy | Low-cost steps to keep the germs away |
Signs:
Science Resources
NASA Kids' Club provides wealth of resources that are safe, fun, and educational for students. Kids can find reliable information on space-related topics, as well as interactive games.
American Society for Microbiology has activities that illustrate the power of the microbial world in everyday life.
Advancing Science, Serving Society promotes diversity and the best possible science education for all students.
CDC Museum features award-winning permanent and changing exhibitions that focus on a variety of public health topics, as well as the history of CDC.
Video
Watch Snort, Sniffle, Sneeze, No Antibiotics Please
Watch Hands Together, a video about the importance of keeping your hands clean.
Watch our 2012 Webinar lectures: Common Childhood Illnesses Among Children in Childcare Facilities (Part I and Part II) by Sharon Meropol, M.D., Ph.D.