BEAT Courses
There are two free online courses offered related to the BEAT Institute:
Assessing the Built Environment for Physical Activity

This is an introductory course to learn how to assess streetscapes, parks and trails for physical activity. The course is geared towards researchers, students, practitioners and anyone else with an interest in learning how to conduct audits of the built environment. Participants will learn about the main variables found in most physical activity-focused built environment audit tools, with a more in-depth look at a few specific tools (IMI, ANC, PEDS, PARA, EAPRS & PEAT). The participants will also learn how to customize the tools and train others to conduct assessments.
How to Sign Up
To register for the course, please go to: https://pabec.nursing.upenn.edu/
To learn more about the course, please go to the Q & A.
---
Assessing the Nutrition Environment using the NEMS tools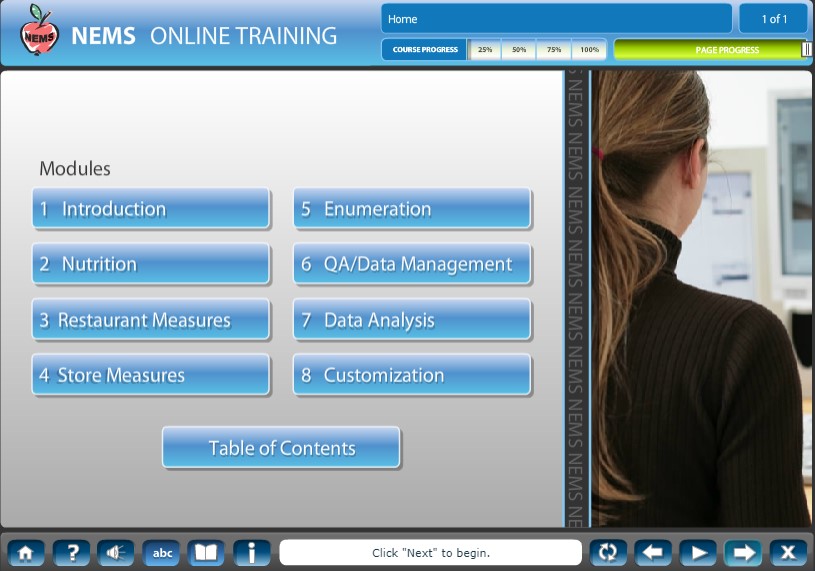 This is an in-depth training on how to use the Nutrition Environment Measures Survey (NEMS) tools developed to assess the nutrition environments of stores and restaurants using NEMS-R and NEMS-S. There are a variety of NEMS tools that can be found on the NEMS website to assess other nutrition environments.
If you'd like to learn more about the NEMS online training, go to https://nems-upenn.org/training/
To register directly for the online training, go to http://nems.nursing.upenn.edu.