Research Environment
The University of Pennsylvania
The University of Pennsylvania was founded in 1740 and established the first medical school in the American colonies in 1765. Penn became the first American institution of higher education to be named a university in 1779 and now is home to 12 Schools, including the School of Arts and Sciences, the Perelman School of Medicine, and the School of Engineering and Applied Science. More than 250 years after its founding, the University of Pennsylvania continues to achieve excellence in research, training and education. Penn is one of the nation's leading research universities and is consistently one of the top recipients of competitive research grants in the U.S. In fiscal year 2016 alone, the academic research budget was $851 million. The Penn faculty has an outstanding national and international reputation; 117 members of the Penn family are currently in the National Academies, one of the highest honors in the fields of science and medicine. In FY 2016, Penn faculty members were awarded 111 patents for their research efforts and since 1923 more than a dozen Penn scholars have been awarded the Nobel Prize.
Penn pioneered professional education in America and continues to set the pace today with outstanding graduate and professional programs. Graduate programs at Penn emphasize the integration of knowledge across boundaries and disciplines. The PhD programs center on unique interdisciplinary "graduate groups", which bring together innovative scholarship and expertise from all of Penn's world leading schools. Penn is home to more than 23,700 students. Roughly half are graduate and professional students; of those, one third are international students and 20 percent are members of U.S. minority groups. Women account for almost half of all graduate students. Penn strives to develop and nurture a diverse community, which shares a spectrum of backgrounds and perspectives. Penn has extensive resources to meet the needs of its diverse student body, including comprehensive online information, as well as centers for international students, students of color, students with disabilities, and more.
The Perelman School of Medicine
The Perelman School of Medicine (PSOM) was the nation's first medical school, founded in 1765 by John Morgan and William Shippen, native Philadelphians who graduated from the medical school of the University of Edinburgh, Scotland. The emphasis, from the outset, was to integrate medical research with education. The first students of the school graduated in 1768. Today, Penn's Perelman School of Medicine is tied for third in the nation in U.S. News & World Report's most recent ranking of top research-oriented medical schools. There are currently over 2,300 full-time faculty, 1,290 residents and fellows, 775 medical students, and 704 post-doctoral fellows working in 57 departments, divisions and centers. Faculty investigators engaged in biomedical research received over $674 million in sponsored program awards in FY2015, including $373 million from NIH. Penn is presently home to 3 Howard Hughes Medical Institution (HHMI) investigators. A total of 2,553 new patents were awarded to Perelman School of Medicine faculty through FY2016. Penn Medicine's five acute-care hospitals and hundreds of outpatient centers throughout the region, combine for a total of 9.7 million square feet in clinical facility space. Penn Medicine and CHOP have ~2.8 million square feet of research space, most of which was either recently built or recently renovated. Several of the newest research towers form part of a quadrangle that includes: The Smillow Translational Research Center (STRC, 280,000 gsf) which serves as the ITMAT home, the Hill Pavilion, a 100,000 gsf education and research building shared with the School of Veterinary Medicine, the Perelman Center for Advanced Medicine (586,000 gsf Penn's primary outpatient care site), the Colket Translational Research Bldg. at CHOP (245,000 gsf). Of this research space, approximately 70% of this space is new or has been renovated since 1989. Since 1990, the PSOM has added approximately 800K total net square feet of space, including the Translational Research Laboratories, the Hill Pavilion, a new animal facility, and supplemental space in the Mutch Building. The Translational Research Center, which opened in early 2011, offers a new home for interdisciplinary emphasis on translational research. The Stemmler Building, which is dedicated to experimental work and which houses non-human primate facilities used in the neurosciences.
All research buildings share the Hospital's centralized computer, library, and support services, in addition to dedicated research libraries and scientific support labs. The Perelman School of Medicine has 21 research cores offering a number of services, from molecular profiling to cell sorting to high-resolution electron microscopy to cluster computing. These diverse resources provide access to state-of-the-art equipment and instrumentation, technical expertise and training and education, all designed to support innovative, cutting-edge research.
Also, affiliated with the research and educational functions of the Perelman School of Medicine are the Penn Presbyterian Medical Center (PPMC), The Philadelphia Veterans Administration Medical Center (PVAMC) and the Children's Hospital of Philadelphia (CHOP).
The School of Arts and Sciences
The early history of Penn Arts and Sciences (SAS) is intertwined with that of the first years of the University of Pennsylvania, which was established in 1740. Building on founder Benjamin Franklin's vision of combining a traditional and practical education, the College was the first colonial institution to teach the sciences, government and commerce, as well as classical subjects such as Latin, literature and philosophy. The School's research mission was established in the 19th century, when the University transformed itself into a research institution. Its 1872 move to its present location provided several city blocks for research laboratories, and a large number of researchers were hired. A graduate division was established in 1882 with the appointment of a Faculty of Philosophy. The first fellowship for graduate study was established in 1885, and the first earned Ph.D. was awarded in physics in 1889. In 1892, the University began offering college courses for teachers, establishing the precursor of today's College of Liberal and Professional Studies, the Ivy League's oldest continuing education program. This spirit of integration also led to the creation of several interdisciplinary programs, including History and Sociology of Science; Biological Basis of Behavior (Penn's undergraduate Neuroscience Major); and Philosophy, Politics, and Economics, as well as a number of regional studies programs. The School's atmosphere of innovation and collaboration has continued into the 21st century. In addition to its own interdisciplinary initiatives, SAS partners with Penn's other schools to offer programs such as international studies and business, biotechnology, and medical physics. An educational leader since its inception, the Penn Arts & Sciences faculty includes Nobel laureates, Guggenheim fellows, Pulitzer Prize-winners, members of scholarly academies, and Fulbright, MacArthur, Marshall, Rhodes, and Sloan scholars.
The School of Engineering and Applied Science
The School of Engineering and Applied Science (SEAS) was founded in 1852 as the School of Mines, Arts and Manufactures. Today, SEAS is a highly integrated part of the University. At Penn Engineering, world-acclaimed faculty, state-of-the-art research laboratories and highly interdisciplinary curricula offer students an unparalleled experience. SEAS faculty are recognized as leading authorities in their research communities. They are internationally renowned for their pioneering research, in demand as consultants and advisors to major corporations and governments worldwide, and are innovative educators at the University of Pennsylvania. SEAS has outstanding shared research laboratories and facilities. Innovation and technology drive the program and transform the fundamentals of what future engineers are learning. Penn Engineering students play a critical role in posing and answering the important questions that will improve human health and transform our world. Many of our SEAS mentors are part of the Bioengineering faculty, a top 10 national program.
Biomedical Graduate Studies
The Biomedical Graduate Studies (BGS) office has served since 1985 as the academic home within the University of Pennsylvania for graduate students pursuing PhDs in the basic biomedical sciences. Currently, there are 797 students enrolled in BGS: 608 are PhD candidates and the rest are pursuing dual MD-PhD or VMD-PhD degrees. The program is organized into seven graduate groups: Biochemistry and Molecular Biophysics, Cell and Molecular Biology, Epidemiology and Biostatistics, Genomics and Computational Biology, Immunology, Neuroscience, and Pharmacology. Penn's graduate groups consist of faculty members with a shared interest in training graduate students. Graduate groups are not based on any single academic department. Rather, they are composed of faculty from several departments, which, as a result, provides flexible, broad based, interdisciplinary training. These seven BGS graduate groups consist of over 650 scientists and educators throughout the university and two associated research institutions. Faculty representing seven schools—Perelman School of Medicine, Dental Medicine, Veterinary Medicine, Engineering and Applied Science, Arts and Sciences, Wharton School of Business, and Nursing—cooperate in admitting, funding, advising, training, and providing career development advice to BGS students. The BGS office is directed by Dr. Kelly Jordan-Sciutto, Professor of Pathology (School of Dental Medicine), who is a tenured fulltime faculty member. Dr. Jordan-Sciutto also holds the title of Associate Dean for Biomedical Graduate Education and contributes 50% of her time to this role. The fulltime staff of BGS consists of an Administrative Director, Admissions Coordinator, Curriculum Coordinator, Programmer/Analyst, Associate Director for Recruitment and Special Programs, and a Student Records Coordinator. In addition, BGS provides 50-100% of salary support for nine graduate coordinators within the BGS graduate groups and also provides an administrative supplement to the Chairs of each graduate group. BGS is also supported by six staff members in the Finance Office of the Vice Dean for Research and Research Training, who centrally manage all student financial aid and several training grants, and administer all of the BGS, graduate group, and special program administrative budgets. The Perelman School of Medicine provided ~$2 million in support of the central BGS office and its satellite graduate program offices in FY16. In addition, the Perelman School of Medicine and the Provost provide over $18 million annually for the support of graduate student fellowships to BGS. The Perelman School of Medicine dedicates space for BGS administration and training, including the central BGS administrative office and conference room, one large auditorium, several large classrooms, a graduate-group office to support four coordinators who do not have an alternate location within a cognate department, and a small conference room for those graduate groups. Many other Perelman School of Medicine classrooms and conference rooms are available to BGS and the graduate groups for classes, seminars, examinations, and various other academic functions and administrative committee meetings. In addition to its critical role in graduate education, BGS also coordinates efforts to promote biomedical research careers among undergraduate college students through the Short Undergraduate Internship Program (SUIP) and post-baccalaureate scholars through the PennPREP program. These programs focus largely on underrepresented (UR) trainees. Dr. Arnaldo Diaz, the Associate Director for Recruitment and Special Programs, manages these efforts. BGS works in collaboration with the Office of Biomedical Postdoctoral Programs and the Office of Academic Medicine (including the Combined Degree and Physician Scholars Office and the Office of Diversity and Community Outreach) to promote UR student recruitment at the post-baccalaureate, graduate, medical, and postdoctoral levels.
Mahoney Institute for Neurosciences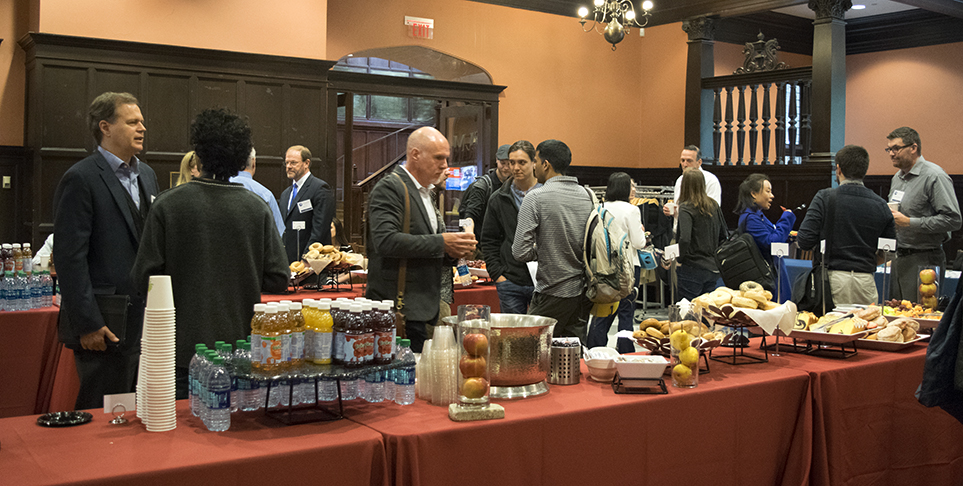 The Mahoney Institute for Neurosciences (MINS), directed by Professor John Dani, is a university-wide umbrella organization designed to foster collaborative and interdisciplinary education and research in the basic and translational neurosciences throughout the Penn campus and in the greater Philadelphia neuroscience community. The MINS brings together faculty, students, fellows, and visiting scientists who have an interest in research and clinical issues relating to the nervous system and currently includes 183 members. While most of these are Penn faculty, affiliated with 32 clinical and basic science departments across six schools throughout the university, several MINS members have primary appointments in other Philadelphia academic institutions. The research interests of MINS members range from molecular biology and biophysics to systems neurobiology, behavioral neurobiology, neuro-modeling, psychophysics, cognitive neuroscience, and the neurobiology of disease. Members of the MINS are involved in research and teaching at the cutting edge of neuroscience and in the clinical applications of advances in neuroscience to problems in neurology and psychiatry and allied disciplines. Several major teaching programs are closely associated with the Institute - the Neuroscience Graduate Group for students working toward a Ph.D. in Neuroscience, the Clinical Neuroscience Track for medical students, and Penn's undergraduate Biological Basis of Behavior major.
Hearing Sciences Center (HSC)
The HSC is the intellectual hub of auditory research at the University of Pennsylvania. The HSC is in the John Morgan Building of the School of Medicine and consists of 3200 sq feet, which has undergone three renovations since 2009. The HSC is the physical and intellectual home of a group of investigatorswith rich backgrounds in computation, engineering, and basic and translational auditory neuroscience. HSC has office space for these mentors and their students, general-use bench space for histology, and state-of-the art research facilities. HSC sponsors a campus-wide journal club and provides infrastructure for hearing assessment (physiology: ABR recordings; behavioral testing: fear conditioning and paired-pulse inhibition) for the university community.
Computational Neuroscience Initiative (CNI)
The CNI is housed in 7200 sq. feet of space, in the historic Richards Building built by Louis Kahn (also designer of the Salk Institute) for the School of Medicine. The adjacent floor of the Goddard Building (also designed by Kahn, for SAS) is under renovation to extend the CNI space, and will be occupied in September 2016. The CNI co-locates a number of the mentors on this proposal. In addition, the CNI also provides attractively designed meeting and discussion space, and a central home for research in theoretical and computational neuroscience at Penn.