Mission and Vision
The Center for Human Appearance mission is research and education to assist children and adults in achieving normal to ideal appearance through medical, surgical and psychological measures. This can include eradication of disease, reconstruction of deformities or cosmetic changes. Our vision is to bring about rehabilitation of both body and mind.
"Through the repair of the body, the resurrection of the spirit". Engman '84
---
HISTORY AND VISION
1981 Linton Whitaker, a plastic surgeon specializing in cosmetic and craniofacial surgery, invites colleagues in dermatology, ophthalmology, oral & maxillofacial surgery, otolaryngology and psychiatry to join him in exploring their mutual interest in appearance.

1987 The Center for Human Appearance becomes a reality when the University of Pennsylvania Medical Center accepts Dr. Whitaker's proposal to designate physical space.

1988 The Center for Human Appearance with its multispecialty group of physicians opens with national attention from the media. This is the first center of its kind, dedicated to research and education in all aspects of appearance.

1993 The Edwin Hall II Foundation awards CHA with funding to support its important efforts in research and education.

1986 and 1987 Penn-sponsored Philadelphia Antique show proceeds designated to founding of CHA.

1995 The first symposium on issues of appearance for medical professionals.Twelve other symposia follow.

2005 The Center for Human Appearance begins its program of awarding research grants to those doing research in appearance.

2013 CHA launches its program of 'Beyond Traditional' to explore thinking about appearance in fields outside medicine – fine arts, history, economics, anthropology and others.They hold the first conference on Appearance∞Identity to explore the ways in which appearance and identity intersect.
---
FROM THE FOUNDER
Appearance is fundamental – and key – to our interactions with others. Those of us who have a healthy appearance tend to feel better about ourselves. To appear normal, and to improve on what we think of as a normal appearance, is a basic human desire.
I was keenly aware of this even in the 1970s as one of the first plastic surgeons in the US to perform intricate craniofacial surgery on infants. Not only did these tiny patients thrive, but their families also benefited psychologically. This experience drove me to study the interaction of human appearance and the psyche.
One of my most gratifying professional experiences was in 1988 when the University of Pennsylvania Medical Center agreed to support my proposal to create a center devoted to all aspects of human appearance – from medical to surgical to psychological. Together we work as a team – creating a new paradigm in how we think about appearance – from physical to function to psychological.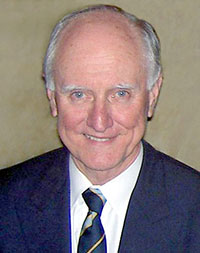 Linton A. Whitaker, MD
Founder and Director