Welcome to the Center for Human Phenomic Science
About Us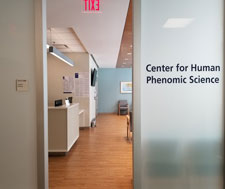 The Center for Human Phenomic Science (CHPS) was formed with the receipt of the Clinical and Translational Science Award (CTSA), an NIH Roadmap initiative. The CHPS has child and adult specific components at the Children's Hospital of Philadelphia (CHOP) and University of Pennsylvania, respectively, as well as joint components. The CHPS merged the General Clinical Research Centers (GCRCs) at both institutions, and introduced new programs and services. The goal of the CHPS is to provide the resources, environment, operations, and training to support and promote high-quality clinical and translational research by qualified investigators. For specific information regarding the CHPS at CHOP.
The CHPS is complex and can adapt to your research needs. We strongly suggest you contact one of our CHPS Facilitators to implement your research.
If you have participated in a CHPS study and have concerns or suggestions for improvement, please provide feedback here.