Gui-shuang Ying, PhD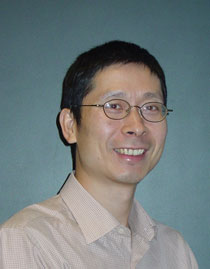 Gui-shuang Ying, Ph.D. has been working as a biostatistician in the center since June 2000. After completing his Ph.D. in biostatistics in 2004 at the University of Pennsylvania, he is an Associate Professor of Ophthalmology, a Senior Biostatistician in the CPOB, and an Associate Scholar in the Department of Biostatistics, Perelman School of Medicine, University of Pennsylvania. Dr. Ying has an M.S. in biostatistics from University of Michigan, and an MD and MPH from P. R. China.
Dr. Ying is the principal investigator for several NIH-funded grants: Secondary Analysis of Data from Vision in Preschoolers (VIP) Study, the Director of the Data Coordinating Center for the Telemedicine Approaches to Evaluating Acute-phase ROP (e-ROP), and the Director of the Data Coordinating Center for the Postnatal growth and retinopathy of prematurity (G-ROP). In these leadership roles, Dr. Ying supervises staff, collaborates with other members of the research team, and takes responsibilities for the conduct of the study and the publication of findings.
Dr. Ying has been the Senior Biostatistician for several large multi-center observational studies and clinical trials including: the Vision In Preschoolers (VIP) Study, the Complications of Age-related Macular and Degeneration Prevention Trial (CAPT), the Comparison of Age-related Macular Degeneration Treatments Trials (CATT), the Retinopathy in Chronic Renal Insufficiency Cohort (RCRIC) study, the Systemic Immunosuppressive Therapy for Eye Diseases (SITE), the Vision in Preschoolers Hyperopia in Preschoolers (VIP-HIP), and the Sensory dysfunction in early Parkinson's disease.
Dr. Ying is the Director of Biostatistical Consulting Service and the Biostatistics module of the vision core. He and the MS biostatisticians provide biostatistical services to investigators at the University of Pennsylvania and Children's Hospital of Philadelphia on many collaborative projects. Dr. Ying consults with the other members of the research team and develops an appropriate statistical analysis plan, designs the study, oversees the conduct of the analysis by MS-level biostatisticians, and helps with the manuscript writing.
Dr. Ying's research expertise includes predictions in clinical trials, development of risk prediction models, analysis of correlated data, statistical assessment of screening/diagnostic tests. Dr. Ying has authored or co-authored more than 95 papers in the peer-reviewed journals.
Associate Professor, Senior Biostatistician
Phone: 215-615-1514
Fax: 215-615-1531
E-mail: gsying@pennmedicine.upenn.edu
To visit Dr. Ying's website, please click on this link: http://vrc.med.upenn.edu/~gsying/