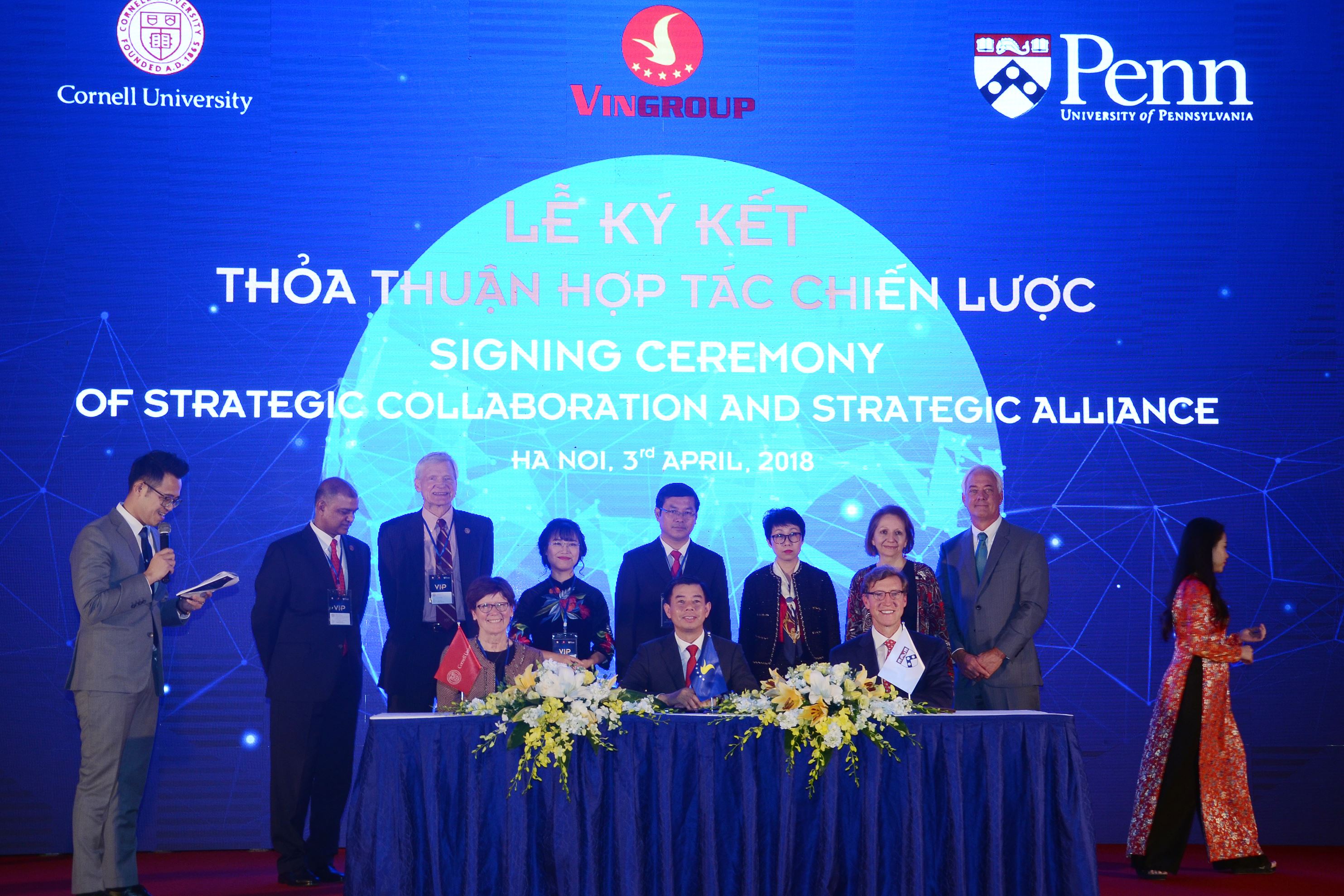 OVERVIEW
In June 2018, Penn entered into a formal alliance with the Vingroup to improve health care and to create new undergraduate and graduate medical training programs in Vietnam. The alliance is positioned to extend Penn's global reach through the creation of a new Center of Regional Engagement in Southeast Asia (based in Vietnam). The new Center will focus initially on the establishment of medical and nursing schools within a newly formed private, nonprofit university (VinUniversity) and enhancement of graduate medical education and health care provision within Vietnam's largest private nonprofit health system (Vinmec). Both VinUniversity and Vinmec are components of the Vingroup, Vietnam's largest private company, a business that shares Penn Medicine's commitment to community service through the transformation of health care.
ABOUT VINGROUP
Since its establishment in 1993, Vingroup Joint Stock Company (Vingroup JSC) continues to pioneer and lead consumer trends in each of its strategic businesses introducing Vietnamese consumers to a brand new, modern life-style with international-standard products and services. The group operates in strategic business segments: Property; Hospitality and Entertainment; Consumer Retail as well as in the area of Social Infrastructure Services including Healthcare, Education and Agriculture. The company's mission is: For a better life of Vietnamese people.
VINUNIVERSITY
Vision: VinUni aims to produce a dynamic advance in Vietnamese education by creation of a university based on rigorous international standards and the most innovative models of global higher education and to become the world-class university within 30 years since its establishment.
Mission: To be a private, non-profit university, established with the mission to produce future leaders in business and society, making impactful contributions to each individual,organizations and the global economy. To nurture and develop young leaders with clear direction and vision, creativity and sound personal values for Vietnam ; who will be leading generation to pave the way for the development of science and technology, to increase labor productivity and towards global integration and global competition. To contribute to Vietnam one first world-class university, which is internationally accredited and ranked, excellent in teaching as well as having research outcomes that contribute effectively to the key economic sectors of Vietnam and the global knowledge-based economy.
VINMEC
Vision: To become the leading healthcare system in Vietnam that provides clients with professional and comprehensive healthcare services; leading in quality and technology comparable to international standards of top hospitals worldwide.
Mission: To deliver first-class health service
VIDEO: VINGROUP LEADERS' AT PENN
PRESENTATION: PROJECT OVERVIEW
VINUNI EVENT: INDUSTRY-ACADEMIC ROUNDTABLE SUMMARY
OPPORTUNITIES TO ENGAGE
There are (5) senior Working Groups conducting the work associated with this project. For Penn faculty and trainees who want to get involved, contact one of the Penn faculty leads listed below with a specific proposal of how you would like to get involved.
Once the following items are developed, opportunities will be announced on this webpage:

There will be opportunities for short term basic science teaching in Vietnam.
There will be opportunities for short- and long-term clinical service, for the development of clinical programs, and of clinical educator faculty.
There will be research opportunities linked to the clinical areas of emphasis.
Students and advanced trainees can rotate on site for research or clinical activities, and/or work on teams to develop the projects.
We will need mentors for VinUni/Vinmec staff and faculty.

VinUni and Vinmec will hire university and clinical position leaders.Vacancies will be linked on this webpage.
Project Leadership
---
MD Curriculum Working Group
---
---
---
---
BN CURRICULUM WORKING GROUP
---
---
---
---
GRADUATE MEDICAL EDUCATION WORKING GROUP
---
CLINICAL CARE & QUALITY WORKING GROUP
---
PROJECT TEAM
---
---
FOR MORE INFORMATION
Please direct any inquiries about the Vingroup-Penn Alliance to Vingroup-Penn Alliance Operations Team.
ANNOUNCEMENTS AND NEWS
JOB OPPORTUNITIES
Global Health - Center Director, Penn Cardiology International - Vietnam
Global Health - Program Leader, Penn Cardiology International - Vietnam
Global Health - Center Director, Penn Oncology International - Vietnam
Global Health - Oncology Nurse Director, Penn Oncology International - Vietnam
VINUNIVERSITY ANNOUNCES SCHOLARSHIP PROGRAM
The Science and Technology Scholarship Program for Overseas Study for Master's and Doctoral Degrees is funded by the Vingroup and administered by VinUniversity. The aim of the scholarship program is to further enhance and develop science and technology in Vietnam. The program allows qualified Vietnamese students to pursue graduate studies in STEM fields at leading universities in the world
For more information visit this site: VinUniversity Masters/PhD Scholarships
1 YEAR ANNIVERSARY OF ALLIANCE
A delegation of Penn faculty and staff traveled to Hanoi April 1-5, 2019 to celebrate the 1st year anniversary of the launch of the Vingroup-Penn Alliance, to participate in an industry roundtable event with local and regional participants (Event summary here) and also to see progress on the construction of the university. Photos here.
VINGROUP-PENN ALLIANCE IN THE NEWS
Vingroup cooperated with Penn University (USA) to build "Center of excellence" on cardiology and oncology
The American professor revealed that the reason why the University of Pennsylvania 'broke down' cooperated with VinUni
Rohit Verma named provost at Vietnam's Vin University
Vingroup Starts Construction of VinUni – Private University in Hanoi
Vingroup Starts Construction of VinUniversity in Hà Nội
Penn Medicine Extends Global Reach to Vietnam — Philadelphia Business Journal
Establishment of New Regional Center of Engagement with Vingroup in Vietnam — Office of the Dean, Perelman School of Medicine
Penn Extends its Global Reach to Improve Health Care Education and Quality of Care in Southeast Asia — Penn Medicine News