Planned Giving
As we pursue our goals for the Power of Penn Medicine Campaign, we are extremely grateful for the generous commitments of our donors who help make an impact on the work we do every day. These treasured donors are members of our Medical Legacy Circle because they have chosen to support our mission through financial and estate planning, through charitable gift annuities, trusts, retirement plan assets, life insurance, and real estate gifts. Planned gifts are critical to the future of Penn Medicine and to advancing opportunities in medical education, research, and patient care. A planned gift will leave a legacy of support for programs and initiatives that will have an impact for years to come.
Thank you for visiting the Office of Planned Giving website. We are here to answer your questions and help you achieve your vision of philanthropic support to Penn Medicine. Our institution is stronger than ever because of donors like you. Thank you.
– Dean J. Larry Jameson, MD, PhD
---
Planned gifts provide the resources that create extraordinary opportunities and that help preserve the future of Penn Medicine.
The programs of Penn Medicine depend upon your support. To that end, there are myriad giving options — from naming Penn Medicine as a beneficiary in your retirement plan or insurance policy, to gifts of real estate, stock, and many other assets many of our supporters would never suspect could be devoted to support Penn Medicine.
The material presented in this Web site is not offered as legal or tax advice. We urge you to seek the advice of your tax advisor, attorney and/or financial planner to make certain a contemplated gift fits well into your overall circumstances and planning.
---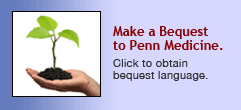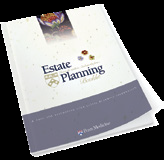 ---
Did You know?
A donor who wishes to make a gift to Penn Medicine through his or her will (known as a bequest) need not rewrite the whole will to accomplish this. We can provide custom language so you can direct your bequest gift to the area within Penn Medicine that is the most important to you. Share this language with your attorney, who can draft a codicil, a simple addendum to the will, leaving your other estate plans in place. See gift of bequest for more information.