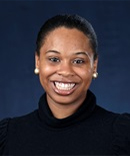 Heather L. Bennett, PhD
Department of Neurology,
University of Pennsylvania
Education
| | |
| --- | --- |
| 2002-2006 | BS, Biology, Richard Stockton College of New Jersey |
| 2009-2015 | PhD, Molecular Biology, Cell Biology and Biochemistry, Brown University |
| 2015-present | Penn-PORT fellow, Nerurology, Children's Hospital of Philadelphia |
Research mentor: Robert G. Kalb, MD, Children's Hospital of Philadelphia
Research Topic: Genetic pathways and molecular mechanisms underlying anoxic and hypoxic stress
Human brain cells require oxygen for proper operation and insufficient oxygen (hypoxia) or the complete lack of oxygen (anoxia) caused neuronal dysfunction and death. The developing brain is especially sensitive to low oxygen conditions. The molecular mechanisms that allow the brain to respond to conditions of low oxygen have not been extensively studied. I am using the genetically tractable model organism Caenorhabditis elegans to elucidate the molecular pathways that are involved in sensing and responding to anoxia and hypoxia. In addition I am working to identify the neuronal sites of action required for this response. Our laboratory has found that mutations in genes involved with neuropeptide processing and secretion enable animals to survive anoxic insult. More recently we have found that loss of specific neuropeptides leads to resistance to anoxic stress, as well as an overall increase in survival. My research aims to further characterize the effects of anoxic insult on longevity, aging, and overall health span on animals that are exposed to anoxic stress. By assessing the transcriptional profiles of animals treated prior to and post anoxic conditions, will provide insight into the molecular mechanisms that confer resistance to anoxic insult and neuronal stress.

Publications
Journal Publications
Bennett, HL., Khoruzhik, Y., Hayden, D., Huang, H, Sanders, J., Walsh, MB., Biron, D., Hart, AC. Loss of Notch or JNK-1 signaling results in FoxO dependent compensatory sleep in C. elegans. Manuscripts in preparation 2015.
Sriram U, Xu J, Chain R, Varghese L, Bennett HL., Zoltick PW., and Gallucci S. IL-4 suppresses the responses to TLR7 and TLR9 stimulation and increases the permissiveness to retroviral infection of murine conventional dendritic cells. PLOS One 2014; 29:9(1):e87668. PMID: 24489947
Sriram U, Varghese L, Bennett HL., Jog N, Shivers DK., Ning Y, Behrens EM., Caricchio R, and Gallucci S..Myeloid Dendritic Cells from B6.NZM Sle1/Sle2/Sle3 Lupus-prone Mice express an Interferon Signature that Precedes Disease Onset. Journal of Immunology 2012; 189:80-91. PMID: 22661089
Contact info:
Heather L. Bennett, Ph.D.
Postdoctoral Research Fellow
Department of Neurology
Children's Hospital of Philadelphia Research Institute
Abramson Research Center
3651 Civic Center Blvd
Philadelphia, PA 19104
Room 814
Email: bennetthl@email.chop.edu
© The Trustees of the University of Pennsylvania | Site best viewed in a supported browser. | Report Accessibility Issues and Get Help | Site Design: PMACS Web Team.