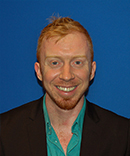 Nathan T. Fried, PhD
Department of Neuroscience
University of Pennsylvania
Research Mentor: Wenqin Luo, MD, PhD; University of Pennsylvania
Education
| | |
| --- | --- |
| 2003-2008 | BS, Drexel University, Philadelphia, PA |
| 2010-2015 | PhD, Thomas Jefferson University, Philadephia, PA |
| 2015-present | Penn-PORT fellow, Neuroscience, University of Pennsylvania |
Research Topic: Unraveling the central circuits of chronic trigeminal pain to illuminate how the psychiatric components of pain arise.
The trigeminal system (head and neck) appears to be particularly sensitive to multiple forms of chronic pain that are incredibly common: migraine, TMD, chronic tooth pain, and others. In fact, migraine is the 3rd most prevalent neurological disorder on the planet! My interests in pain lie on the intersection of two questions: 1) Why is the trigeminal system seemingly so sensitive to chronic pain conditions in comparison to other parts of the body, and 2) What are the circuits that are involved in transmitting that pain from the skin into the brain and what mechanisms/cell types modify that signal along the way? This second question is particularly interesting because it allows us to delve deep into the brain to identify and characterize the unique pain pathways that underlie the psychiatric components of pain such as depression, aggression, anxiety, and alcoholism. In doing so, we can understand not just how the pain signal is transmitted to the brain, but also how the "experience" of pain is generated. To answer these questions, I am utilizing modern neuroscience techniques, such as optogenetics, viral track tracing, mouse behavior, and mouse genetics. The hope is that this research will lead to a better understanding of somatosensory systems to create the groundwork necessary to develop better treatment options for those who suffer from chronic pain.
Publications
Fried NT, Elliot MB, Oshinsky ML. "The Role of Adenosine Signaling in Headache: a Review." Brain Sci. The Pathogenesis and Treatment of Headache Disorders special issue 2017, 7(3), 30.
Fried NT, Maxwell CR, Elliot MB, Oshinsky ML. "Region-specific disruption of the blood-brain barrier following repeated inflammatory dural stimulation in a rat model of chronic trigeminal allodynia." Cephalalgia April 2017.
Fried NT, Moffat C, Seifert EL, Oshinsky ML. "Functional Mitochondrial Analysis in Acute Brain Sections from Adult Rats Reveals Mitochondrial Dysfunction in a Rat Model of Migraine." Am J Physiol Cell Physiol 2014, 307(11):C1017-30.
Talati PG, Hoang DT, Fried NT, Magee MS, Fineberg JD. "A Perspective on PhD Career Outlook: Training, Mentoring and Utilizing a New Generation of STEM Doctoral Degrees." Technology Transfer and Entrepreneurship 2014, 1(2):138-143.
Hirata H, Fried NT, Oshinsky ML. "Quantitative characterization reveals three types of dry-sensitive corneal afferents: pattern of discharge, receptive field, thermal and chemical sensitivity." Journal of Neurophysiology 2012, 108(9):2481-93.
Contact info:
Nathan T. Fried, Ph.D.
Postdoctoral Fellow
Department of Neuroscience
Perelman School of Medicine
University of Pennsylvania
3610 Hamilton Walk
145 Johnson Pavilion
Philadelphia, PA 19104
E-mail: nathanth@mail.med.upenn.edu
© The Trustees of the University of Pennsylvania | Site best viewed in a supported browser. | Report Accessibility Issues and Get Help | Privacy Policy | Site Design: DART Web Team.