Society for Clinical Research Coordination and Management
Announcements



1/16/2019
CRF Day
Please save the date for the annual CRF Day.
Tuesday, February 12, 2019 11:00am — 3:30pm
Smilow Center for Translational Research Lobby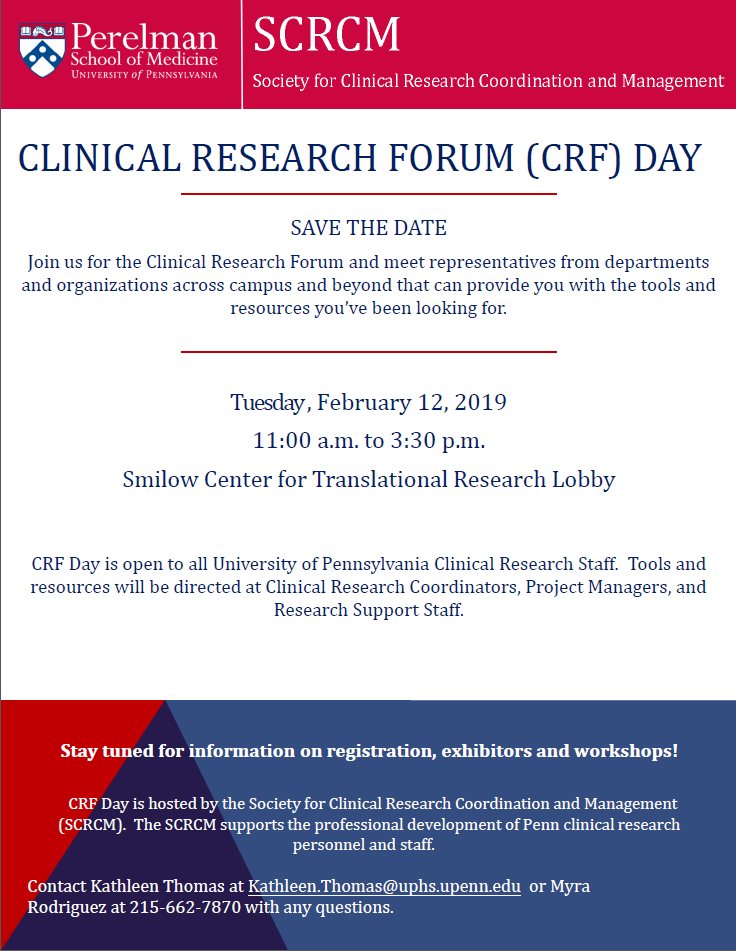 10/12/18
Yankee Candle Fundraiser
Link below for the website:
https://www.yankeecandlefundraising.com/scripts/ycfwcgi.exe?_V4=Process&_Func=enterWebsiteGroupEmail&frComp=ycf&cusId=999985770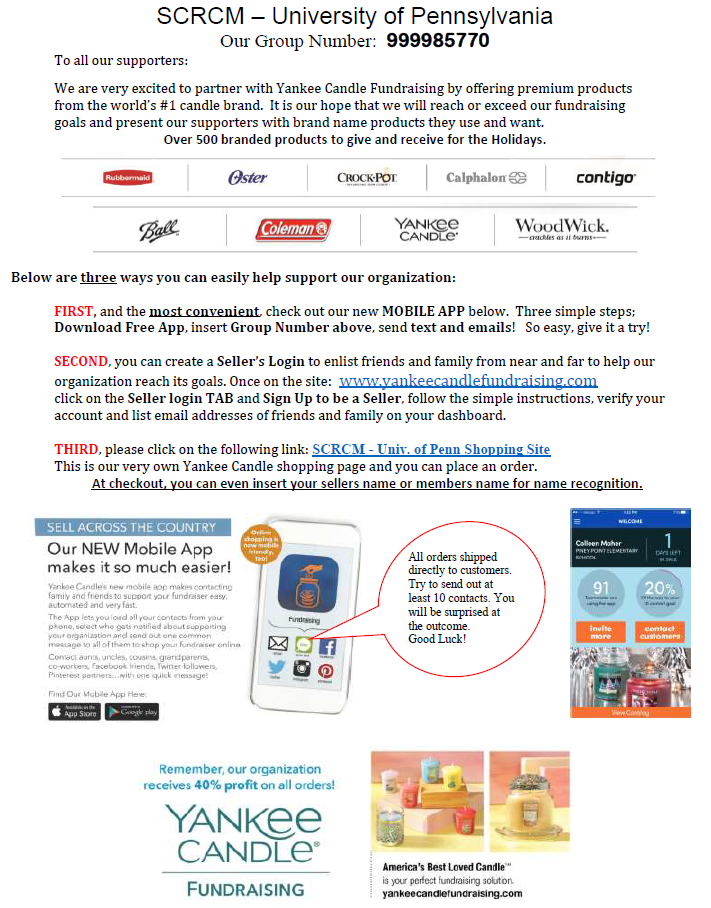 10/10/18
SCRCM & TrialX Happy Hour
SCRCM and TrialX are hosting a Happy Hour at Landmark Americana
Date: Thursday 10/25
Time: 4-7pm
Where: Landmark Americana, 3333 Market St

Complimentary appetizers to all & 1 free drink ticket (beer, wine, or mixed drink) for the first 45 persons in attendance.
TrialX will be presenting about IConnect and will have associates present to offer information or answer any questions you may have.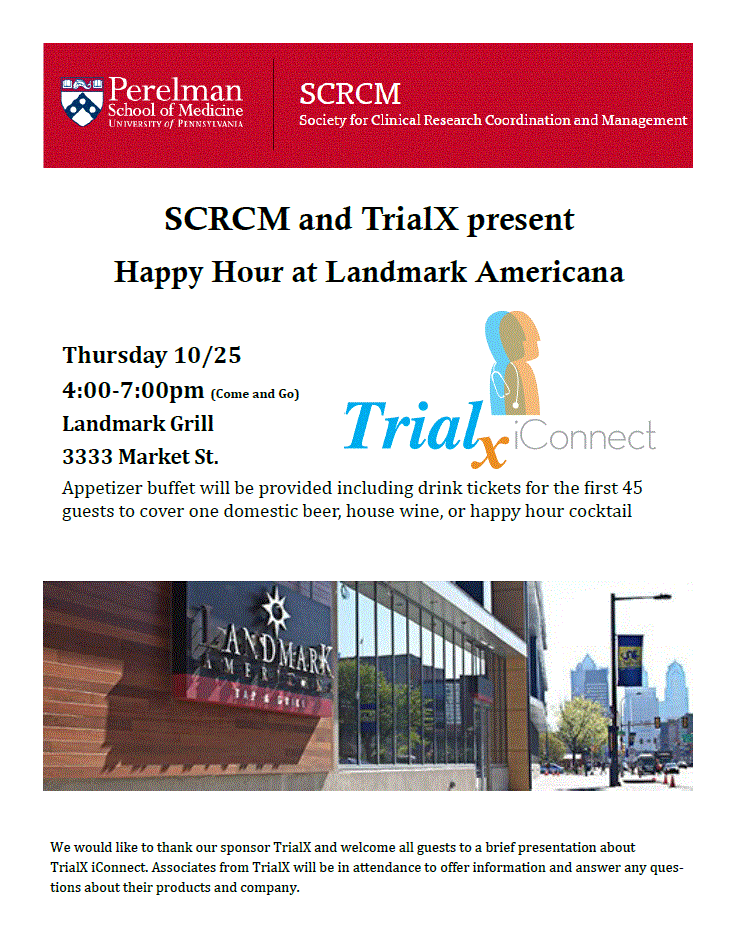 8/8/18
Penn & CHOP Networking Event
Penn and CHOP are hosting a networking event Wednesday August 8th 5-8pm at the Stoner Courtyard of the Penn Museum.
The West Philadelphia Orchestra will perform — their music is rooted in Eastern European folk traditions, blended with free jazz, punk, and blues.
The galleries will stay open, with optional guided tours at the WPO set break.
Outside, light food and beverages will be provided by Pepper Mill Cafe.
Admission is free with your Penn or CHOP badge.
For more information, please visit: http://bit.ly/2KtALlG
4/10/18
April 2018 SCOOPs: Follow-Up from Presenter
Below is information on business etiquette courses/training that I found on Knowledgelink.
Search term on the Catalog search: "Business Etiquette"
A lot of these courses that appear are on Lynda.com, but you can sign up through Knowledgelink and therefore get credit applied to your KL account.
Penn provides Lynda.com for free but you have to log in as a Penn employee. Here is the website for Lynda.com through Penn:
https://www.isc.upenn.edu/lyndacom/
There are instructions here on how to log in, and there are all types of trainings/courses on this website.
3/19/18
2018 Clinical Research Annual Recognition of Excellence Awards
The Clinical Research Coordinator Annual Recognition of Excellence (CARE) award is an annual recognition event hosted by the Penn Society of Clinical Research Coordination and Management (SCRCM) and the Office of Clinical Research (OCR). This event is to celebrate our clinical research staff at Penn and honor members of our research community who best exemplifies excellence in the knowledge, skills and values of the clinical research profession.
Join Us at This Year's Awards!
Thursday, June 14th 2018 11:45m to 2:00pm Biomedical Research Building (BRB) Auditorium
RSVP & Submit Nominations Today!
For more details on the initiative, submitting nominations or to RSVP, please visit our official 2018 C.A.R.E Awards Page http://www.med.upenn.edu/scrcm/careawards2018.html
2/21/18
Important Change for PennChart Research Orders
The workflow is now slightly modified to fix an Order Signing issue. Please read the change communication below carefully, a tip sheet has been attached to help with the changed workflow.

Change in PennChart Workflow for Pending Orders
You are no longer able to use the ORDERS ONLY ENCOUNTER type to pend orders in PennChart. The orders only encounter no longer allows you to route the orders to a provider for signature.
The new workflow is to use the RESEARCH (NON-CHARGEABLE) ENCOUNTER or the TELEPHONE ENCOUNTER.
Research non-chargeable follow up will file in the provider's Inbasket in CC'd Charts, whereas the Telephone Encounter will route to the provider's patient call folder.
Please refer to the tip sheet: Pending a Research Order.
For more details, please see email or reach out to OCR at 215-662-4484 or PennChart Service Desk at 215-662-7474
2/13/18
CRF Day
Date: Wednesday February 14th
Time: 11:00 am to 3:30 pm
Where: Smilow Center for Translational Research Lobby
Join us for the event and meet representatives from departments and organizations across campus and beyond that can provide you with the tools and resources you've been looking for! This event is open to all University of Pennsylvania and Children's Hospital of Philadelphia Clinical Research Staff . Tools and resources will be directed at Clinical Research Coordinators, Project Managers, and Research Support Staff. Workshops for CRC credit will also be available throughout the day.
Contact Bridget Nolan at Bridget.Nolan@uphs.upenn.edu if you have any questions.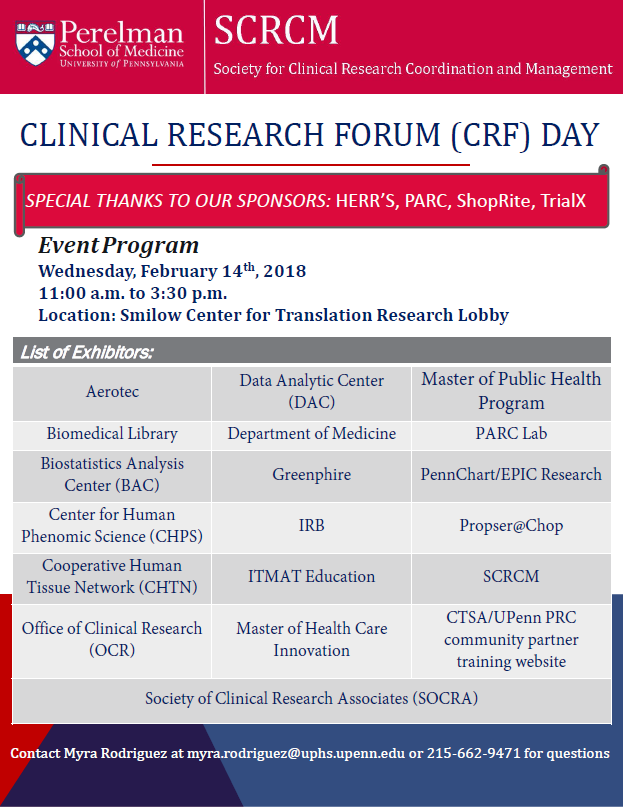 12/04/17
SCRCM Upcoming Events
SCRCM General Meeting
Date: Tuesday, December 5th
Time: 12:00pm
Where: Maloney Building 8030
Add event to calendar Apple Google Outlook Outlook.com Yahoo
SCRCM 2017 Holiday Party
Date: Thursday, December 7th
Time: 12:00PM to 3:00pm
Where: 14th Floor, Biomedical Research Building (BRB)
There will be appetizers, desserts, beverages and an opportunity to meet and mingle with your Penn research colleagues and coworkers.
Add event to calendar Apple Google Outlook Outlook.com Yahoo

SCRCM Gertrude Hawk Chocolate Fundraiser
Date: Now until Sunday, December 17th
The Society for Clinical Research Coordination and Management supports the professional development of Penn clinical research personnel through a variety of professional development and networking opportunities offered throughout the year. We've just kicked off our fundraiser through Gertrude Hawk Chocolates and we are offering a variety of delicious chocolates and other gifts! 50% of all sales profits will go directly to the society. These are great to spread some holiday cheer for coordinators and collaborative sites.

Buying Chocolates
A website has been setup specifically for our Society for Clinical Research Coordination fundraising campaign. To connect to this site, please click here or copy & paste the following URL into your browser: https://www.gertrudehawkchocolates.com/fund-raising/participants?act=fundraising&cmp_id=25929&mem_id=147145.

Delivery
You can have your purchases delivered directly to your door or setup to have them delivered personally. We have been assured that all deliveries ordered by Sunday, 12/17, will be delivered before Christmas Day.

Please feel free to reach out to our point-person, Whitney Richardson at wjea@pennmedicine.upenn.edu
---
11/28/17
Event: Penn-CHOP Cooperative Agreements-Conducting Research Across Institutions: IRB Submissions and Perspective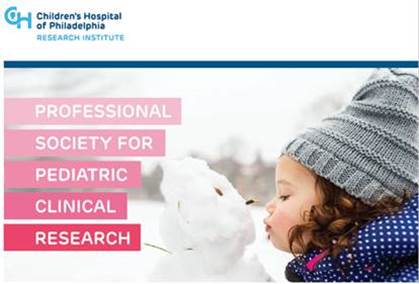 PROSPER & Penn's Office of Clinical Research
Collaborative Research Between CHOP and PENN
This session will feature a representative from both the CHOP and PENN IRBs discussing what is required from a IRB/regulatory perspective when conducting research across both institutions. Questions gathered from the research community at both institutions will be addressed by the IRBs, and a Q&A session after their presentation will be included. This session will be held both at CHOP and Penn premises. Questions and discussion is highly encouraged. To submit your questions prior to the event, please go to the redcap link: http://bit.ly/2hSGbu5
DECEMBER 4, 2017 9:30am - 11:00 a.m, CTRB, 1st Floor, 1100-B, CHOP
DECEMBER 12, 2017 9:30am -11:00am, Biomedical Research Building (BRB) Auditorium, Penn
SPEAKERS: Amy Schwartzoff, Director, Human Subjects Research, CHOP IRB & Patrick Stanko, Assistant Director, University of Pennsylvania IRB
---
11/15/2017
SCRCM 2017 Winter Holiday Party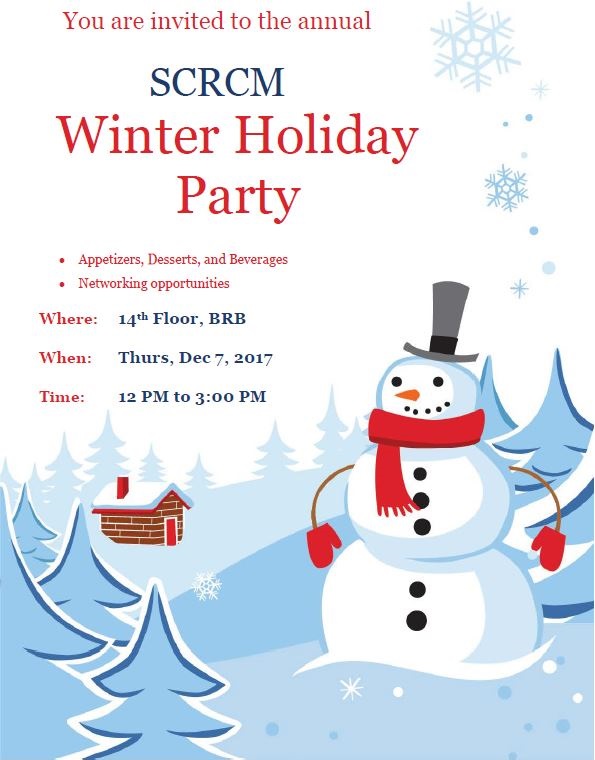 ---
11/09/17
Clinical Trials Radio Blog presents "Dr. Carl June's CAR-T Cell Journey and the Cancer Treatment Revolution"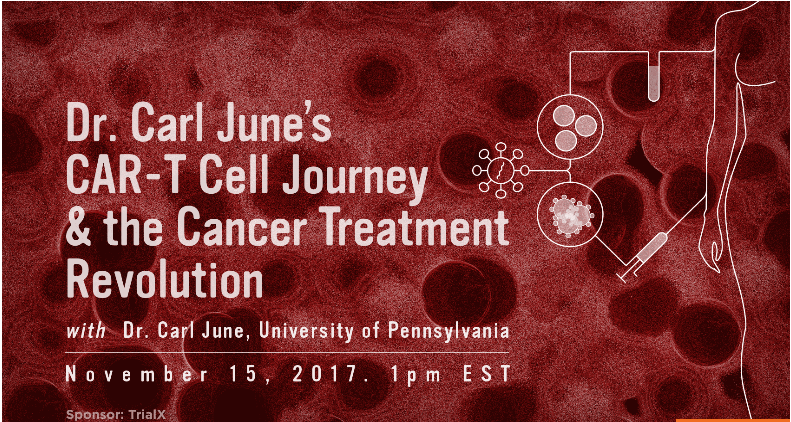 The Office of Clinical Research (OCR) has partnered with TrialX's Cure Talk, a global online radio blog platform, to host an online interview with Dr. Carl June, his CAR-T cell journey and to understand nuances of the CAR therapy.
Questions? Please contact the Office of Clinical Research (OCR) at psom-ocr@pobox.upenn.edu or 215-662-4484
---
11/07/2017
IRB Bulletin - Penn Wide Announcements for Active Researchers
TRAINING ANNOUNCEMENTS
What's Up Next? Common Rule and the New Frontier of Research
Friday December 1, 2017 - 10:00am - Flyers/Sixers Surgery Theatre
IRB 101 – Creating Your Research Application
Monday November 13, 2017 – 9:30am – IRB Conference Room 3800 Spruce St, Rm. 151
EVENT ANNOUNCEMENTS
Community Driven Research Day
Tuesday December 6, 2017-Temple University, Howard Gittis Student Center, 1755 N. 13th St, Room 200 A & B
POLICY UPDATES
Expanded Access: FDA Describes Efforts to Ease Application Process
For more details, please refer to email or contact the IRB.
---
11/06/2017
Care Everywhere access in PennChart and Research Use
This communication is in response to recent access requests and questions about whether Care Everywhere.
After several discussions, it has been decided that for the time being, Care Everywhere use for Research is not permitted. Epic, which sponsors Care Everywhere, has made clear in its Rules of the Road, which all EPIC using institutions must agree to, that Care Everywhere may be used for treatment purposes only and that Care Everywhere may not be used for research purposes.
For more details, please refer to email or contact OCR.
---
10/13/2017
Don`t Forget Your Flu Shot
Penn faculty and staff can prepare for flu season with a free influenza vaccine on-campus at one of the University convenient clinics. Visit UPenn Flu Clinic Website for details.
HUP employees or those with a hospital login can receive a flu shot by printing a form through UPHS Intranet.
---
10/06/2017
Message from Information Services UPHS VPN Retirement
Due to increased security concerns with the legacy VPN remote access solution, it will be decommissioned at midnight Monday, October 9th. Earlier this year, Information Services introduced a new remote access capability and began enrolling staff.
Please refer to email or contact OCR for more details.
Penn's Way - A Workplace Charitable Campaign
Please consider donating to the University of Pennsylvania Society of Clinical Research Coordination and Management (SCRCM) as part of the Penns Way Campaign. The Penns Way Campaign runs from September 26ththrough November 11th.
How to Make a Pledge:
52534 University Of Pennsylvania - Society for Clinical Research Coordination and Management