Home
Our laboratory is located at the University of Pennsylvania / Perelman School of Medicine in the Institute for Diabetes, Obesity and Metabolism (IDOM) and the Department of Cell and Developmental Biology.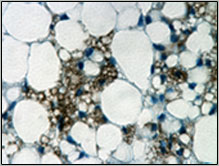 There are three major types of adipose cells (white, brown, beige) that have differing effects on energy balance and metabolism. White adipose tissue is specialized for storing excess energy (as triglyceride) after eating and releasing energy between meals and in times of nutrient deprivation. Conversely, brown ("thermogenic") adipose tissue burns carbohydrates and fats to produce heat. Beige fat cells have similarities to brown fat cells but arise within white fat tissue. We are interested adipose biology because of the important roles that fat cells play in human health, in healthy individuals and at the onset of insulin resistance, type 2 diabetes, cardiovascular disease, and cancers associated with obesity.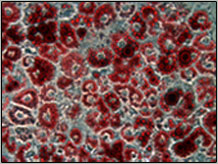 Our research aims to understand the pathways controlling the development and function of adipocytes (fat cells). Over the past several years, we have identified genes critical for specifying thermogenic adipose fate and have purified the precursor populations from which these adipocytes descend. We are using new technologies such as single cell RNA sequencing, unbiased functional genomics, in vivo metabolomics, and heterologous cell transplantation in addition to traditional molecular techniques. The experiments we are doing are providing insights into how adipocyte fate and function are modulated during growth and disease.
Please check out more details about specific current projects in the lab.
Announcements
[2020-01-29] Anthony Angueira's manuscript on the roles of EBF factors in brown adipose has been accepted at Cell Reports.
[2019-11-25] Dr. Karima Drareni has joined the Seale lab as our newest post-doc!
[2019-10-26] Dr. Patrick Seale has been awarded the 2020 Linda Pechenik Montague Investigator Award for mid-career research faculty at the Perelman School of Medicine.
[2019-09-26] Dr. Rachel Stine's Cell Stem Cell paper on the role of Prdm16 in small intestine stem cells has been has been published.
[2019-09-12] Alex Sakers defended his Ph.D. thesis. Congratulations Dr. Sakers!