People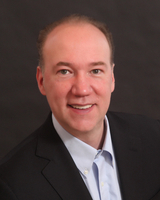 John A. Wolf, Ph.D.
Principal Investigator
Dr. John A. Wolf is an Asst. Professor of Neurosurgery at the University of Pennsylvania. Dr. Wolf's research program is highly collaborative, and focuses on a number of broad areas related to Neurotrauma and Repair.
Trained as a computational and systems level neuroscientist, Dr. Wolf's goals are a deeper understanding of the role of diffuse brain injury in disrupting communication between and within brain regions. He believes that functional measures such as in vivo electrophysiology post-injury will most successfully elucidate the disruption that occurs to white matter pathways and circuitry in important cognitive areas such as the hippocampus. His laboratory focuses on the examination and neuromodulation of circuitry disruption after traumatic brain injury.
In collaboration with Drs. Smith and Cullen, Dr. Wolf is also leading the electrophysiological efforts to integrate electrodes with nervous tissue in vitro so that it can then be implanted for both peripheral and central nervous system repair (Neural Engineering). He is particularly excited to be adding optogenetic tools for feedback to the neural interface, as well as using them for neuromodulation in vivo.
Dr. Wolf received his Ph.D. in Neuroscience from the University of Pennsylvania, where he focused on computational models of the nucleus accumbens in Dr. Leif Finkel's laboratory. He was then a postdoctoral fellow with Dr. Diego Contreras examining recordings utilizing chronic multiple electrode arrays in awake behaving rats, examining information processing in this area of the brain. His next training was as a postdoctoral fellow at the University of Pennsylvania in the Center for Brain Injury and Repair in the Department of Neurosurgery where he developed a method of slice recording of the porcine hippocampus post traumatic brain injury.
Dr. Wolf is currently an active member of the National Neurotrauma Society and the Society for Neuroscience, the Biomedical Engineering Society, and the International Basal Ganglia Society, as well as a Review Editor for Frontiers in Systems Neuroscience.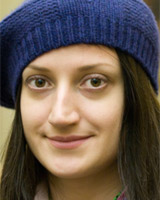 Alexandra (Sasha) Ulyanova, Ph.D.
Research Associate
Sasha is a research associate at the Department of Neurosurgery at University of Pennsylvania. Before she came to Penn, Sasha was a postdoc in Shirokov Lab at New Jersey Medical School. She got her Ph.D. in Pharmacology and Physiology from Rutgers University in 2009. Her current interests are mostly in concussion and epilepsy. Specifically, she studies epileptogenesis after diffuse traumatic brain injury usingin–vivo electrophysiological recording in large animals. Sasha also works on characterization of human neurons in collaboration with Dr. Eberwine, the Department of Pharmacology. She does in–vitro recordings from human brain slices from patients with epilepsy, tumors and normal pressure hydrocephalus. She also enjoy reading and spending time with her family.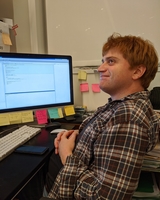 Chris Adam
Graduate Student
Chris (B.S. University of Pittsburgh) is a graduate student in the Wolf Lab. He is investigating behavioral and circuit level activity changes post-traumatic brain injury. He is especially interested in changes in limbic circuitry that underlay PTSD following TBI. In his free time, Chris enjoys reading and playing music.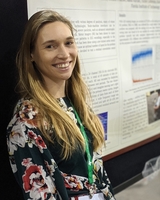 Oceane Fruchet
Research Specialist
Oceane graduated with a French State Diploma in Physical Therapy and a BS in Biomedical Engineering from the Florida Institute of Technology. She is interested in neuroengineering, neural data analysis, and neuromodulation. In her free time, she enjoys playing with her dog, being in nature, and cooking.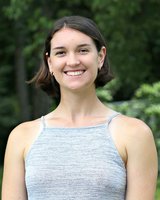 Emma Halter
Research Specialist
Emma received her Bachelor's degree in Neuroscience from Wesleyan University in 2017, and a Masters degree in Marine Biology from Northeastern University in 2018. She is interested in studying TBI and its potential impact on cognitive process, especially in relation to PTSD and memory. In her free time, Emma enjoys scuba diving, biking, reading, or doing anything outside.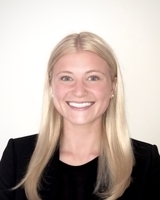 Abigail Andrews
Research Specialist
Abigail received her Bachelor of Science in Human Development with a concentration in Neuroscience from Cornell University in 2019. She is interested in studying the neurophysiology of TBI and post-traumatic epilepsy. In her free time, Abigail enjoys backpacking, skiing, and listening to 60's rock and true crime podcasts.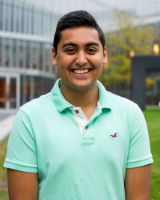 Nikhil Maheshwari
Undergraduate Student
Nikhil is a sophomore studying Bioengineering. In his free time, he enjoys playing basketball and tennis and is part of Access Engineering, eMed, and BMES. He hopes to attend medical school.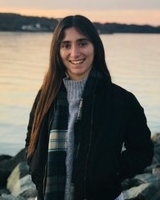 Dani Bergman Chudnow
Undergraduate Student
Dani is a junior studying the Biological Basis of Behavior. She is a member of the Wharton Neuroscience Initiative Student Society (WiNSS), an Encompass Fellow, and Jewish Learning Fellow (JLF). She also loves playing on the Penn Women's Club Soccer team. In her free time, she likes to explore Philadelphia in search of the best coffee spots and hiking trails.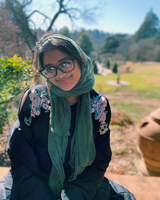 Hiba Hamid
Undergraduate Student
Hiba is a freshman undergraduate student at the University of Pennsylvania pursuing a degree in Neuroscience. She enjoys learning more about the brain, and is the Vice President of Penn Neuroscience Society. Also, she is a member of the Undergraduate Assembly. She hopes to go to medical school in the future, with aspirations to become a surgeon.
Former Lab Members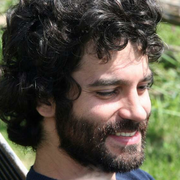 Carlo Cottone, Ph.D.
Post-Doctoral Fellow
Carlo was a post-doctoral fellow in the Department of Neurosurgery at University of Pennsylvania. After completing his Ph.D. in in Functional Neuroimaging in 2015, he was a post-doctoral fellow for two years at Laboratory of Elecrophisiology for Translational neuroScience (LET'S) in Rome where his research interests concerned fundamental aspects of human brain processes in health and disease (multiple sclerosis and epilepsy) by investigating the spectral behaviors of cortical electrical activity through non-invasive neurophysiological techniques, as well as the effects of electrical neuromodulation on cortical excitability and computational modeling.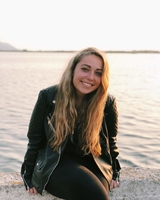 Jami Alamar
Research Specialist
Jami graduated with a B.A. in Neurobiology from the University of Pennsylvania in 2019. She worked in the lab as an undergraduate student as well as as a Research Specialist for a year. Jami is interested in studying TBI on a behavioral level, as well as better understanding post traumatic epilepsy and sleep disorders as a possible correlate to injury. In her free time, she enjoys playing the piano, trying different restaurants in Philadelphia, and travelling. Jami is now completing a Graduate Certificate at FIU and hopes to start Medical School next year.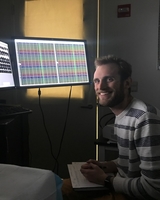 Matt Sergison
Research Specialist
Matt graduated from the University of Pittsburgh in 2017 with a B.S. in Neuroscience, and was a research specialist in the Wolf lab for 2.5 years. He is interested in the effect traumatic brain injury has on the hippocampus and limbic system, specifically how TBI affects circuitry related to PTSD. When not in the lab, Matt enjoys running, biking, and playing guitar. Matt is now a PhD student at the University of Colorado Boulder.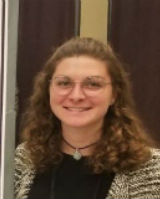 Kim Gagnon
Research Specialist
Kim (B.S. University of Pittsburgh) was a research specialist in the Wolf Lab until 2019. She investigated how network level changes affect spatial and working memory post-traumatic brain injury. In her free time, she enjoys hiking, rock climbing, and playing the guitar. Kim is now pursuing a PhD in Neuroscience at UCSD.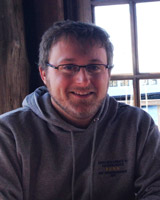 Paul Koch, M.D.
Neurosurgical Resident
Paul Koch was a fourth year resident in Neurological Surgery at the University of Pennsylvania. He completed his M.D. at the Cleveland Clinic in 2010 where his thesis work under Dr. Andre Machado investigated alterations in neurogenesis–related signaling during motor recovery after stroke enhanced by chronic stimulation of the cerebellum. Prior to medical school he spent 3 years as a fellow at the NIH investigating functional imaging phenotypes of working memory deficits in schizophrenia under Dr. Karen Berman. Paul's research interests include uncovering network level dysfunction underlying complex neurological and psychiatric disease, and in developing next generation neuromodulation therapies.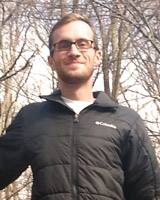 Mike Grovola, M.S.
Research Specialist
Mike (B.A. University of Richmond, M.S. Drexel University College of Medicine) was a research specialist in the Wolf Lab. He is interested in circuit level activity and neuroinflammation post-traumatic brain injury. He would like to pursue a Ph.D in Neurobiology.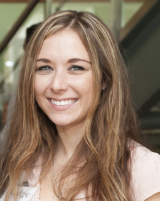 Ashley Nemes, Ph.D.
Post-Doctoral Fellow
Ashley is a postdoc with Dr. Wolf in the Department of Neurosurgery at the University of Pennsylvania. She started her career in neuroscience during her undergraduate training at Baldwin-Wallace College receiving her Bachelor of Science in 2011. She previously worked as a research technician in Dr. Imad Najm's epilepsy research laboratory at Cleveland Clinic, where she chose to eventually complete her Ph.D. research with her degree granted from Kent State University. Between her undergraduate thesis and her Ph.D. dissertation, Ashley has spent 7 years studying neuroscience with an interest in brain injury, regeneration and electrophysiology. She is currently training to advance her knowledge in the field and eventually become an independent investigator in academia.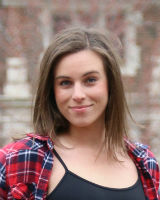 Robin Russo
Research Specialist
Robin had worked in the Wolf Lab since 2012. In May 2016, she graduated from the University of Pennsylvania with a B.A. in Biology and distinction in her Neurobiology concentration, and started as a research specialist. She is interested in the effects of traumatic brain injury on hippocampal place fields and corresponding histopathology. During the summers of 2013 and 2014, she investigated intratumoral habitats in glioblastoma mutliforme at Moffitt Cancer Center in Tampa, FL with Dr. Robert Gatenby. Robin enjoys ballet classes and running in her spare time and will matriculate to medical school Fall 2018.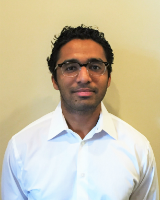 Andy Tekriwal
Lab Technician
Andy was a member of the Wolf lab from May 2014 until matriculating into the University of Colorado MSTP in June 2015. In his role as a lab technician Andy led the effort to create standardized swine behavior paradigms with Dr. Paul Koch. Areas of research interest include neuromodulation and electrophysiological recordings in animal models of neurologic disease.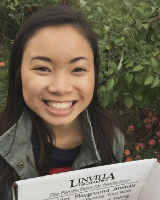 Maya Hopkins
Undergraduate Student
Maya Hopkins is a rising senior majoring in Biological Basis of Behavior. She has previously worked in an addiction lab and is interested in learning and memory as well as disorder leading to cognitive impairments. For her senior thesis she will be investigating the interaction between stress and alcohol use in dopamine release in mice. In her free time she is a mentor in Penn China Care and is an active board member on Penn Ballet.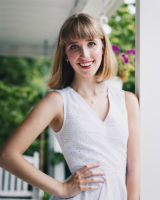 Emily Johnson
Undergraduate Student
Emily is a freshman studying Bioengineering. She hopes to eventually attend graduate school or medical school (or both). In her spare time, Emily is a board member in Penn Dance Company and Penn Ballet Company and is a freelance photographer.