ALBELDA LAB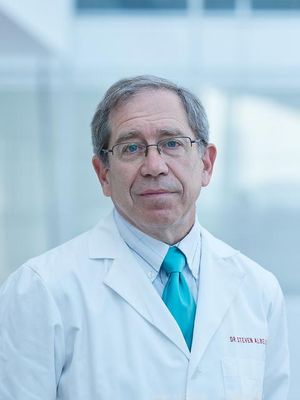 Dr. Albelda graduated from Williams College and from the University of Pennsylvania Medical School. He received his clinical post-graduate training at Penn and is boarded in Internal Medicine, Pulmonary Medicine, and Critical Care Medicine. He received post-doctoral laboratory training in the lab of Dr. Clayton Buck at the Wistar Institute. Dr. Albelda is the William Maul Measey Professor of Medicine, Associate Director of the Pulmonary Division, Director of the Thoracic Oncology Research Laboratory, and co-Director of the Translational Center of Excellence for Lung Cancer at Penn. He is the 2010 recipient of the Wagner Award from the International Mesothelioma Interest Group.
Dr. Albelda's research interests focus on developing novel approaches to the treatment of mesothelioma, lung cancers, and other thoracic malignancies. His clinical interests are primarily in thoracic oncology. He has led an NCI-funded Program Project aimed at developing new treatments for mesothelioma for the past 23 years. This project supports clinical CAR T cell trials for mesothelioma and lung cancer, as well as the supportive translation lab work. The major areas of recent interest in the lab have been augmentation of anti-tumor immune effects, the tumor microenvironment, mechanisms of T cell dysfunction, and adoptive T cell transfer with an increasing focus on lung cancer. To study these, Dr. Albelda's lab has developed a wide variety of animal models of lung cancer and mesothelioma that can be used to evaluate new therapies and T cell function. The lab has also analyzed human samples from many clinical trials. The lab has extensive experience in lentiviral transduction of human T cells and retroviral transduction of mouse T cells for use in adoptive T cell transfer.
Recent Publications
CAR T cells produced in vivo to treat cardiac injury

Thursday, January 6, 2022

Fibrosis affects millions of people with cardiac disease. We developed a therapeutic approach to generate transient antifibrotic chimeric antigen receptor (CAR) T cells in vivo by delivering modified messenger RNA (mRNA) in T cell–targeted lipid nanoparticles (LNPs). The efficacy of these in vivo–reprogrammed CAR T cells was evaluated by injecting CD5-targeted LNPs into a mouse model of heart failure. Efficient delivery of modified mRNA encoding the CAR to T lymphocytes was observed, which...

An NK-like CAR T cell transition in CAR T cell dysfunction

Friday, December 3, 2021

Chimeric antigen receptor (CAR) T cell therapy has achieved remarkable success in hematological malignancies but remains ineffective in solid tumors, due in part to CAR T cell exhaustion in the solid tumor microenvironment. To study dysfunction of mesothelin-redirected CAR T cells in pancreatic cancer, we establish a robust model of continuous antigen exposure that recapitulates hallmark features of T cell exhaustion and discover, both in vitro and in CAR T cell patients, that CAR dysregulation...

A human CD137×PD-L1 bispecific antibody promotes anti-tumor immunity via context-dependent T cell costimulation and checkpoint blockade

Thursday, July 22, 2021

Immune checkpoint inhibitors demonstrate clinical activity in many tumor types, however, only a fraction of patients benefit. Combining CD137 agonists with these inhibitors increases anti-tumor activity preclinically, but attempts to translate these observations to the clinic have been hampered by systemic toxicity. Here we describe a human CD137xPD-L1 bispecific antibody, MCLA-145, identified through functional screening of agonist- and immune checkpoint inhibitor arm combinations. MCLA-145...