Welcome To The Blair Lab
We are one out of 5 member labs within the Penn Superfund Research Program (Penn SRP) in the Systems Pharmacology & Translational Therapeutics Department.
Dr. Blair's laboratory is located on the eighth floor of the Biomedical Research Building II/III on Curie Boulevard in the Perelman School of Medicine at the University of Pennsylvania. The laboratory is equipped with four triple quadrupole mass spectrometers (Thermo TSQ Vantage, two Thermo TSQ Ultra, Agilent 6460) and three high-resolution ion trap mass spectrometers (Thermo Orbitrap-XL mass spectrometer and two Thermo Q-Exactive HF Hybrid Quadrupole-Orbitrap mass spectrometers). There is also a full-equipped laboratory for wet-lab experiments, organic synthesis, and cell culture. The availability of this instrumentation allows both quantitative and structural determinations to be performed in our many collaborative projects.
Click here for more information »
Featured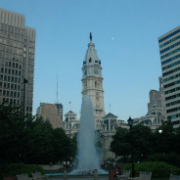 57th ASMS Conference
The 57th ASMS Conference was held in Philadelphia, Pennsylvania May 31st through June 4th, 2009. The Blair Group participated "en masse" - we had a total of 16 posters and one oral presentation.
---
Lab Image Gallery
Publications
Weng L, Guo L, Vachani A, Mesaros CA, Blair IA. Quantification of Serum High Mobility Group Box-1 by Liquid Chromatography High Resolution Mass Spectrometry: Implications for its role in Immunity, Inflammation, and Cancer. Anal Chem. 2018 Jun 19;90(12):7552-7560. PMID: 29791130
Ochocki JD, Khare S, Hess M, Ackerman D, Qiu B, Daisak JI, Worth AJ, Lin N, Lee P, Xie H, Li B, Wubbenhorst B, Maguire TG, Nathanson KL, Alwine JC, Blair IA, Nissim I, Keith B, Simon MC. Arginase 2 Suppresses Renal Carcinoma Progression via Biosynthetic Cofactor Pyridoxal Phosphate Depletion and Increased Polyamine Toxicity. Cell Metab. 2018 Jun 5;27(6):1263-1280. PMID: 29754953; PMCID: PMC5990482
O'Connor RS, Guo L, Ghassemi S, Snyder NW, Worth AJ, Weng L, Kam Y, Philipson B, Trefely S, Nunez-Cruz S, Blair IA, June CH, Milone MC. The CPT1a inhibitor, etomoxir induces severe oxidative stress at commonly used concentrations. Sci Rep. 2018 Apr 19; 8(1):6289. PMID: 29674640; PMCID: PMC5908836
View More
© The Trustees of the University of Pennsylvania | Site best viewed in a supported browser. | Report Accessibility Issues and Get Help | Privacy Policy | Site Design: PMACS Web Team.