Hematology Research Training Program
---
The NIH-sponsored Hematology Research Training Program at the University of Pennsylvania was established in 1978 and has provided training for more than 132 men and women to date. The program receives support from the NIH Heart, Lung and Blood Institute in the form of a T32 training grant (HL-07439).
Program goals
The program's primary goal is to help a diverse group of individuals prepare for careers as investigators in the broadly-defined discipline of hematology and blood disorders. The faculty includes 37 trainers of all academic ranks who work at the University of Pennsylvania in the School of Medicine and the School of Engineering. Up to 12 new trainees are accepted each year (8 postdocs and 4 predocs). Candidates were originally were drawn primarily from physicians enrolled in the clinical hematology training programs in the Departments of Medicine and Pediatrics. Since 1998 we have also supported postdoctoral trainees who are not physicians and, since 2004, predoctoral trainees, most of whom are in Penn's MD-PhD program. The connection to the MD-PhD program takes advantage of the PI's role as the director of that program. The inclusion of predoctoral students reflects our belief in the long term value of involving talented students to hematology-related research at an earlier point in their training as scientists and physician-scientists.
Program features
Essential features of the program include formal and informal advising, skills workshops, attendance at local seminars and national conferences, coursework, training in the responsible conduct of research, and an annual symposium. MD postdoctoral fellows have the option of enrolling in a Biomedical Graduate Studies (BGS) PhD program. A trainee review/symposium is held annually and attended by all trainees, their advisors and the members of the external advisory board and the steering committee of the program.
Outcomes to date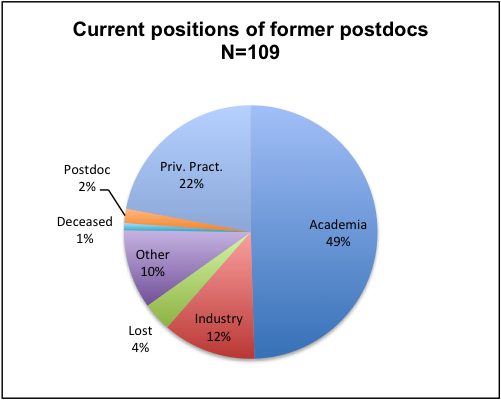 117 postdoctoral trainees (68 MD, 17 MD-PhD and 32 PhD) and 15 pre-doctoral trainees (10 MD-PhD and 5 PhD) have been supported. Of the 109 who have completed all stages of training as of 2013, 56 (50%) hold full-time appointments at an academic institution, 13 (12%) are employed in industry, 1 (1%) works at the FDA, and 3 (3%) run transfusion services at the NIH or Red Cross (total 67%), all of which we consider appropriate outcomes. Of those who currently hold fulltime academic appointments, at least 68% currently hold or have had NIH research funding. A detailed plan for attracting and training a diverse group of men and women, monitoring their progress benchmarked with an individualized development plan, and receiving feedback from trainees, alumni and faculty is included in the application.
Appointment to the training program
Individuals of diverse backgrounds, race, ethnicity and gender are encouraged to apply subject to the following guidelines. Predoctoral trainees are normally nominated by their thesis advisor and normally drawn from Biomedical Graduate Studies (BGS) and Bioengineering (BE) PhD and MD/PhD programs. Postdoctoral trainees are nominated by their research advisors and are normally drawn from either 1) clinical fellows in the internal medicine and pediatrics hematology-oncology training programs, or 2) from the pool of postdoctoral trainees working in the research laboratories of the faculty members associated with this training program. All trainees have to meet NIH requirements for a T32 appointment, including citizenship and permanent residency requirements. Individuals who are interested in learning more about the program are invited to contact the program director.
For more information contact the program director:
Lawrence (Skip) Brass, MD PhD
Professor of Medicine
Associate Dean, Combined Degree and Physician Scholars Program
University of Pennsylvania
Perelman School of Medicine
Current Trainees:
Postdocs:
Katy Black
Project Title

Epigenetic analysis of post-CART19 B-ALL relapses and the role of epigentics in CART19 resistance

Mentor
Amaliris Gonzalez
Christian Hurtz
Jing Karchin
Scott Peslak
Nathan Singh
Shannon Smith
John Welsh
Predocs:
Ruth Choa
Daniel DeHelian
Izma Poventud-Fuentes
Jason Rossi
© The Trustees of the University of Pennsylvania | Site best viewed in a supported browser. | Report Accessibility Issues and Get Help | Privacy Policy | Site Design: DART Web Team.