Confocal micrograph illustrating high levels of TACI on an extra-follicular foci (splenic sections stained with PNA, TACI, B220)

Confocal micrograph showing the absence of BLyS from the germinal center (splenic sections stained with PNA, BLyS, CD3ε)

Confocal micrograph illustrating the anatomical location of germinal centers at the T-B border (PNA+ germinal center , CD3ε+ T, IgD+ B cells)

Confocal micrograph illustrating splenic architecture with MOMA-1+ macrophage layer seperating Marginal zone B cells (IgMhiIgDlo) from the Follicular B cells (IgMloIgDhi)
? Need help? Please feel free to e-mail us for more info.
About Dr. Cancro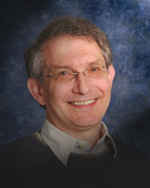 Dr. Cancro obtained his Ph.D. under the tutelage of Dr. Michael Potter at the National Cancer Institute, working on plasma cell tumorigenesis and progression. His postdoctoral research at the University of Pennsylvania was pivotal in developing the influenza hemagglutinin model antigen system, which he subsequently applied to antibody diversity estimates, repertoire development studies, and limiting dilution analyses of helper T cell activity. In the early 1990s, his laboratory discovered that, contrary to prevailing dogma, B lymphocytes complete maturation in the periphery. These studies provided the basis for current models of peripheral B cell selection and differentiation. He is a dedicated educator as evidenced by his receipt of numerous teaching honors, including the Lindback, Berwick, and Nowell awards. His executive credentials include service as Associate Dean for Curriculum in the School of Medicine, Chair of the Immunology Graduate Program at Penn and Chair of NIH/NIAID and USAMRID grant review panels.