Welcome to the IDOM and DRC
The IDOM was established in 2005 to address the ever increasing prevalence of diabetes and obesity. In 2016, there were 29.1 million people with diabetes in the United States, and more than one-third of U.S. adults are obese. In 2012, the cost of diabetes was estimated at $245 billion per year, and the Centers for Disease Control has projected that one out of three children born in the year 2000 will develop diabetes in his or her lifetime.
The mission of the IDOM is to support and develop successful approaches to the prevention, treatment, and cure of diabetes mellitus and obesity.
Our Strategy
The leadership of the IDOM embraces a disease-oriented approach that focuses on Type 1 diabetes, Type 2 diabetes, Obesity, and Cardiovascular Complications. IDOM enhances and supports research aimed at understanding the genetic, biochemical, molecular, environmental, and behavioral mechanisms underlying diabetes and obesity. IDOM initiatives include critical and unique scientific core facilities, and pilot grants that support new investigators as well as interdisciplinary science involving investigators from Penn Medicine and throughout the University of Pennsylvania that are relevant to the IDOM mission. IDOM also fosters education by organizing a series of seminars, workshops, and symposia. We are proud of the many outstanding discoveries made by IDOM investigators, and are committed to the translation of this new knowledge into novel approaches to patient care. We are also grateful for philanthropy in support of our mission.
The IDOM is home to the prestigious Diabetes Research Center (DRC).
The DRC participates in the nationwide inter-disciplinary program established over 40 years ago by the NIDDK to foster diabetes research. The Penn DRC is centered in the Smilow Center for Translational Research at the University of Pennsylvania Perelman School of Medicine, and serves over 120 diabetes-oriented investigators including many from other schools within the University of Pennsylvania as well as additional institutions from the mid-Atlantic region. The Penn DRC is highly interactive and interdisciplinary, representing many basic science and clinical departments at Penn and the other institutions, and supports research in diabetes and obesity via Scientific Cores, a Pilot and Feasibility Grant Program, and a series of seminars, retreats, and other academic enrichment activities that facilitate communication, collaboration of DRC investigators in the pursuit of new understanding, treatment, and cures for diabetes, obesity, and related metabolic disorders.
The IDOM and DRC create a unique and exciting environment within a great university and prominent health system. I invite you to explore this web site and learn more about us.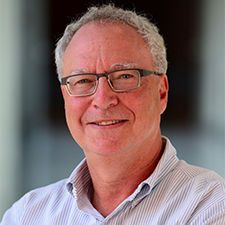 Mitchell A. Lazar, M.D., Ph.D.
Director, Institute for Diabetes, Obesity, and Metabolism
Director, Diabetes Research Center