Home
Welcome to the Katona Lab
Our lab and research program is an exciting, highly collaborative, and interdisciplinary program focused on gastrointestinal cancer and hereditary gastrointestinal cancer predisposition syndromes. Ongoing research activities in this area span the spectrum of basic science, translation studies, and clinical studies, and involve active collaborations across the Perelman School of Medicine, Abramson Cancer Center, and the University of Pennsylvania. Active research projects in our group, as detailed on the Research page, include understanding the biology of colorectal tumorigenesis through the use of mouse models and human-derived organoids, studying the role of the immune system in Lynch syndrome pathogenesis, implementation of early detection of pancreatic cancer in individuals at high-risk, investigating the role of the microbiome in colonic polyposis, and characterizing genetic susceptibility for gastric cancer.
The Katona Lab is looking for motivated post-docs. See the Positions page for more details.
Recent News
October 2022
Welcome to Marina Weber who joined the group as a Clinical Research Coordinator.
July 2022
Welcome to Kole Buckley who joined the group as a Post-Doc. Kole's research will be focused on understanding gastric carcinogenesis in hereditary gastric cancer predisposition syndromes and using immune-interception as a mechanism for gastric cancer risk reduction.
June 2022
Welcome to Michaela Dungan who joined the group as a Clinical Research Coordinator. Congratulations to Thomas Nyul who transitioned to a Research Specialist A in our group.
The initial results from the multicenter CAPS5 study (Penn site PI - Katona) were published in the June issue of the Journal of Clinical Oncology. Excitingly the study showed that the majority of pancreatic cancers detected on surveillance in high-risk individuals were stage I and had long-term survival, providing much needed evidence to support the efficacy of pancreatic surveillance in high-risk populations.

April 2022
An exciting paper that our group contributed to was published in Nature, showing how beta-hydroxybutyrate suppressed colorectal cancer (Nature paper). To continue the exciting momentum in this area we opened a new clinical trial simultaneously with publication of the manuscript, that is the first study in humans to examine the the role of beta-hydroxybutyrate supplementation in colorectal cancer prevention (Clinical trial information).
February 2022
Published in the February issue of Cancers is the first comprehensive review of upper gastrointestinal cancer surveillance in Lynch syndrome. Including data from our experience at Penn, current data is supportive of upper gastrointestinal cancer surveillance as an effective method to identify precancerous lesions and early-stage cancers in Lynch syndrome.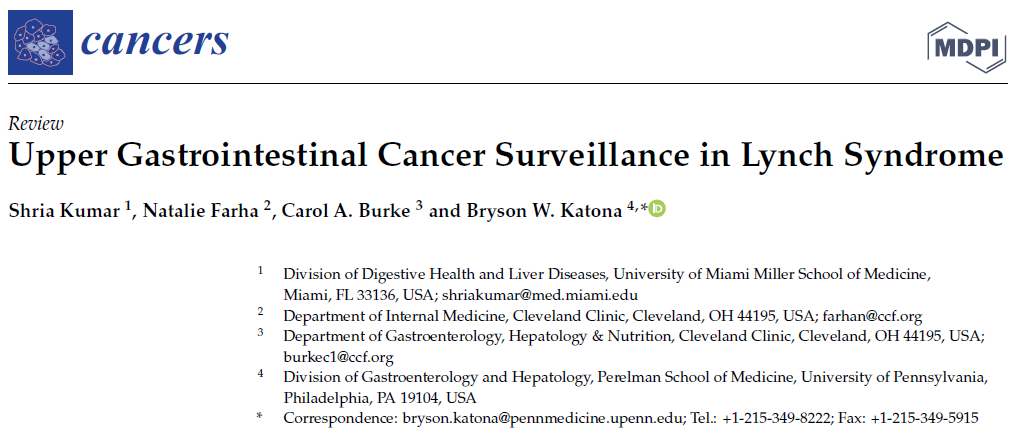 January 2022
Welcome to Isabel Anez Bruzual, a Master's in Genetic Counseling graduate student, who joined our group and will be examining the perceived utility and psychological impact of pancreatic cancer screening in high-risk populations.
November 2021
Published in the November issue of World Journal of Clinical Oncology, we report on the outcomes of screening for small bowel and urinary tract cancer in Lynch syndrome, showing that broad incorporation of these modalities into Lynch syndrome care is unlikely to helpful.

September 2021
Welcome to Keely Beyries, who joined our group as a Research Specialist A, as well as Thomas Nyul who joined as a Student Researcher. Congratulations also to Taylor Hojnacki for her promotion to Research Specialist B.
See the News section for other exciting announcements.