Welcome to the Parkinson Disease and Movement Disorders Center at the University of Pennsylvania
Telemedicine visits now available at PD&MDC!
Telemedicine visits can be made available for eligible patients who prefer to be seen remotely. To learn more, please visit the link below:
The University of Pennsylvania's Department of Neurology provides comprehensive evaluation, diagnosis, treatment and management for all types of movement disorders. Movement disorders are complex neurological disorders that affect your ability to produce and control bodily movements. Movement disorders occur when changes in the brain cause either abnormal, excessive, involuntary movements or slower, delayed movements.
Recognized by the Parkinson Foundation as one of 45 worldwide Centers of Excellence, the Parkinson Disease and Movement Disorders Center (PD&MDC) is one of the largest of its kind in the country and the most pre-eminent in the Philadelphia region, providing care to thousands of patients each year.
We are located on the northwest corner of 9th and Pine streets, and valet parking is available from 8am to 5pm. Parking is also available on the corner of 8th and Delancey streets. A picture of our main entrance is shown below: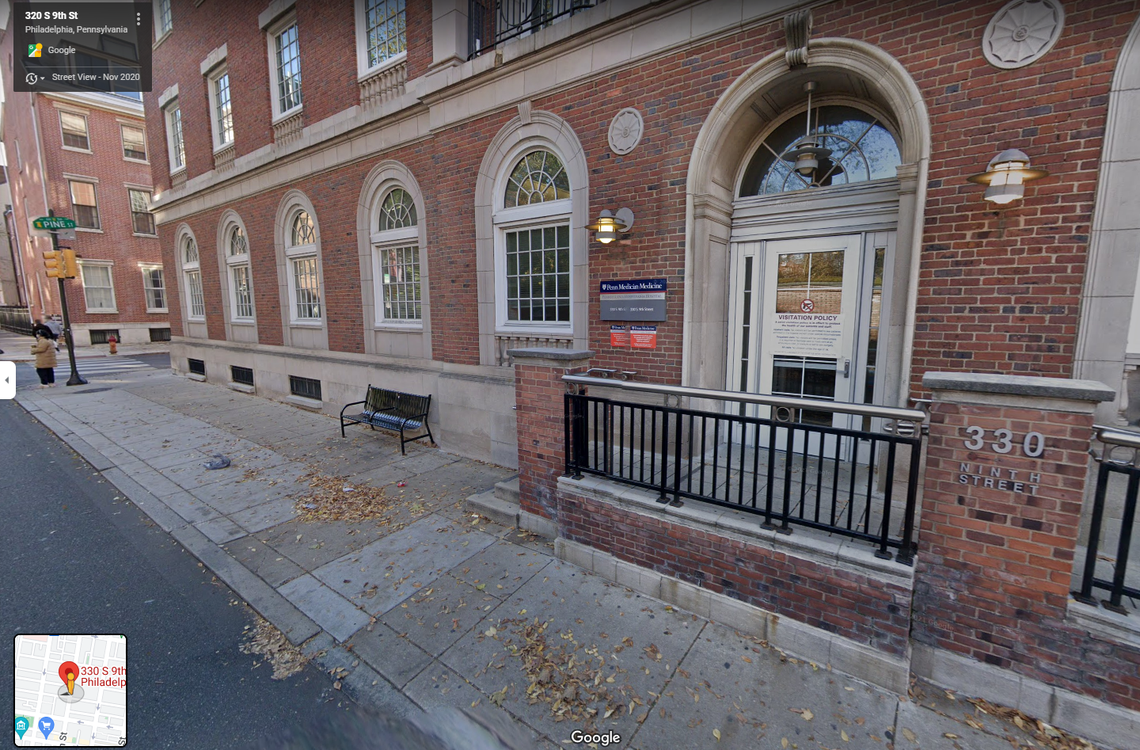 Types of Movement Disorders
To learn more about Parkinson Disease and other resources click here, or open one of the Parkinson information booklets below:
A brief history of PD&MDC
The PD&MDC was founded at the late, great Graduate Hospital in 1982 by Drs. Howard Hurtig and Matthew Stern, and Nurse Gwyn Vernon, as a center to provide comprehensive care and education to patients and families, and to conduct clinical and basic research in collaboration with basic scientists at the University of Pennsylvania School of Medicine (now the Perelman SOM). After 15 years of steady and expanded growth of its fundamental mission, the PD&MDC moved in 1997 to the Penn Neurological Institute at Pennsylvania Hospital, where patient services and program development accelerated to achieve its current status as one of premier facilities of its kind in the US and a Parkinson Foundation Center of Excellence. PD&MDC is also a Huntington's Disease Society of America Center of Excellence, a Lewy Body Dementia Association Research Center of Excellence and a CurePSP Center of Care.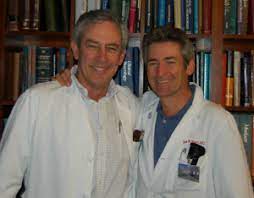 DR. HURTIG AND DR. STERN, CO-FOUNDERS PD&MDC
PD&MDC is now directed by Dr. Andrew Siderowf, MD, a Movement Disorders Specialist whose research focuses on the organization and conduct of clinical trials. Dr. Siderowf is the national Co-PI for the Parkinson Progression Marker Initiative (PPMI) study, and the Co-PI for the UPenn NeuroNEXT clinical site. He also serves on the steering committee or safety monitoring boards of several other ongoing multi-center clinical trials.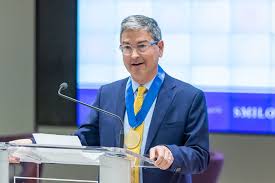 DR. ANDREW SIDEROWF, DIRECTOR OF PD&MDC
The scope of the Center's portfolio now includes the most advanced medical therapies provided by highly trained specialists, opportunities for patients and families to participate in clinical research, expert physical rehabilitation at the Dan Aaron Rehab Program, psychological counseling, and access to educational programs and a network of support groups. As a key division of the Perelman SOM's Department of Neurology, the PD&MDC educates medical students, residents in Neurology and post-residency neurologists planning a specialized career in movement disorders.
Diversity at PD&MDC
The University of Pennsylvania is committed to achieving eminency through diversity. In alignment with the Department of Neurology's Anti-Racism efforts, at PD&MDC we strive to provide state-of-the-art care to all communities within the greater Philadelphia area and beyond, including traditionally underserved communities. We are proud to announce that PD&MDC is a member of the DIVERSITY-PD endeavor, a multi-institutional initiative centered around relationship-building with key community partners to create a foundation for reaching and providing high-quality care to all patients with Parkinson. DIVERSITY-PD is led by The Parkinson Council and funded by The Davis Phinney Foundation.
If you are interested in supporting this and other efforts at PD&MDC, please click here.