Bequest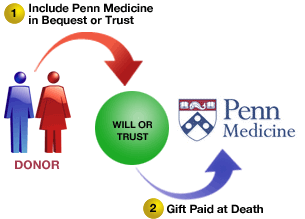 How It Works
You can provide now for a future gift to Penn Medicine by including a bequest provision in your will or revocable trust.
Penn Medicine receives the gift and applies it to the purpose(s) as you have directed.
Benefits
Your assets remain in your control during your lifetime.
You can modify your bequest if your circumstances change.
You can direct your bequest to a particular purpose (be sure to check with Penn Medicine to make sure your gift can be used as intended).
There is no limit on the estate tax deductions that can be taken for charitable bequests.
You know that your gift will benefit Penn Medicine tomorrow, just as you intend it to today.
For More Information
E-mail or call us at 215-898-9486.